GLANDS OF EPITHELIUM
– A cell or group of cells which secrete chemical substances are called glands.
– All glands are composed of Epithelium tissue.
– Glands originate from all three germinal layers.
– The cells are generally columnar or cuboidal.
TYPES OF GLANDS
Fig.: Glandular epithelium : (a) Unicellular (b) Multicellular
(C) On the basis of presence of secretory duct glands are of 3 types
(a) Endocrine glands – Secretory duct absent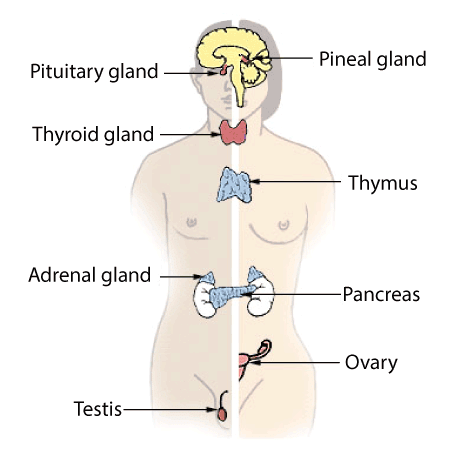 Endocrine Glands
(b) Exocrine gland – Secretory duct present.
(c) Heterocrine/mixed gland – Both endocrine & exocrine parts are present.
(D) On the basis of nature of secretion – 3 types of glands are there.
Eccrine/Apocrine/Merocrine gland –
In these glands secretory cells secrete substances by simple diffusion (Exocytosis). No part of cytoplasm is destroyed in secretion.
Maximum sweat glands of humans, Paws of rabbit, Goblet cells, Salivary gland,Tear gland, Intestinal gland, Mucous gland.
Apocrine gland –
In this type of glands secretory products are collected in apical part of secretory cell. Apical portion is also shed along with secretory matter.
Secretory cells gain their lost part of cytoplasm by process of regeneration.
– Mammary glands.
Sweat gland of Arm pit, pubic region, skin around anus, lips, nipples etc.
Largest sweat gland of body are found around nipples. – Areola mamme.
In Rabbit seat glands of this type are found on lips and skin around lips.
Holocrine glands –
The production or secretion is shed with whole cell leading to its destruction. i.e
Example : Sebaceous, meibomian & Zeis gland.