Damped Systems
Damping is an effect which causes a Reduction in the amplitude of an oscillation as a Result of energy being drained from the system to overcame frictional/other Resistive forces.
These are the systems in which kinetic friction is zero. Technical Name of Kinetic friction in any Vibrations system is known as, Damping.
Damping in Any System


Damping force ox = (x = velocity)
= c·x
Where, c = coefficient of damping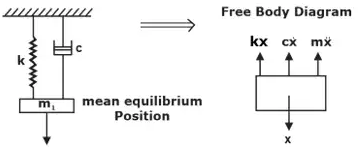 The equilibrium equation of a damped spring-mass system is given as



It is a 2nd order differential equation.

Types of Damping Systems
Overdamped System(ζ>1)
No vibrations will be present in an over-damped system.
Critically Damped Systems(ζ = 1):
∴ No Vibrations
Note: Critical damping response is much faster than overdamping response i.e. in critically-damped systems, the body once displaced comes into its Equilibrium Position much faster than that in overdamped systems.
Under Damped Systems (ζ < 1)
∴ Damped frequency, ωd = ωn(1 - ξ2)1/2
Time period Td = 2π/wd (Second)
Linear frequency, fn = 1/Td (Hz)
Hence, Amplitude of under-Damped Vibrations is not constant and it decreases exponentially w.r.t. time.

Logarithmic Decrement (δ)
δ = In (Decrement ratio)