Polybutadiene
Stream of steam cracker is major source of butadiene. Other routes for butadiene manufacture are
Catalytic dehydrogenation of butenes
Catalytic dehydrogenation of butane
With the availability of butadiene from cracker plant, manufacture of polybutadiene has increased significantly in recent years.
Polybutadiene is made by free radical emulsions, alkali methyl solution and transition metal coordination solution processes. Most processes are based on solution process. Large volume use of polybutadiene rubber has been primarily in blend with other polymers. Blend with SBR or natural rubber has improved crack resistance. Cracking and abrasion resistance is very good. It is characterized with high abrasion and crack resistance, better resistance to heat degradation and blowouts, good hysteresis properties, large scale use in tyre tread, modification of plastics, conveyor & V-belts, sports goods, foot wear material, 90 percent in tyre industry.
Polyisobutylene (Butyl Rubber)
Polyisobutylene is gas impermeable and because of this property it is used for making ballon. Polyisobutylene is made by polymerization of isobutylene. Isobutylene can be recovered from C4 stream from steam cracker and FCC. Other route for isobutylene are: dehydrogenation of isobutene n-butane isomerisation in gas phase using platinum catalysts
Butyl rubber is made by slurry polymerisation. The polymerisation is carried out in slurry of monomer in methyl chloride using an aluminium chloride catalyst at –100 to –90oC. The rubber is precipitated by adding water and finally washed and dried. Butyl rubber has unique elastomeric qualities, low rate of gas permeability, thermal stability, good ozone and weathering resistance, vibration damping and higher coefficients of friction, chemical and moisture resistance. Used in tubes, tyre inner liner due to low permeability of air, automotive mechanical parts, adhesives, and sealant.
Nitrile Rubber
Acrylonitrile Butadiene copolymers are commonly known as nitrile rubber. Nitrile rubbers are available in many grades varying in acrylonitrile content. Increase in acrylonitrile improves resistance to fuels and oil, tensile strength and modulus, processing behavior, heat resistance; increases abrasion resistance and hardness, permeability resistance to gas diffusion; decreases low temperature flexibility, resilience and elasticity, plasiticizer compability. Abroad range of properties can be obtained from properly compounded nitrile rubber. Nitrile rubber is made by emulsion copolymerisation of butadiene and acrylonitrile at 5oC. The basic steps involved are polymerisation, coagulation, washing and drying. A basic polymerisation recipe in addition to the monomer contains water, stabilizers, emulsifiers, shortstop catalyst activator and electrolytes. Following polymerisation cycle material is transferred to blow down tank in which short stop and antioxidant are added and residual monomers are recovered. Then finally, the latex is concentrated, coagulated, washed, dewatered and finally dried. Nitrile rubber is used in seals; O-rings, gaskets, oil field parts, diaphragm, gloves, belts, wire cable insulation, hosepipes, foot wear shoe products, molded rubber goods. In the polymerization process the monomer is emulsified in water, a free radical generating catalyst is added and the mixture is agitated. After the polymerization the material from the polmerisation reactor is transferred to blow tank in which short stop and antioxidant are added and the residual momomers are removed. The latex formed is concentrated and coagulated into fine crumbs by addition of salt and acids. This followed by washing, dewatering and drying. The dried crumbs are compacted.
Acrylonitrile 18-50 percent, with increase in acrylonitrile resistance to oil, fuel, abrasion and heat increases, higher tensile strength, hardness, gas impermeability.
Low temperature resistance, resilience, plasticiser compatibility decreases require less sulphur, more accelerators than SBR, highly oil resistant. Application: Fuel hoses, collapsible containers. Nitrile rubber may be reinforced by phenolic resins and PVC.
Resistance to ozone, weathering, better gloss, bright colors, high resistance to abrasion and oil.
Process flow diagram of manufacture of Nitrile rubber is given Figure M-VIII
Polyisoprene
Polyisoprene is one of the most well known natural elastomers derived from the sap of the heavea tree. However, synthetic polyisoprne is made by polymerization of isoprene. Isoprene is recovered from the C5 fraction of naphtha cracker. Isoprene can be also made Isoprene polymerisation is carried out in an inert hydrocarbon solvent (aliphatic solvents). Basic steps in manufacture of polystyrene are – raw material preparation and purification, polymerisation, catalyst deactivation and removal, solvent recovery, polymer drying. Polymerisation catalysts are either of the coordination (Zeigler) or alkyl lithium types. Coordination catalysts are trialkyl aluminium/titanium tetrachloride. Often polymerisation short stops and anti oxidant is added. The solvent remaining is stripped off.
Poly isoprene has good uncured track, high pure gum tensile strength, high resilience, low hysteresis, good hot tear strength. Tyre market is the major consumer of polyisoprene, a substitute of natural rubber in the tread of truck, aircraft and off the road tyres, for dipped goods, adhesive, extruded thread.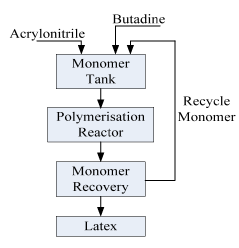 Figure M-VIII 4.2: Process flow diagramme of Acrylonitrile Rubber ( Nitrile rubber) Manufacture
Neoprene (Poly Chloroprene):
Chloroprene is made either via acetylene route or from butadiene. Butadiene process is commonly used.
Acetylene route involves dimerisation of acetylene to monovinyl acetylene followed by reaction of monovinyl acetylene with HCl.
Chloroprene from butadiene involves three steps
Chlorination of Butadiene: Various steps involved are
Chorination of Butadiene- 1,4 dichloro 2-butene and3,4-dichloro 1-butene
Isomerisation of 1,4 dichloro2-butene to 3,4-dichloro 1-butene
Dehydrochlorination of 3, 4-dichloro1-butene to chloroprene in presence of caustic soda resulting in formation of chloroprene(CH2CH-CCL=CH2
Polychloroprene is made by emulsion polymerisation process using resin acid soap emulsifier. Polymerisation is carried out at 40 oC in presence of sulphur. Some of the major application of polychloroprene is in adhesives, transportation industry, wire and cable, construction industry, hose and belting.
Uses : Adhesives, transportation industry (Automotive – gaskets, V-belts, shock absorber covers, wire jackets, molded seats, aviation-wire cable, gaskets, seats etc., rail brake hose, track mountings.
Chloro Butyl Rubber
Chlorobutyl rubber is made from isobutylene and 1-3 percent isoprene. Introducing a continuous stream of chlorine gas in a hexane solution of butyl, which is prepared by low temperature copolymerisation of isobutylene, and isoprene in methyl chloride makes Chlorobutyl. Chlorobutyl rubber possesses greater vulcanisation flexibility and tubeless tyres, tyre side wall components, heat resistant truck inner tubes, hose pipes, gaskets, conveyor belts, adhesive, sealants, tyre curing bays, tank lining etc.
Silicon Rubber (Polysiloxanes)
Silicon elastomer are made by ring opening reaction caused by action of alkali on monomer acyclic siloxane characterised by exceptional mechanical and electrical performance under extreme temperature condition. Used in aerospace, appliances, electrical industry, construction industry, automotive industry, gaskets sealings, spark plug boots, hose, rubber rolls.
Fluro Silicone Rubber (Fsr)
FSR is characterized by excellent low temperature flexibility, very good heat resistance, excellent aging characteristics. However, it has poor resistance to aromatic hydrocarbon and common polar solvent.
Polyurethane Rubber
Polyurethane is made by reacting polyisocyanates and polyhydroxyl groups using curing agents. Good abrasion resistance, oil and solvent resistance, oxygen ozone, temperature. Finds wide application in solid tyres for industrial trucks, seals and boots, calendar sheet, potting and sealing of electronic components, general engineering mechanical goods, shoe heels and soles, elastic threads, insulation, mattresses, vibration damping.
Ethylene/Propylene Number (EPDM)
EPDM is made by polymerisation of ethylene propylene diene using Ziegler- type catalyst in combination of transition metal halides and metal alkyls. Polymerisation is carried out in a series of two or three vessels. Adding polar material (e.g. water) stops polymerisation. Unpolymerised monomers are recovered and rubber is separated from the solvent by steam flocculation. Rubber floc or crumbs are dewatered and dried. EPDM has outstanding resistance to heat, ozone oxidation, weathering, and aging due to the saturated backbone, low brittle point and glass transition temperature, low density, except aliphatic and naphthenic oils well and maintain acceptable properties at higher filter loading. EPDM are non-tacking, used in single ply roofing, wire and cable installations and automotive parts.
Ethylene Vinyl Acetate Rubber (EVA)
EVA has excellent resistance to heat, ozone and sunlight, moderate resistance to oil and gasoline. It has poor resistance to aromatic and oxygenated solvents, fair process ability.
Hypalon
Hypalon are chlorosulphonated polyethylene and are made by free radical catalysed reaction of chlorinated and SO with polyethylene. Hypalon is characterised by Ozone resistance, light stability, heat resistance, weather ability, resistance to deterioration by corrosive chemicals and weather ability, resistance to deterioration by corrosive chemicals and good oil resistance, flame resistance, toughness. It finds applications in automotive eat liner coatings, spark plug boots, primary and ignition wire, tarpaulins, hose, conveyor belt, coated fabric.
Spandex
Spandex is a polyurethane elastomer which has both urea and urethane linkage and has hard and soft blocks in its repeat structure.
Polysulphide Rubber
Polysulphide rubber has out standing resistance to oil, gasoline and solvents, good resistance to weather, ozone and sunlight excellent, imperability to gases and vapour. It has poor resistance to abrasion, tear, cut growth, low tensile strength.