1.7.2 Elimination reactions:
In an elimination reaction two atoms or groups (YZ) are removed from the substrate with formation of pi bond.

depending on the reagents and conditions involved, an elimination may be a first order (E1) or second order (E2).
Dehydration of Alohol (E1):

Characteristics of E1 reaction :
(i) It is unimolecular, two step process.
(ii) It is first order reaction.
(iii) Reaction intermediate is carbocation, so rearrangement is possible.
(iv) In the second step, a base abstracts a proton from the carbon atom adjacent to the carbocation, and forms alkene.
(v) Kinetics → Rate ∝ [Substrate]
Rate = k[Substrate]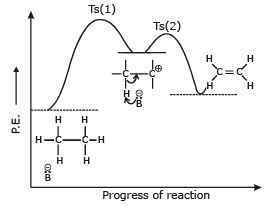 E2- elimination :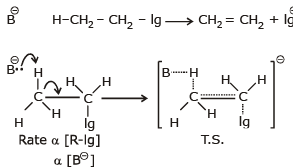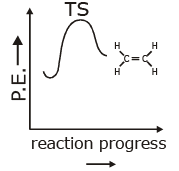 Bi-molecular reaction, second order kinetic.
1. Leaving group leads when base is taking proton from adjacent carbon.
2. It is a single step reaction.
3. Rate a single step reaction.
Rate a Leaving group tendency-
4. It shows elemental as well as kinetic isotopic effect with leaving group (lg) as well as at β-position.
5. Normally, Saytzeff product is major.
6. Transition state mechanism therefore rearrangement is not possible.
7. The orientation of proton & leaving group should be anti-planar for E2.
8. Positional orientation of elimination: Mostly, E1 and E2 eliminations give two or more possible elimination products, the product with the most highly substituted double bond will predominate. This rule is called the Saytzeff or Zaitsev rule (i.e., most stable alkene will be the major product).
9. E2-elimination is favour by :
(1) Moderate leaving group (lg)
(2) Strong base (RO-, Alc. KOH)
(3) Polar aprotic solvent.
(4) High conc. of base.
(5) High temperature.
Reactivity towards E2 : R - I > R - Br > R - Cl > R - F
Ex. Predict the elimination products of the following reactions.
(a) Sec. butyl bromide +



(b) 3-Bromo-3-ethylpentane + CH3OH


(c) 2-Bromo-3-ethylpentane + MeONa


(d) 1-Bromo-2-methylcyclohexane + EtONa

Sol. (a) CH3 - CH = CH -CH3
(b)


(c)


(d)

Ex.11

major + minor
Write the structure of major and minor product.
Sol.

(minor)

(major)
Comparison of E1 and E2 elimination:
| | | |
| --- | --- | --- |
| Promoting factors | E1 | E2 |
| (i) Base | Weak base | Strong base required |
| (ii) Solvent | Good ionizing solvent | Wide variety of solvent |
| (iii) Substrate | 3° > 2° > 1° | 3° > 2° > 1° |
| (iv) Leaving group | Better one required | Better one required |
| Characteristics | | |
| (i) Kinetics | K[R- X], I order | K[R - X] [Base], IIst order |
| (ii) Orientation | Saytzeff alkene | Saytzeff alkene |
| (iii) Stereochemistry | No special geometry is required. | transition state must be co-planar. |


Ex.12

P + Q + R
Sol. P is

, Q is

, R

Q.6 Arrange the compounds of each set in order of reactivity towards dehydrohalogenation by strong base
(a) 2-Bromo-2-methylbutane, 1-Bromopentane, 2-Bromopentane
(b) 1-Bromo-3-methylbutane, 2-bromo-2-methylbutane-2-Bromo-3-methylbutane
(c) 1-Bromobutane,1-Bromo-2,2-dimethylpropane, 1-bromo-2-methylbutane, 1-Bromo-3-methylbutane
(C) mechanism of E1 CB reaction (Unimolecular conjugate base reaction) :
The E1 CB or carbanion mechanism : In the E1 CB, H leaves first and then the X. This is a two step process, the intermediate is a carbanion.
Mechanism:
Step-1 : Consists of the removal of a proton, H+ by a base generating a carbanion.

Step-2 : Carbanion loses a leaving group to form alkene.

Condition: For the E1 CB, substrate must be containing acidic hydrogen and poor leaving groups (i.e., bad lg).