The planet Earth is one of the eight planets that orbit the Sun in the solar system. This planet is the third nearest planet from the Sun and the fifth largest one. The Earth rotates in its axis.
Earth's rotation causes day and night, and it's a revolution around the Sun causes seasons to change. It is known to be the only planet in the solar system that can support life yet. Scientists say that Earth is likely 45 billion years old.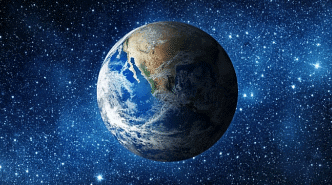 Earth also has the perfect range of temperatures for life to thrive. The average global temperature in 15°C. 29% of Earth's surface is land. It is divided into seven continents. These continents are Africa, Antarctica, Asia, Australia, Europe, North America, and South America.
The rest 71% is water. 3% is freshwater, and the rest is saline water in the oceans. Some of the water is stored in a frozen state in the ice caps in the poles and glaciers. Earth is a planet that is precious to all living beings.