Introduction
India is a democratic nation. Every democratic nation must ensure the rights of its citizens for the proper development and growth of the nation and its people. Democracy itself is a sign of freedom to its people. Every nation provides some rights to its citizens. The judicial system of India protects the fundamental rights of citizens from being violated.
There are many rights provided to citizens all over the world but fundamental rights are guaranteed to the citizens of India only. Article 15, 16, 19, 29, 30 contains the rights which are conferred on the citizens of India only.
Classification of Fundamental Rights in India
There are six fundamental rights in India enlisted below: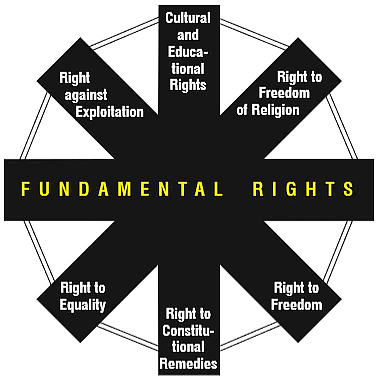 Right to Equality: It is about rendering equality to all the citizens of India irrespective of their caste, creed, religion, sex, religion, etc and there must be no discrimination on these grounds. It is contained in Article 14-18. It states that every citizen has equality before the law. Equality must be granted in every aspect like employment, living, and opportunities.
Right to Freedom: The citizens of India are granted freedom of speech and expression, freedom of assembly, freedom to form associations, freedom of movement, freedom of residence, and freedom of practicing any occupation. These rights can be enjoyed by every citizen but have some limits. Freedom must not be misused and restricting other's freedom. This is represented in Article 19-22.
Right against Exploitation: This right provides the provision of stopping the exploitation of the weaker sections of society especially women and children. This right is represented in Article 23-24. It also ensures to stop social evils like human trafficking, child labor, child begging, etc. these are considered to be illegal practices and are punishable.
Right to Freedom of Religion: This right depicts secularism which is one of the fundamental values of our constitutions. According to this, there is no particular religion of the state or country. This ensures that every citizen of India is free to follow any religion of their choice and belief and is represented in Article 25-28. There must be no discrimination on a religious basis. This also focuses on enabling minorities to practice their culture and traditions and enjoy every opportunity.
Right to Constitutional Remedies: It is included in Article 32-35. It states that violations of the fundamental rights are subject to remedial action from the court. Any person can appeal in the Supreme Court or High court for protecting their fundamental rights from breaching. Writs like Habeas corpus, mandamus, Certiorari, Quo-Warranto, and Prohibition are issued by Supreme Court and for enforcement of the fundamental rights
Cultural and Educational Rights: The cultural rights included in Article 29-30, ensures the protection of the practicing of a different culture, language, and tradition of the citizens. It is also about providing the freedom to minorities to preserve their culture, language, and Traditions. The educational rights states that the people belonging to minority groups having can set up educational institutions for practicing their own culture and language.
Importance of Fundamental Rights
The fundamental rights are necessary for the development and growth of the citizens of India. They can achieve their best without any hindrance. These rights make people from different sections of society to feel safe and secure inside the nation. There are lots of issues like the existence of economical, political, social differences in society. There must be some rights to eradicate these differences and make their life valuable.
Conclusion
The fundamental rights are also known to be the soul of the constitution. These rights are of great importance as it provides the liberty to the people of India. It must be kept in mind that we should use our freedom or rights in such a manner that it may not cause hindrance to others' freedom.