Introduction
Different festivals have different significance. The way of celebrating every festival is different from each other. One of the famous festivals of Hindus is Holi. This festival of colors falls in the month of March. According to the Hindu calendar, it is celebrated in the month of Phalguna and the celebration begins from Purnima.
During this festival, all the surroundings become colorful. On this day, people greet each other with colors. Women prepare different sweets and men prepare special drinks on this day. They promote unity and love by eating and drinking together.
How is Holi Celebrated?
Different people celebrate Holi in their different ways. This festival is celebrated in two days. Various rituals are associated with the festival of Holi.
The celebration begins at the evening of Purnima or the full moon day. People collect wood and other combustible substances for the bonfire. At the center or in any open space, they burn them by placing a statue of Holika on the top. Women perform puja and pray to god for burning all their sins and sadness.
The next day people greet each other by applying colors on their face. The color which they play is called Gulal or abir. Elder play dry Holi whereas children enjoy playing water mixed with colors. Teenagers throw water balloons at each other. People dance by playing loud music. Everyone enjoys this festival in their own way.
Special sweets are made on the occasion of Holi. Gujiya, malpua, with a variety of namkeens are available on every house on this day. Holi is also famous for special beverages. People wait a year to enjoy this special Thandai, prepared with bhang (marijuana).
Significance of Holi
In India, holi is being celebrated since ancient times. We can find glimpses of Holi in Puranas and Ratnavali. This festival promotes unity, love, and peace. On this day, people visit their friends and relatives to wish them happy Holi. They forget and forgive each other for the old quarrel. This festival symbolizes that good will always dominate evil. If you walk in the path of truth, no one can destroy your faith.
It is believed that Lord Krishna applied color to Radha and their love never ends. The trend of applying color started from there. People apply color to their loved ones to keep their love alive forever.
Holi brings the end of winter season in India. With the happiness of Holi people welcome spring and the harvest season. Love, laugh, meet, forgive, and happiness is the motive of this festival.
Story of Celebrating Holi
Every festival is associated with some mythological stories; Holi is none other than that. People see the festival of Holi as the win of good over bad due to the story of Hiranyakashipu.
Hiranyakashipu was an arrogant and powerful king who considered himself immortal. He wants every people of his kingdom to worship him instead of any God. But, Prahlad (Hiranyakashipu's son) was a great devotee of Lord Vishnu. Hiranyakashipu tried to stop him in every possible way. He also tortured him for worshipping Lord Vishnu. Prahlad opposed his father and continued his deep devotion for God.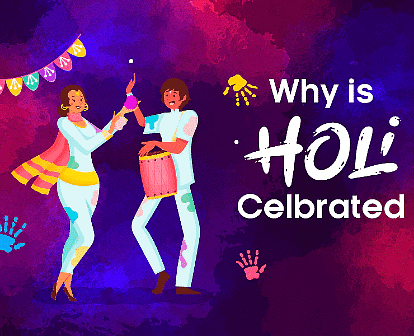 Holika, sister of Hiranyakashipu was blessed with a boon that she would not be harmed by the fire. Hiranyakashipu ordered his sister to kill his son. Holika took Prahlad on her lap and sat on fire with the intention of killing him. But Prahlad was not affected by the fire; in fact Holika perished. Later lord Vishnu killed Hiranyakashipu by taking "Narasimha" (half man, half lion) avatar.Due to this famous story, people burn wood and evil a day before Holi. This is known as Holika Dahan.
Conclusion
Holi is the favorite festival of all the children. Their excitement can be clearly seen in their faces. They love playing with pichkari (water guns). Playing with colors that are made up of chemicals have side-effects and can harm your skin. Many organic colors, free from toxins, are available in the market. Enjoy Holi with healthy practices.