Introduction

Teamwork is an important term that tells a lot about how to coordinate with others. All of us can do our work properly but what about when you are asked to pair up with others. It sounds normal but it is really a tough task because when you pair with others, all of us have to maintain respect and stay away from conflicts. It is not all of us have the same patience level. Some would have a dominating nature, where some can be polite enough. But when we talk about a team it should be different personalities with one aim.
What is Team Work?

When we contribute our part to complete a task then it is known as teamwork. All of us have different mental ability and also temperament. Some of us can be of dominating nature so when we are in a team; we should take care of our nature and should never allow our nature to hinder our work. Sometimes due to personal conflicts, we oppose and don't like to work with others.
But when we work together and learn then we can also grow like a superpower. Teamwork is especially seen in the office, where many of us work on a project. Some of them handle costing, whereas some work on the product, some on presentation, and some on the marketing. When all these things combine together, perfect product launches.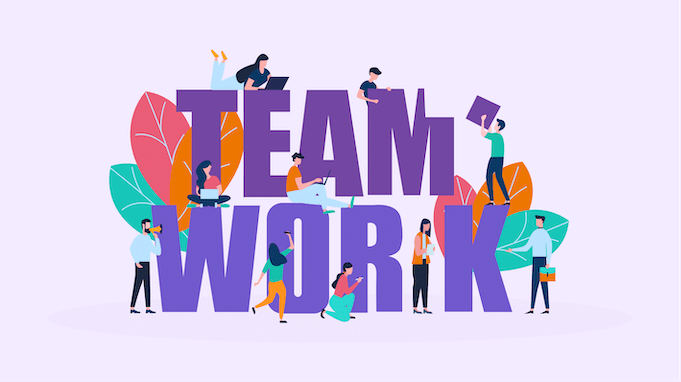 Teamwork is very important sometimes because we get a time limit and it is not possible for a single person to do all such things at a time. And a team works together and can complete it as soon as needed. A very good example of teamwork can be seen in the construction industry. You would also have read these examples in your Maths book as there are 5 workers and they complete a task in ten days and when we increase the number of workers the time automatically decreases. Here, the workers work in a team.
Some Rules of Teamwork

There are certain rules that should be followed by everyone in a team, they are;
Discipline Must Be Followed: There is always a time limit for a task and when you are in a team you should take care of the time and should complete your task accordingly. Apart from the time, there is also some other disciplinary task, that should be followed. We should respect our team leader and other experienced workers because experience speaks more than knowledge. You might be having a lot of knowledge but practical knowledge is something that can save you from failure.
Good Communication Skills among Team Members: Suppose there are five members in a team and all of them just follow their leader or senior. But there should also be freedom of expressing your thoughts and views, a team does not mean just following the orders but they should also be free to express their thoughts and ideas. This makes a good team and all of the members feel that they are really important and they perform in a very good way.
Clear About Your Goal: It is the responsibility of the team leader to make sure that all of the members should know first what the project is. What they really have to do? And what else new they can add? All these things will help others to think in the right direction, otherwise, when a team is not clear it cannot produce new ideas and ways to complete their task.

Keep Your Ego Aside: When you are working in a team you should always take care that your ego should not clash with others because everyone has some ego but they keep it apart when they are working in a team. This is one of the basic rules of a team. Otherwise, a team cannot generate profitable ideas.
Work Should be Assigned as per Interest and Ability: All of us have different abilities and should be given work as per interest for good results. We should keep on learning but when there is a time boundation, we should work smartly for good results.
Conclusion

Working in a team also helps us to learn new things and helps us to maintain the same decorum in our day-to-day life. It helps us to opt for a habit of obeying others and this develops as a habit which is definitely a very good thing.