EVIDENCES OF ORGANIC EVOLUTION
In support of organic evolution some important evidences are –
1. Palaeontological Evidences – The study of fossils is known as : Palaeontology.
Fossils word : Taken from Fossilis / Fossolium Father of Palaeontology : Leonard da vinci Founder of modern palaeontlogy : George cuvier Birbal Sahni is famous for Indian palaeonotology Two branches of palaeontology – 1.Palaeobotany :Study of plant fossils 2. Palaeozoology : Study of Animal fossils Definition of Fossils was given byCharls Lyell"Impression of past organism found in rocks called fossils."
Fossils provide one of the most acceptable evidence in support of organic evolution.
Types of Rocks :
(1) Sedimentary Rocks – These are formed at the bottom of ancient oceans by deposition of sediments of sand, lime, coal and minerals which slowly change into hard layers.
Sedimentry rocks are also called as stratified rocks. Eg. Lime Stone, Sand Stone.
Fossils are mostly found in sedimentary rocks.
(2) Igneous rocks – Such rocks are formed by ancient volcanic deposits which slowly cooled down and hardened as rocks e.g.
Granite rocks.
They generally do not have fossils.
(3) Metamorphic rocks – These are formed by metamorphosis of sedimentary and igneous rocks. Such metamorphosis may be caused by pressure heat and physical movements. e.g. Marble and Slate rocks.
Type of Fossils :
1. Unaltered Fossils : In this type whole bodies of extinct organisms are found frozen in ice at the polar regions eg. Wooly mammoths (25000 yrs before extinct fossils were found from siberian region)
2. Petrified fossils – Most common type of fossil.
Replacement of organic part by mineral deposites is called petrification. These fossils consists of only the hard parts e.g. bones, teeth, shells, wood etc. of extinct organisms.
In human body first fossilization occur of teeth.
3. Mould fossils – Here no any part of the original organism is present. Only an impression of the external structure of body is preserved in wet soil.
4. Cast fossils – Some times minerals fills in the mould, resulting in cast fossils.
5. Print Fossils – Foot print or prints of wings, skin, leaves, stems etc made in soft mud which subsequently become fossilized are a common type of fossils.
6. Coprolites – These fossils include the fossil preservation of contents of the intestine or excreta of many ancient animals including particularly the reptiles or fishes.
By studying fossils following facts about organic evolution are evident –
1. Fossils found in older rocks are of simple type and those found in newer rocks are of complex types.
2. In the beginning unicellular protozoans were formed from which multicellular animals evolved.
3. Some fossils represents connecting links between two groups.
4. Angiosperms among plants and mammals among animals are highly developed modern organism
5. By fossils, we can study the evolutionary pedigree of an animal like stages in evolution of horse, elephant and man etc.
Archaeopteryx – Fossil connective link between birds and reptiles. Fossil was discovered by Andreas wagner from Bavaria in Germany. It was found in the rocks of the Jurassic period.
Reptilian Characters :
(1) Long tail is present.
(2) Bones were not pneumatic.
(3) Presence of weak sternum.
(4) Presence of free caudal vertebrae as found in Lizard.
(5) Similar teeth present in Jaws.
Avian Characters :
(1) Presence of feathers on the body.
(2) The two jaws were modified into beak.
(3) The fore limbs were modified into wings.
(4) The hind limbs were built in the typical avian plan.
Evolution (PEDIGREE) of Horse – Evolution of horse was described by C.marsh.
The primitive fossil of the horse was found in North America named Eohippus.
Changes during evolution of horse are as follows –
1. Increment in body height.
2. Increment in the length of neck.
3. Development of high crown on the surface of teeth and formation of cement.
4. There is gradual increas in the length of legs.
5. Number of toes or fingers in legs have reduced in modern horse. Only middle toe touches the ground, other toes reduced gradually.
6. Legs become more powerful for fast running
7. As new species were formed, previous ones become extinct.
8. Enlargement of brain size.
Fossils of important Ancestores of horse
1. Eohippus or Hyracotherium – It evolved inEoceneEpoch. It's size was like a fox. (Orohippus : It evolved in middle Eocene epoch.)
2. Mesohippus– It evolved from eohippus during oligocene epoch. It's size was like a sheep. (Miohippus : In the late oigocene Mesohippus was replaced by another slightly advanced horse like form named miohippus. It was much like mesohippus in appearance but somewhat large in size). (Parahippus : It evolved in early miocene).
3. Merychippus – It evolved in middle and upper miocene epoch.
It's size was like adonkey.
4. Pliohippus – This horse evolved during pliocene epoch. It was of the size of modern pony.
5. Equus (Modern horse) – This is modern horse which evolved from pliohippus during pleistocene epoch(height 60-64 inches).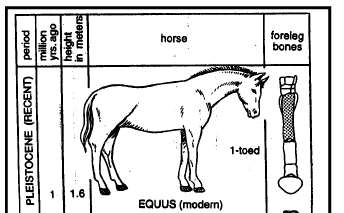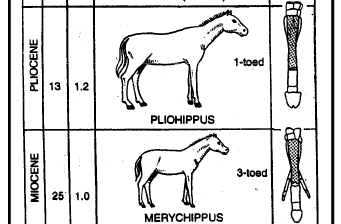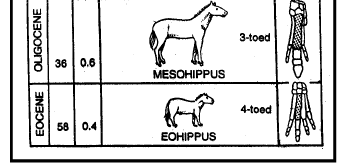 "Dating of fossils" or "The clock of the Rock"
The fossils give valuable information about the history of organic evolution by giving information about the organisms which existed in the past. This is possible only if the correct age of the fossils can be determined.
Methods have been developed to find out the correct age of the fossils by determining the age of the rocks where the fossils are found. Rocks have been found to contain certain radioactive elements which lose their radioactivity and change into other nonradioactive isotopes at a fixed rate irrespective of the environmental conditions prevailing at different times. If the rate of this loss of radioactivity of an element is known, the relative proportions of the quantities of radioactive and nonradioactive element in a given rock will enable us to find out the age of the rock. This method is calledabsolute dating.This will be illustrated with the help of four different methods.
(1) Lead method
(2) Radio-carbon method
(3) Potassium - Argon method
(4) Electron spin resonance method [ESR method]
Geological Time Scale – Firstly given by Giovanni Avduina.
Chronological order of the history of organic evolution, which is presented in the form of geological time scale.
This time scale includes the history of earth itself ever since it was formed due to formation of its crust from lava of ancient volcanic eruptions.
The period between the origin of gaseous cloud (4.6 billion years ago) from which the earth was formed and the formation of earth's crust is calledAzoic Era(era of no life). The remaining period (About 4.0 billion years) is divided in to Five Eras namely
1. Archaeozoic
2. Proterozoic
3. Palaeozoic
4. Mesozoic
5. Coenozoic
The Archaeozoic Era had "invisible life" and the remaining four era had "visible life"(Phanerozoic).
Archaeozoic and proterozoic eras are also grouped together as precambrian because the first part of palaeozoic is cambrian.
The three eras namely palaeozoic, mesozoic and coenozoic, each is further divided into smaller time spans called Period and the periods of coenozoic era are each further subdivided into Epochs. It is also believed that each era of earth's history started with a revolution or cataclysm and ended with yet another revoluation.
These revolutions meant intense geological disturbances that occured on earth, so that most of the pre-existing organisms perished in each revolution and the few remaining ones evolved into new and varied organisms. The first great revolution is believed to have occured between archaeozoic and proterozoic eras; the second great revolution between proterozoic and palaeozoic eras, applachian revolution between palaeozoic and mesozoic eras and finally the rocky mountain revolution between mesozoic and coenozoic eras.
Fossils park of India –
1. Birbal sahni institute of palaeobotany, Lucknow.
2. 50 million year old fossil forests preserved in mandla district Madhya Pradesh.
3. 100 million year old fossil forest in rajmahal hills Bihar.
4. 260 million year old Coal forming forest in Orissa.