Question 1:
On the occasion of Teacher's Day in your school all the students are asked to give their opinion about their teachers, so that the management can finalise a teacher for the 'Best Teacher's Award'. They are asked to write a paragraph on the teacher they like the best and why.
The Teacher : I Like the Most
Answer:
All the teachers in my school are highly qualified. They are competent, dedicated and sincere in their work. Out of all, 1 like Ms Sarita the most. She teaches us maths. 1 like her because she is very friendly with the students and she makes learning fun. Most of all she explains very well and with her guidance we are able to solve even the most difficult sums on our own. She has incredible knowledge of her subject and enthusiasm for teaching. She is passionate about teaching and working with children. She has a strong rapport with the students and has established trusting relationships with them. Even though she is friendly, she maintains discipline in the class. She is ever ready to help us with our problems even after school hours. Above all, she is caring and compassionate. She goes the extra mile to make sure that each child is successful.
Conclusion Everybody respects her, but I have a special regard for her. She is an inspiration for me and I hope that she teaches me in my next class also.
Question 2:
There's a lot of indiscipline in your school. It is not liked by the school authorities. They ask you, the vice Head Boy, to talk to the junior children about the 'Value of Discipline' so as to make them understand the importance of discipline in one's life. Write a paragraph on the above mentioned topic.
Value of Discipline
Answer:
Discipline is the law of nature. It is in man's best interest to observe discipline in all walks of life. Discipline is the backbone of character. Without discipline, nothing great can be achieved in life. A man who does not observe discipline in life has to suffer. He becomes lethargic and arrogant. He is disliked by all. A student who does not obey his teachers and does not do his homework does not get success. An employee who does not work sincerely in office may be sacked any time. If sportsmen do not observe discipline cannot hope to win any match.
In the army, discipline is of utmost importance. Discipline leads to harmony whereas indiscipline leads to confusion. No life is worth living without discipline.
Conclusion A disciplined person is an asset to himself, to his family, to his society, to the nation and to mankind. Discipline works everywhere. It controls the physical movements and our morals. There is no sphere in heaven and the Earth where discipline does not dominate.
Question 3:
There is a fall in values in today's life. Keeping this cue in mind, write a paragraph on 'The Need For Moral Education in Schools', so as to make the youth of today, aware of high moral standards.
Need for Moral Education in Schools
Answer:
Philosophers have explained that the main purpose of education is to have a sound character. For this reason, moral education is gaining importance in the field of education. Man is a social animal. He learns social habits like helping people, respecting elders and being polite, during school years. When he learns good social habits, he becomes a responsible citizen. Moral education enables a person to choose the right path. It's not that only teachers in schools can impart moral education to the children, but parents also play a great role by becoming role models for the children. What is moral education? It can be anything which teaches a person moral values and virtue. Values are a set of guidelines that a human being learns to follow.
Nobody is born with moral values in him or her. It is inculcated in him or her by his or her education and experience of life.
Conclusion Therefore, it becomes essential to inculcate moral values during school years as these are the most formative years in a child's life. Education moulds the moral values in our characters. By educating children about morals and the young learners values in life we can make them fit for the society as well as the nation.
Question 4:
Write a paragraph on 'The Importance of Good Health'.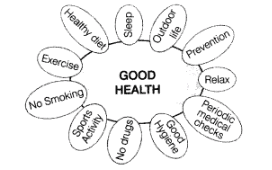 The Importance of Good Health
Answer:
Health is wealth. Good health is the greatest blessing that a person can have. It is the key to happiness. It is the secret of every happy man. Only a healthy person can enjoy life to its fullest and discharge his duties well. On the other hand, an ailing person is a burden on all. Therefore, we must try our best to maintain sound health. Fresh air, balanced diet, regular exercise, proper rest and stress free life are prerequisites for good health. We should drink plenty of water, avoid over eating and should refrain from alcohol.
Most of all, we should have regular health check-ups. We must laugh more as laughing is a therapy and the secret of good health. The care of the body regarding food, exercise, rest and protection against disease, are essential for the preservation of sound health.
Conclusion Life is for living. Without health, life is deprived of not only much of its usefulness, but also its joys and pleasures. Let us remember that life is worth living only by a healthy body, mind and soul.
Question 5:
The level of pollution in big cities is increasing steadily. It is becoming more and more important to bring pollution under control. Write a paragraph on 'Environmental Pollution' so as to make the people aware of the factors causing pollution.
Environmental Pollution
Answer:
The problem of environmental pollution is becoming more and more serious day by day. The ecological cycle is being disturbed by the people. Man is exploiting nature to the extent that natural resources are depleting. The main reason for environmental pollution is overpopulation and poverty. The increased demand for food and other resources forces man to cut down forests which leads to an increase in the carbon dioxide ratio in the atmosphere. This results in heating up of the atmosphere. This is called global warming. Due to this, seasons are also undergoing a change.
All this forecasts disaster for human beings and other living beings. In order to bring pollution under control we need to conserve our forests, reduce the use of paper, petrol etc. Earth must be saved at any cost for the sake of survival.
Conclusion The need of the hour demands a check in environmental pollution. The government should take necessary steps in this direction.
Question 6:
Reading skills are essential to succeed in society. It is a source of knowledge and pleasure. Write a paragraph on 'The Importance of Reading'.
The Importance of Reading
Answer:
Reading broadens the vision of an individual. Bacon wrote in his essay. 'Of Studies'. "Reading maketh a full man: conference a ready man: and writing an exact man". In shaping the personality of an individual, the importance of reading cannot be denied. A person reads not only for the sole purpose of gaining knowledge, but also to get pleasure, provoke critical and original thinking and to broaden his vision. Reading makes a man a better conversationalist and helps to relieve stress. Newspaper reading has become an important aspect in the life of a modern man.

Conclusion A typical modern man may get his breakfast or not, but he must get his newspaper. A good reader leads a disciplined life. Reading helps him to become a well informed. It boosts imagination and creativity in an individual. He is able to mix well with others and is never alone as books are his best friends.
Question 7:
Observe the following visual and write a paragraph on the famous personality.
Answer:

Arvind Kejriwal was born on 16th August, 1968. He is an Indian politician and social activist. He served the Indian Revenue Service as an officer. He was the seventh Chief Minister of Delhi. He is also the current Chief Minister, having won the 2015 Delhi Assembly Elections. He is the leader of the Aam Aadmi Party (AAP). Kejriwal is a Mechanical Engineering graduate. In 2006, Kejriwal was awarded the Ramon Magsaysay Award for 'Emergent Leadership' recognising his involvement in a movement Parivartan, using the RTI legislation. It was a campaign against corruption. He donated his Magsaysay award money to the Public Cause Research Foundation, a Non-Governmental Organisation (NGO). In 2012, he launched the Aam Aadmi Party and defeated Chief Minister Shiela Dixit. Following the election, he became the Chief Minister of Delhi on 28th December, 2013. He resigned 49 days later, an action he later regretted.
Conclusion He apologized for quitting midway. He achieved a sweeping majority in the Delhi Legislative Assembly Elections and is proud to become the Chief Minister of Delhi for a second term.