FLEXIDENTATE LIGANDS

There are several ligands which have two or more donor atoms. These ligands can coordinate with metal atom or ion either through one donor atoms forming non-chelated complex or two donor atoms forming a chelate. These ligands are called flexidentate ligands.
Examples of such type of ligands are:

etc.
When these ligands behave as monodentate ligands, the complexes so formed are realy stable. But when the ligands behave as bidentate ligands, they form chelates containing three or four membered rings including metal ion or atom as shown below: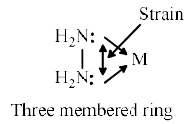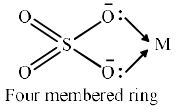 In general, the chelates having three of four membered rings are unstable because of the steric strain. However, exceptionally there are some stable chelates having four membered rings like [Ce(NO3)6]2– [Co(CO3)3]3– etc. EDTA4– is a hexadentate ligand, but some times it acts as pentadentate or tetradentate ligand depending upon the size and stereochemistry of the chelate formed. For example, in complexes [Cr(OH)(HEDTA)]2– and [CoBr(HEDTA)]2–, EDTA acts as pentadentate ligand and in complex [Pd(H2EDTA)]0, it acts as tetradentate ligand and in complexes [Ca(EDTA)]2– or [Mg(EDTA)]2– it acts as hexadentate ligand.
SYMMETRICAL AND UNSYMMETRICAL BIDENTATE LIGANDS
The bidentate ligands in which both the donor atoms are same, are called symmetrical bidentate ligands and the ligands in which both the donor atoms are different are called unsymmetrical bidentate ligands. The symmetrical and unsymmetrical bidentate ligands are represented as (AA) and (AB) respectively where A and B are donor atoms. Examples of symmetrical and unsymmetrical ligands are given below:
| | |
| --- | --- |
| Symmetrical Ligands | Unsymmetrical Ligands |
| | |
| | |
| | |
| | |
| | |
| | |
14. Macrocyclic Ligands
These are the special class of chelating ligands. These ligands contain large size rings without a metal cation or atom present. These ligands contain several donor atom inside their ring to donate lone pair of electrons to the metal cation. For example, chlorophyll, haemoglobin and vitamin B12 all contain tetradentate macrocyhclic ligands. A macrocyclic ligand form more stable macrocyclic complex as compared to complex formed by the non-cyclic chelating ligands having same number of type of donor atoms as that of macrocyclic ligand. This effect is called macrocyclic effect. It has been observed that the chelate ligands form more stable complexes than analogous monodentate ligands and the chelates of higher denticity (i.e., C.N.) are more stable than the chelates of lower denticity. Also, macrocyclic ligands of appropriate size form more stable complexes than the chelating ligands. This structure o chlorophyll is shown in Fig. 10.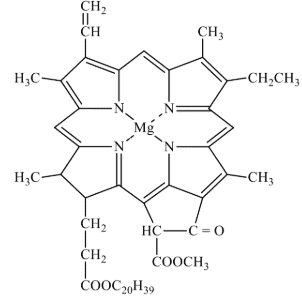 Fig. 6. Structure of Chlorophyll.
15. A Chemical Mystery
"Same metal, same ligands but different number of ions when dissolved".