FREQUENTLY ASKED QUESTIONS – CBSE BOARD EXAMINATION
One Mark Questions (1M)
Define the law of supply.
Define market supply.
What do you understand by supply curve of a firm?
What do you mean by elasticity of supply?
Define supply schedule.
Define revenue of a firm? OR give meaning of revenue?
Define Marginal Revenue?
What is Average revenue?
When will the marginal revenue become negative?
What happens to total revenue when Marginal revenue is zero?
In which market the Average revenue is equal to marginal Revenue?
Three Marks Questions (3M)
Give reasons for the rightward shift in supply curve?
Give reasons for the leftward shift in supply curve?
If the price of the commodity falls by 10 % and consequently the quantity supply decreases by 20 % what will be elasticity of supply?

Four Marks Questions (4 M)
Briefly explain the geometric method of measuring price elasticity of supply?
Distinguish between change in supply and change in quantity supplied?
Explain the movement along the supply curve?
Three OR Four Marks Questions (3M/4M)
1) What changes will take place in marginal Revenue when:
a) TR increase at an increasing rate?
b) TR increases at a diminishing rate?
2) Complete the following table: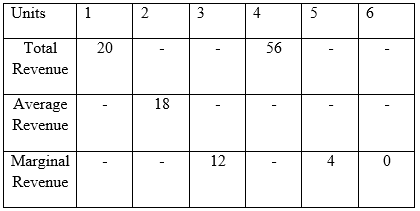 Six Marks Questions (6 M)
Explain the determinants of supply?
Explain the relationship between Total Revenue and marginal Revenue using a Schedule and diagram?