Functional Group
The atom e.g., -CI, -Br etc., or group of atoms e.g., -COOH, – CHO, which is responsible for the chemical properties of the molecule, is called functional group.
Double and triple bonds are also functional groups.
R – F ← functional group.
R is called an alkyl group, it contains only single bond; alkenyl group if contains double bond and alkynyl group if contains triple bond.
Homologous Series:
The series in which the molecular formula of adjacent members differ by a – CH2 unit, is called homologous series and the individual members are called homologue. e.g., The homologous series of alkene group is:

The general characteristics of this series are :
1. All the homologues contain same functional group. That's why their chemical properties are almost similar.
2. All the members of a series have same general formula, e.g.,
| | |
| --- | --- |
| Series | General formula |
| Alkanes | CnH2n+ 2 |
| Alkenes | CnH2n |
| Alkynes | CnH2n-2 |
| Alcohol and ether | CnH2n+ 2O |
| Aldehyde and ketone | CnH2n O |
| Acid and ester | CnH2n O2 |
3. All the members can be prepared by almost similar methods.
4. With increase in the molecular weight of a series, the physical properties vary gradually.
Representation of Different Formulae:
An organic compound can be represented by the following ways :
1. Complete formula:
In it, all the bonds present between any two atoms are shown clearly.
2. Condensed Formula:
In it, all the bonds are not shown clearly.
3. Bond Line Formula:
In it, every fold and free terminal represents a carbon and lines represent the bonds. e.g.,
In such formulae, it is assumed that required number of H-atoms are present, wherever, they are necessary (to satisfy tetravalency of carbon) e.g.,



Nomenclature of Organic Compounds:
Trivial System
It is the oldest system in which names are derived from source or some property. These are mainly derived from Latin or Greek names e.g., acetic acid (acetum = vinegar), oxalic acid (oxalic), malic acid (pyrus malus), citric acid (citric), formic acid (obtained from red ant (formicidae)].
IUPAC System
The IUPAC (International Union of Pure and Applied Chemistry) system, given in 1957, is superior and widely used. IUPAC amends these rules from time to time. Here. we are following the 1993 recommendations of IUPAC nomenclature.
Following rules are used to write the IUPAC name of an organic compound.
Rule I
Longest chain rule: The chain containing the principal functional group, secondary functional group and multiple bonds as many as possible is the longest possible chain.
In the absence of functional group, secondary group and multiple bonds, the chain containing the maximum number of C-atoms will be the longest possible chain e.g


Choose the word root from the table given below for the longest possible chain.
Word Root for Carbon Chain
| | | | |
| --- | --- | --- | --- |
| Chain length | Word root | Chain length | Word root |
| C1 | Meth- | C7 | Hept |
| C2 | Eth- | C8 | Oct |
| C3 | Prop- | C9 | Non |
| C4 | But- | C10 | Dec |
| C5 | Pent | C11 | Undec |
| C6 | Hex- | C12 | Dodec |
Rule 2
Lowest number rule Numbering is done in such a way so that
1. branching if present gets the lowest number.
2. The sum of numbers of side chain is lowest.
3. The principal functional group gets the lowest number.
Select the principal functional group from the preference series :

Functional group other than the principal functional group are called substituents.
Rule 3.
Naming the prefixes and suffixes Prefix represents the substituent and suffix is used for principal functional group.
Primary prefixes are cycle, bicycle, di, tri, tetra, tetrakis etc.
Secondary prefixes are tabulated below :
| | | | |
| --- | --- | --- | --- |
| Substituent | Prefix | Substituent | Prefix |
| —F | Fluoro | —N=N— | diazo |
| —Cl | Chloro | —N=0 | nitroso |
| -Br | Bromo | —NO2 | nitro |
Primary suffix are ene, ane, or yne used for double, single and triple bonds respectively.
Secondary suffixes are tabulated below :
S. No.

Class

Formula

Prefix

Suffix

1.

Acid halides

halocarbonyl

—oyl halide

2.

Alcohols

—OH

hydroxy

-carbonyl halide

3.

Aldehydes

-CHO

formyl

-al

—carbaldehyde

4.

Ketones

oxo

—one

5.

Amides

—CONH2

carbamoyl

—amide

6.

Amine

—NH2

amino

—amine

7.

Carboxylic acid

—COOH

carboxy

—carboxylic add

3-

Ester

—COOR

oxy carbonyl

—alkyl alkanoate

9,

Nitriles

—CN

cyano

—nitrile

10.

Sulphonic acid

—S02—OH

sulpho

—sulphonic acid
Hence. according to the rules. given above, the IUPAC name of a compound can be written as: Prefixes + Root word + Suffixes Primary prefix + secondary prefix + Root word + primary suffix + secondary suffix.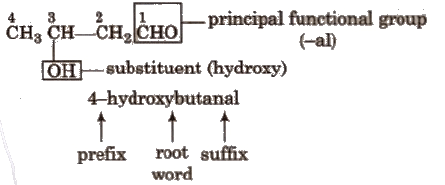 If more than two similar functional groups are present, all the groups are considered as substituent. e.g.,