Points to remember
1. Dictatorship: It is a form of government in which a person or a group of persons possesses absolute power without effective constitutional limitations.
2. Nazism: A political system introduced by Hitler in Germany. Akin to dictatorship and fascism, it also propagated extreme hatred against the Jews.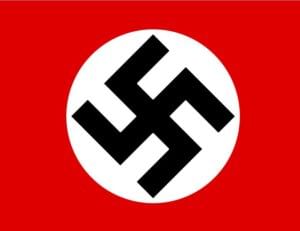 Symbol of Nazism
3. Nazi: The short form of Nationalist Socialist German Workers Party. Formed by Hitler in 1921, it propagated Nazism.
4. Axis Powers: Italy, Germany and Japan formed the Axis powers.
5. Allied Powers: Britain, France, Russia and U.S.A. were the allied powers.
6. Second World War: The global war took place from September 1939 to May 1945 in which over 50 million people were killed and many cities were reduced to rubble.
7. The Great Depression: A worldwide economic slump lasting from 1929 to 1935. During these years, trade between nations dropped and around 25 million people lost their jobs.
8. Pearl Harbor: Situated on the Hawaiian island of Honolulu, it was the main base of the US pacific fleet. Japanese planes launched from aircraft carriers attacked the base on 7th December 1941. They destroyed 120 aircraft and killed 2,400 people.
9. Gestapo: Short for Geheime Staatspolizei, the secret state police in Nazi Germany. It had the power to arrest people without trial and torture and kill them. As a result, they were the most hated and feared organisation in Nazi-occupied Europe.
10. Holocaust: It comes from the Greek word holos and kautos which literally means 'completely burnt. It is used to describe the persecution and mass murder of Jews by German Nazis between 1933 and 1945.
11. Semite: Usually someone who belongs to any of the peoples of South-west Asia, especially Jews and Arabs. In Nazi Germany, the word was used to describe only Jewish people.
12. Reichstag: The name given to the German Parliament
13. Reparation: Making up for a wrong done.
14. Wall Street Exchange: The name of the world's biggest stock exchange located in the U.S.A.
15. Propaganda: Specific type of message directly aimed at influencing the opinion of people through the use of posters, films, and speeches.
16. Concentration camp. : A camp where people were isolated and detained without the due process of law.
17. Persecution: Systematic, organised punishment of those belonging to a group or religion.
18. Jung volk: Nazi youth groups for children below 14 years of age.
19. Pauperised: Act of depriving someone of food or money or rights. a state of extreme poverty or destitution. synonyms: indigence, need, pauperism, pauperization, penury.
20. Usurers: A person who lends money at unreasonably high rates of interest.
21. Persecuted: To treat somebody in a cruel and unfair way, especially because of race, religion or political beliefs.
22. Gypsies: A member of a people originating in South Asia and traditionally having an itinerant way of life, living widely dispersed across Europe and North and South America and speaking a language (Romani) that is related to Hindi; a Romani person.
23. Arch-enemies: An archenemy (or arch-enemy) is the main enemy of someone. In fiction, it is a character who is the hero's (or protagonist's) most prominent and most-known enemy.
24. Concentration camps: A place in which large numbers of people, especially political prisoners or members of persecuted minorities, are deliberately imprisoned in a relatively small area with inadequate facilities, sometimes to provide forced labour or to await mass execution. The term is most strongly associated with the several hundred camps established by the Nazis in Germany and occupied Europe 1933–45, among the most infamous being Dachau, Belsen, and Auschwitz.
25. Proletarianisation: To become impoverished to the level of working classes.
Important Personalities
1. Adolf Hitler: Founder of the Nazi Party, he led Germany during the Second World War and committed suicide on 30th April 1945.
2. Frankin D. Roosevelt: The only American President to enjoy four successive terms in office. He led the U.S.A. during the Second World War and introduced the New Deal.
3. General Von Paulus: Commander of the German 6th army which was forced to surrender at Stalingrad in February 1943. This defeat shattered belief in the invincibility of Hitler's army.
4. President Harry S. Truman: The American President who was responsible for dropping two atomic bombs on Nagasaki and Hiroshima and forcing Japan to surrender thus bringing the Second World War to an end.
5. Winston Churchill: A great leader, author, and orator, he led Britain to victory during the Second World War.
6. General Tojo: The Prime Minister of Japan adopted an aggressive foreign policy and was responsible for the attack on Pearl Harbour which brought America into the Second World War.
Important Dates and Events
1914: First World War begins
1918: Weimer Republic is established
1919: The treaty of Versailles was signed by Germany. Hitler joins the 'National Socialist Germany Workers Party'.
1929: The Economic Depression occurs in the U.S.A.
1933:
President Roosevelt introduces the New Deal to deal with the Economic Depression.
Hitler becomes Chancellor of Germany.
1934: Hitler becomes President of Germany.
1935:
Italy attacks Ethiopia
Anglo-German Naval Agreement signed between Britain and Germany.
1936:
A new constitution is introduced by Stalin
Hitler occupies the Rhineland.
Civil War starts in Spain
1937:
Japan attacks China
Anti-Comintern pact signed by Germany, Japan and Italy
1938:
Hitler's troops march into Austria
Munich pact is signed. German troops acquire Sudetenland.
1939:
Germany attacks Czechoslovakia
Soviet Union signs non-aggression pact with Germany
1st September: Germany invades Poland
3rd September Britain and France declare war on Germany
1940:
Italy declares war on Britain and France
Battle of Britain begins
Italy attacks Egypt
Germany invades Norway and Sweden
France surrenders.
1941:
8th April: Germany invades the Balkans
22nd June: Germany invades the Soviet Union
15th September: Siege of Leningrad by the Germans
7th December: Japan attacks Pearl Harbour. America Joins the war
11th December: Germany and Italy declare war on America
1942: United Nations declaration signed by the representatives of 26 nations
1943: Germany and Italy defeated by the Allied powers in North Africa
1944: 6th June: D-Day-Opening of the Second Front
1945:
25th-26th August: Liberation of Paris
28th April: Italian partisans shoot Mussolini
30 April: Hitler commits suicide
2nd May: Soviet army enters Berlin
7th May: Germany surrenders
8th May: VE (Victory in Europe) Day celebrated
9th May: Stalin announce defeat of the German forces by the Red Army German naval fleet surrenders.
6th August: U.S. drops atomic bomb on Hiroshima
8th August: Soviet Union declares war on Japan
9th August: U.S. drops atomic bomb on Nagasaki
14th August: Japan surrenders
2nd September: The Second World War ends
24th October: U.N.O. comes into existence