Operating Cycle of the Accommodation Bill of Exchange
The basis for accommodation bill is not a trade transaction. It is drawn to accommodate the financial requirements of drawer or even a drawee. This transaction presupposes trust and understanding between the parties to the transaction. The drawer normally discounts this bill with the bank. The amount received from bank is either retained by the drawer for himself or shared between the drawer and the drawee. On the date of maturity, the drawee settles the bill with bank by effecting payment. The drawer will pay the drawee either full amount of the bill or his share. Accounting entries for accommodation bill are:

Illustration 9.
Following information is given to you by Govind from his books: On 1st April 2012 he had with him bills of

1,50,000 accepted by his customers and

1,00,000 worth accommodation bills accepted by his friends. He had accepted bills worth

90,000 for his suppliers and

75,000 worth accommodation bills for his friends.
During the year the following transactions took place:
(i) He raised bills of

3,75,000 which were accepted by his customers.
(ii) He accepted bills of

2,25,000 for his suppliers.
(iii) He accepted accommodation bills of

60,000 for his friends.
(iv) His friend accepted accommodation bills of

1,25,000 for him.
(v) He honoured on due dates trade bills of

1,75,000 and accommodation bills of

85,000.
(vi) He received payments on due dates for trade bills of

4,00,000 and accommodation bills of

1,50,000.
(vii) He endorsed bills of

25,000 to his suppliers, which were honoured by the acceptors.
(viii) His customers endorsed bills of

30,000 to him which he accepted in favour of his suppliers.
(ix) Accommodation bills were settled on the due dates and money was paid and received duly.
Prepare Bills Receivable Account and Bills Payable Account for both trade and accommodation bills.




Illustration 10.
Vijay draws a bill for

60,000 and Anand accepts the same for mutual accommodation of both of them to the extent of Vijay 2/3rd and Anand 1/3rd. Vijay discounts it with bank for

56,400 and remits 1/3rd share to Anand. Before the due date, Anand draws another bill for

84,000 on Vijay in order to provide funds to meet the first bill on same sharing basis. The second bill is discounted at

81,600. With these proceeds, the first bill is settled and

14,400 were remitted to Vijay. Before the due date of the second bill, Vijay becomes insolvent and Anand receives a dividend of only 50 paise in a rupee in full satisfaction. Pass journal entries in the books of Vijay.
Solution: In case of accommodation bills, the proceeds of discounting are shared by parties as agreed. The discounting charges are also shared in agreed proportion. Here, the ratio between Vijay and Anand is given as two-thirds and one-third. The first bill of

60,000 is discounted at

56,400 which means the discounting charges are

3,600. The share of each one is:

Further, as Vijay has become insolvent, the amount due to Anand is settled at 50% of total. To calculate this amount, it's necessary to post all transactions to Anand's account and arrive at the balance.
In the Books of Vijay Journal Entries



Illustration 11.
Rahim, for mutual accommodation, draws a bill for

3,000 on Ratan. Rahim discounted it for

2,925. He remits

975 to Ratan. On the due date, Rahim is unable to remit his dues to Ratan to enable him to meet the bill. He, however, accepts a bill for

3,750 which Ratan discounts for

3,625. Ratan sends

175 to Rahim after discounting the above bill. Rahim becomes insolvent and a dividend of 80 paise in the rupee is received from his estate.
Pass the necessary journal entries in the books of both the parties. Solution: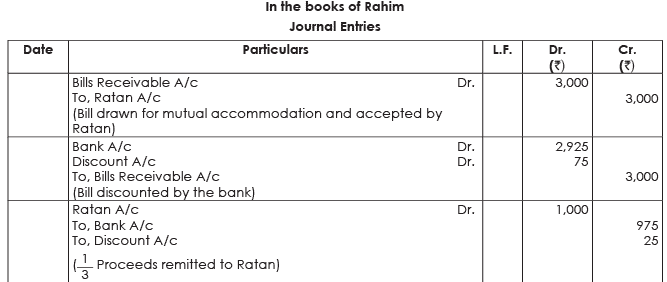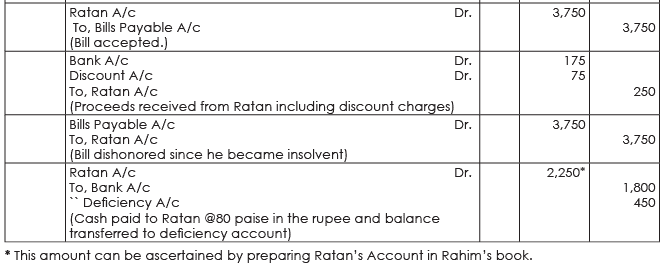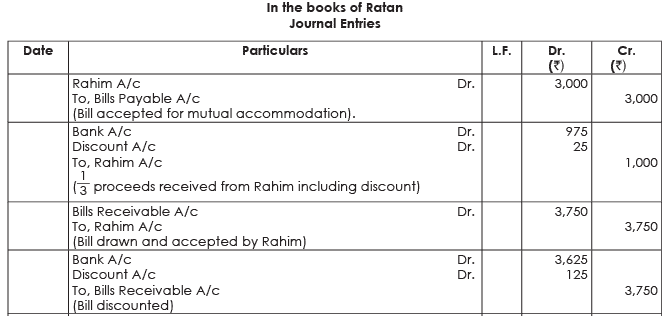 Illustration 12.
On 1.7.2013 Salil, for mutual accommodation of himself and Sunil, drew on the other a bill for

10,000 payable at 3 months date. The bill was discounted with Central Bank of India at 5% and half of the proceeds were remitted to Sunil on 2.7.2013.
On 2.7.2013, Sunil drew a bill on Salil for

4,000 payable at 3 months' date. He discounted the bill with Bank of India at 10% and remitted half the proceeds to Salil.
Sunil became bankrupt on 31.8.2013 and only 25% was received by Salil on 15.9.2013 as the first and final dividend from his estate. Write the journal entries in the books of Salil.
Solution: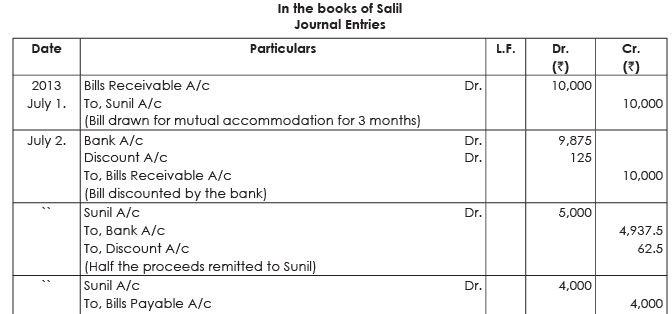 Illustration 13.
On 1.1.2013, Pandit, for mutual accommodation of himself and Thakur, drew upon the latter a 3 months' bill for

12,000 which was duly accepted. Pandit discounted the bill at 6% p.a. on 4.1.2013 and remitted half of the proceeds to Thakur.
On 1.2.2013, Thakur drew and Pandit accepted a bill at 3 months' for

4,800. On 4.2.2013, Thakur discounted the bill at 6% p.a. and remitted half of the proceeds to Pandit.
At maturity Pandit met his acceptance but Thakur failed to meet his and Pandit had to take it up. Pandit drew and Thakur accepted a new bill at 2 months on 4.5.2013 for the amount due to Pandit plus

100 as interest. On 1.7.2013, Thakur became insolvent and first and final dividend of 50 paise in the rupee was received from his estate on 30.09.2013.
Pass necessary journal Entries in the books of Pandit.
Solution: