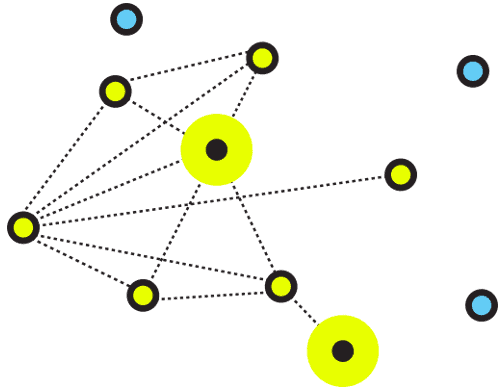 The Internet is a worldwide collection of computer networks, cooperating with each other to exchange data using a common software standard. Through telephone wires and satellite links, Internet users can share information in a variety of forms.
Connect easily through ordinary personal computers and local phone numbers exchange electronic mail (E-mail) with friends and colleagues with accounts on the Internet post information for others to access, and update it frequently access multimedia information that includes sound, photographic images and even video and Access diverse perspectives from around the world.
An additional attribute of the Internet is that it lacks a central authority—in other words; there is no "Internet, Inc." that controls the Internet. Beyond the various governing boards that work to establish policies and standards, the Internet is bound by few rules and answers to no single organization.

THE HISTORY OF THE INTERNET
Many people think that the Internet is a recent innovation, when in fact the essence of it has been around for over a quarter century. The Internet began as ARPAnet, a U.S. Department of Defense project to create a nationwide computer network. Following is the brief points to tell the internet evolution:
1. 1950: ARPA was setup to create a network, they came up with APRANET
2. 1970: ARPANET stared to create a standard a predecessor of TCP.
3. 1971: Universities added to ARPANET, started basic services like TELNET and FTP.
4. 1972: First E-mail message Sent.
5. 1973: ARPANET connects itself outside US, i.e. in England and Norway.
6. 1974: TCP started being used for communication across a system of networks.
7. 1982: US DOD starts building defense data network based on ARPANET technology.
8. 1983: ARPANET splits into ARPANET and MILNET.
9. 1983: Internet now in place, TCP/IP standardizes.
10. 1986: National Science Foundation implements NSFNET, a system of regional network of routers connected over as a back bone network.
11. 1991: New applications introduced, Archie and Gopher.
12. 1992: Internet linked with more than 17,000 networks in 33 countries with 3 million people.
13. 1993: WWW was launched.
14. 1995: ISP (Internet Service Providers) came up to provide home users to connect to internet back bone.
15. 1995: The same year internet users raised to 30 million
16. Now: Billions of the people are the part of internet and using different services provided by the internet.

What Kinds of Information Are Available?
In addition to text documents, the Internet makes available graphics files (digitized photographs and artwork), and even files that contain digitized sound and video. Through the Internet, you can download software, participate in interactive forums where users post and respond to public messages, and even join "chats," in which you and other users type (and, in some cases, speak) messages that are received by the chat participants instantly.

How Do People Use the Internet?
Obviously, the Internet can bring you a whole host of capabilities. But how can they be put to practical use?
Among the ways that users like yourself are taking advantage of the Internet are:
(i) Sharing research and business data among colleagues and like-minded individuals.
(ii) Communicating with others and transmitting files via E-mail.
(iii) Requesting and providing assistance with problems and questions.
(iv) Marketing and publicizing products and services.
(v) Gathering valuable feedback and suggestions from customers and business partners.
(vi) The Internet's potential is limited only by users' vision and creativity. And as the Internet grows, new and innovative uses will surely follow.

The Sum of Many Parts
Unlike many computer networks, the Internet consists of not one but multiple data systems that were developed independently. The most popular and important systems are:
(i) E-mail, for exchange of electronic mail messages.
(ii) USENET newsgroups, for posting and responding to public "bulletin board" messages.
(iii) File Transfer Protocol (FTP), a system for storing and retrieving data files on large computer systems.
(iv) Gopher, a method of searching for various text-based Internet resources (largely obsolete).
(v) TELNET, a way of connecting directly to computer systems on the Internet.
(vi) Internet Relay Chat (IRC), a system for sending public and private messages to other users in "real time"—that is, your message appears on the recipient's screen as soon as you type it.
(vii) CU-SeeMe, a videoconferencing system that allows users to send and receive sound and pictures simultaneously over the Internet.