Q 1. Define natural environment. What are its domains?
Natural Environment: All the objects created by nature constitute physical or natural environment. It refers to both biotic and abiotic conditions existing on the earth. Land, water, air, plants and animals form the natural environment. Lithosphere, hydrosphere, atmosphere and biosphere are the domains of natural environment.
Q 2. What is Hydrosphere?
Hydrosphere is the domain of water. It comprises various sources of water. The different water bodies like rivers, ponds, seas, oceans etc are its major components. Hydrosphere is essential for the support of life on this planet.

Hydrosphere consists of water and its sources
Q 3. Why is it important to study Natural Environment?
There are many reasons which make it important to study Natural Environment such as -

It helps us to understand the diversity, nature and mechanism of operation of various forces on the earth.

We can understand the impact of man's activities on Environment.

The origin and distribution of surface, features of land can be studied only when we have a total view of the environment.

Even when we study only a certain part of the earth, we can establish the relationship only when we have a view of the totality of the environment.

Since we live only on the surface of the earth, the study of the atmosphere and oceans becomes essential because of their interactive and interdependent nature.
Q 4. What is an ecosystem?
Ecosystem is a system formed by the interaction of all living organisms with each other and with the physical and chemical factors of the environment in which they live, all linked by transfer of energy and material.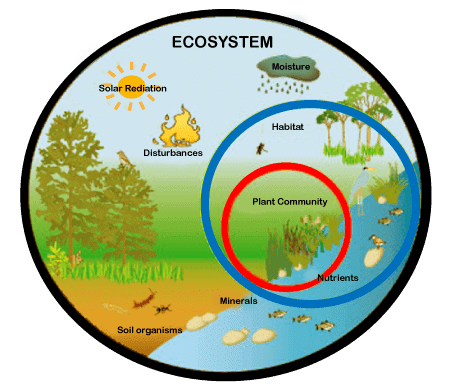 Depiction of Ecosystem
Q 5. Why is environment changing?

Environment is changing because of our needs. They are increasing day by day; we are therefore modifying and at times even destroying our natural surroundings.