THERMODYNAMICS
"The study of the flow of heat or any other form of energy into or out of a system as it undergoes a physical or chemical transformation, is called thermodynamics." Thermodynamics terms and Basic concepts: System,
Boundary, Surroundings:
"A system is that part of the universe which is under thermodynamic study and the rest of the universe is surroundings."
"A real or imaginary surface separat ing the system fro m the surroundings is called the boundary."
"When a system is uniform throughout, it is called a Homogeneous system & a Heterogeneous system is one which consists of two or more phase."
Types of Thermodynamics Systems:
1. Open system: An open system is one which can transfer both energy and matter to and from its surroundings
2. Closed system: A closed system is one which cannot transfer matter but transfer energy in the form of heat, work & radiation to and from its surroundings.
3. Isolated system: An iso lated system is one that can transfer neither matter nor energy to and from its surroundings.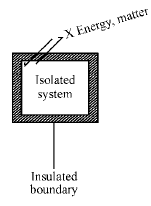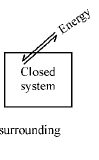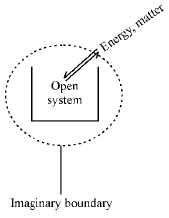 INTENSIVE AND EXTENSIVE PROPERTY
·
A. Intensive property: A property which does not depend on the quantit y of matter present in the system is known as intensive property.

B. Extensive property: A property which depends on the quantit y of matter present in the system, is called an extensive property.

Example: Volume, number of moles, enthalpy, entropy and Gibb's free energy etc. "Extensive properties are additive while intensive properties are not".
Thermodynamics process:
1. Isothermal process: The process in which the temperature remains fixed, are termed isothermal process.
For an isothermal process dT = 0
2. Adiabatic process: The process in which no heat can flow into or out of the system are, called adiabatic process.
For an adiabat ic process dq = 0
3. Isobaric process: The processes which take place at constant pressure are called isobaric process.
For an isobaric process dp = 0
4. Isochoric process: Those processes in which the volume remains constant are known as isochoric process.
For isochoric process dV = 0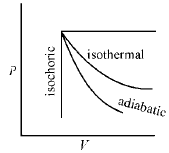 5. Cyclic process: When a system in a given state goes through a number of different processes and finally returns to its initial state, the over all process is called a cycle or cyclic process.
For cyclic process dE = 0, dH = 0.

State of A system: (State function) A thermodynamic system is said to be in a certain state when all its properties are fixed. These state of a system are pressure (P), temperature (T), volume (V), mass and composition. Change in certain property alters the state of the system, these are referred as state variables or state functions or thermodynamic parameters.
The state funct ions P, V, T are in the form of an algebraic relat ionship called the equat ion of state. Thus for 1 mole of a pure gas, the equation of state is
PV = RT (R is gas constant)
"All the thermodynamic quantity like P, T, V, H, G, U, A, S, µ are state function". Work and heat are path function not state function.
In mathemat ical way, a function is said to be state funct ion if it fo llow the Euler's theorem.
Let z be a thermodynamic quant it y then it said to be state function if it fo llow Euler's theorem.
then



Let


⇒ dz = A dx + B dy
if



then z said to be state function. and this is Euler's theorem.
if


then z is not state function if z is state funct ion then


⇒


i.e., when we change the operator then constant will also change.
Cyclic rule: Let z is the funct ion of x & y then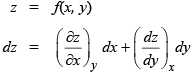 For a cycle dz = 0
Then



This is cyclic rule.
This cyclic rule applicable only for state functions.