About the Poet - Robert Frost
Robert Lee Frost (26 March 1874-29 January 1963) was an American Poet born in San Francisco, but he spent most of his adult life in rural New England. His work frequently employed themes from the early 1900s rural life in New England, U.S.A. Quite naturally, therefore, his poetry is identified with this region.

Robert Frost

Frost employed traditional patterns, or as he said, he chose "the old-fashioned way to be new". He is best known for his shooter lyrics. He admired the qualities of honesty, simplicity, love and hard work.
At the centre of most of his poems lies an antithesis (contrast) between fact and fancy, reality and imagination, pleasure and purpose, nature and civilization, country and city. Instead of imposing arbitrary resolutions, he gives a fair chance to each side for reconciliation. He examines complex social and philosophical themes.
Frost was honoured frequently during his lifetime, receiving four Pulitzer Prizes for poetry. His style is unique because he usually employs a kind of moral lesson after describing a scene or an incident. Despite his later association with rural life, Frost grew up in the city and published his first poem in his high school magazine.
Frost attended Dartmouth and Harvard but never earned a degree, and as a young man with a growing family, he attempted to write poetry while working on a farm or teaching in a school.
Frost moved his family to England in 1912 and the following year, a London publisher brought out his first book. After publishing the second book, Frost returned to America, determined to win a reputation in his own country.
He became one of the country's best-loved poets after a lot of struggle. Despite the surface cheerfulness and descriptive accuracy of his poems, he often presents a dark, sober vision of life, and there is a decidedly thoughtful quality to his work.
Some of the best known famous poems of this four-time Pulitzer Award winner poet are 'Mending Wall', 'Stopping By Woods on a Snowy Evening', 'The Onset', 'Provide Provide', 'Neither Far Nor in Deep', 'Death of the Hired Man' and of course 'The Road Not Taken'.
Introduction to the Poem
First published in 1916, "The Road Not Taken" shows Frost at his best as a pastoral poet who combines rustic simplicity with hidden, indirect and implied meanings. Rhyming abaab, the poem has remarkable simplicity and clarity of style and language.
Theme/ Central Idea of the Poem
"The Road Not Taken" deals with the dilemmas that man faces in life. The two roads serve as a metaphor for the choices we make in life. Life throws up many alternatives. Man being an individual cannot take up all choices.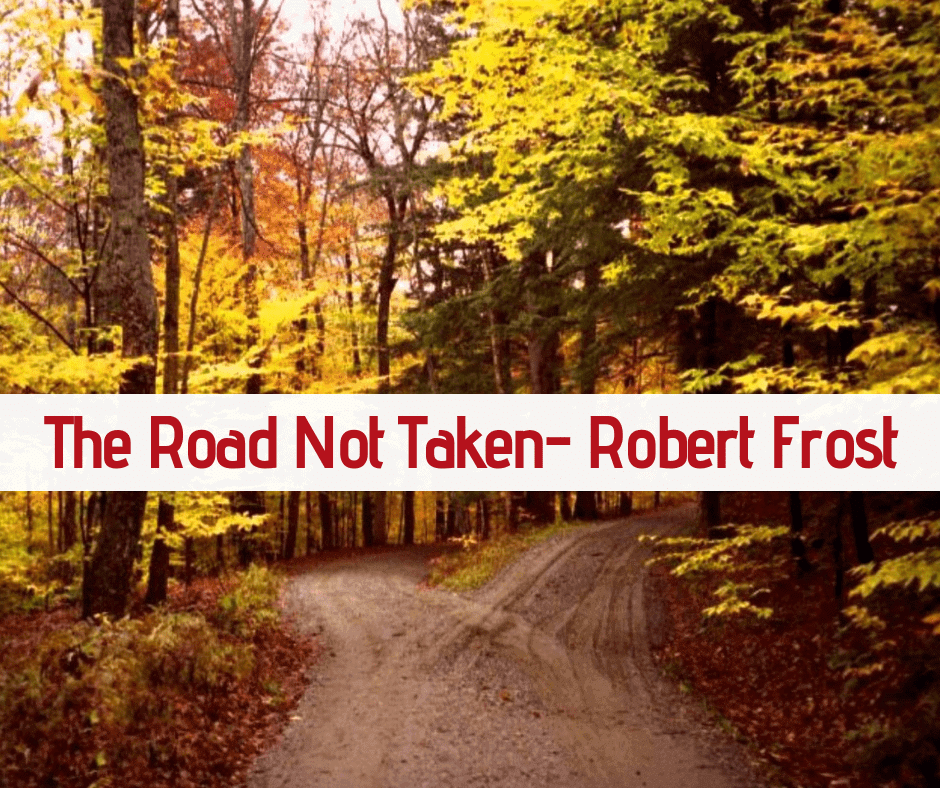 The choice we make has far-reaching consequences. Hence, our decision is a shot in the dark though our future is dependent on it. If the choice made by us happens to be not correct, we have to face the consequences as steps once taken cannot be retracted.
The Significance of the Title The Road Not Taken/ Path Not Taken
'The road' is the symbol of the choice made by us in life. Many times, we regret the choice made by us, but what is done once cannot be undone. Man yearns for what he has denied himself in life, rather than what he has chosen. Hence, the poet has given his poem the title "The Road Not Taken". Some critics also call this poem 'The World Less Traveled'.
Literary Devices/ Figures of Speech/ Poetic Devices Used in the Poem
Alliteration: It is the repetition of usually consonant sounds in a sequence of words. Only when the recurrent sound occurs in a conspicuous position at the beginning of a word or of a stressed syllable within a word. It gives a musical effect and also enhances the poem's stress.
Symbolism
The two roads described by the poet are the symbols of the challenges and choices that life offers. The beaten track symbolizes the easier path and the less travelled road is a more challenging path. The selection of the difficult road by the poet symbolizes man's urge to live life boldly.
Word Meanings
Diverged: went in different directions, separated
Better claim: preferable
Equally lay: lying in the same manner
Yellow wood: the forest turned yellow in autumn,पतझड़ में वन के पेड़ों के पत्ते पीले हो गये
थे |
Bent: took a turn, मुड़ी |
Undergrowth: bushes and low trees, झाड़ियाँ तथा छोटे पौधें |
The other: the other road, दूसरी सड़क |
Just: exactly the same, ठीक वैसी ही |
Fair: beautiful,सुन्दर |
About the same: equally, बराबर |
Wanted wear: had not been crushed or worn out under human feet, has not been used and worn so frequently, जो इतनी इस्तेमाल न की गयी हो और घिसी हुई न हो |
Passing: the passing of travellers, यात्रियों का उन सड़कों से गुजरना |
Worn them really about the same: both of them were worn equally or the same,दोनों एक जैसी ही घिसी हुई थीं |
Both: both the roads,दोनों सडकें |
Equally lay: lying in the same manner, ठीक वैसे ही पड़ी थीं |
Trodden: walked on,चला था |
First: the first road, पहली सड़क |
For another day: to be used on any other day, किसी और दिन के प्रयोग के लिये |
Sigh: the deep breath of sorrow, अफसोस की गहरी साँस, आह |
Ages and ages: (after) many years, बहुत सालों बाद |
Hence: from now, अब के बाद |