Learning Outcomes
After studying this chapter, you will be able to:
Describe the domains of business and commercial knowledge (BCK).
Explain the importance of BCK for a Chartered Accountant.
Enhance BCK Quotient (BQ).
Distinguish the business from the myriad of human activities, more so from employment and profession perspectives.
Distinguish between proprietary and corporate forms of business organisations.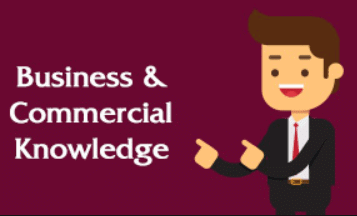 Introduction
Humans engage themselves alternatively between work and life.
We work to earn income. We spend (and also save) the income for the sustenance of the self and the family.
In the process, daily we engage in numerous transactions and exchange our income for buying various goods and services. Being social and socially aware, we also live a family life and engage in social activities, charities and the like.
In this chapter, we elaborate on human activities whilst focusing on business and the domains of business and commercial knowledge.
In today's world, both earning of income as well as its spending has increasingly become dependent on business and commerce.
To begin with, let us view business and commerce as comprising an array of activities for the production, distribution and exchange (buying and selling) of goods and services.
Now, whether we work as employees or free lancers or as entrepreneurs, our world of work is made of business organisations. And even if we do not work for a business organisation, much of our spending takes place buying various goods and services that have been produced or provided by business organisations.
In all probability, most of the goods that we buy, we do not buy these straight from the producer, but indirectly from second, third or even later intermediary or reseller.
Take a Minute#1
Following picture presents the two views of the same room. List the items identifiable from the picture. Imagine if the said item would have been purchased directly from the producer or some reseller. You may use the observation card whose format is given below the picture to organise your thought process with pen and paper or as an mental activity.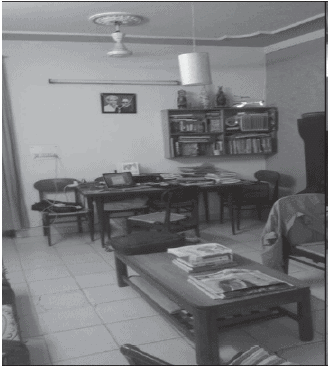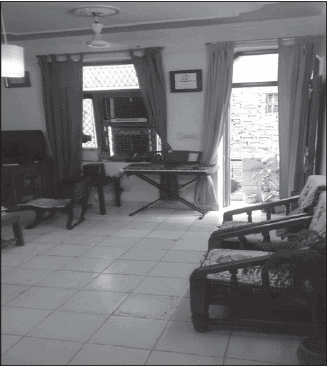 Format–Observation Card
| | |
| --- | --- |
| Points of Observation | Description |
| Group of Item / Industry | |
| Whether procured directly from the producer | |
| The most likely source of procurement | |
| Chain up to the original producer | |
| Remarks, if any | |
Now, it should be possible to elaborate the scope of Business and Commercial Knowledge or BCK that this course is all about. Table 1.
Table 1: BCK Domains- An Overview

State owned/ Public Sector, Private Sector (Sole Proprietorship, Partnership, Company/ Corporate Sector)Production/ Operations, Marketing, Accounting Finance & Taxation, Human Resource Survival, Profitability, Growth, Sustainability, Social Responsibilities, Governance, Values & Ethics.
Domains

Illustrative list

Activitie

Manufacturing, Trading (Domestic, Foreign), Commerce (Aids to Trade or Auxiliaries to Trade) Services

Scale

Micro Enterprises, Small Enterprises, Medium Enterprises , Large Enterprises

Geographic Scope

Local, National, Multinational

Ownership

Markets

[Natural] Resources, Equipments, Commodities, Capital, Labour, Product Markets

Stakeholders

Entrepreneurs, Promoters, Customers, Investors, Business Owners, Directors, Shareholders, Managers, Employees, Suppliers, Laws & Regulators/Policy makers, Supporting / Facilitating Organisations, Society at large

Functions

Focus

Company/ Enterprise wide, A particular business line, A particular function

Concerns

Mode

Tradtional/ Physical/ Brick & Mortar/In-store, Digital/ Online

Underlying disciplines

Economics, Laws, Philosophy, Psychology, Sociology
Domains of Business and Commercial Knowledge
Oxford online dictionary defines the term 'domain' as 'a specified sphere of knowledge'. The sphere of knowledge about business and commerce is vast, eclectic and ever evolving and expanding.
BCK is Vast
The universe of business is vast.
Take for example the range of business activities. It includes manufacturing, trading and services. Just contemplate on any of the activities. Countless instances would come to mind. Take domestic trade, and within it retail trade. Now, door-to-door direct sellers, street vendors, weekly haats or bazars, neigbourhood shops, market places, malls, company chain stores and online retail (e-tail) etc. all comprise retail trade.
Thus, to know about retail trade one needs to be aware of its various forms. Further one needs to know the functions that the retailers perform.
For example, the neighbourhood retailers provide a variety of goods of daily needs, various brands of the same item, in smaller quantities and a host of other services such as home delivery, weekly/ monthly credit, etc. Malls provide a very different kind of shopping expereince. And the online retailing provides 24X7 convenience. Note we have just enumerated some of the benefits from the point of view of the customers. What about their services to the wholesalers and as an intermediary in the chain of distribution from the producer to the consumer?
BCK is Eclectic (Multidisciplinary)
BCK is eclectic i.e., it derives from various disciplines e.g. marketing, accounting & finance, operations, human behaviour (psychology, sociology), laws, economics, ethics etc.
Each discipline has a vocabulary of its own and thus contributes toward BCK vocabulary. Further the BCK adapts the vocabulary of such diverse fields as military and such unrelated fields as biology! Building the BCK Vocabulary #1.
Building the BCK Vocabulary#1
| | | |
| --- | --- | --- |
| BCK Vocabulary | Original Discipline | Description |
| Strategy | Military | Just as the armies at war develop strategies to outsmart each other, likewise businesses draw their strategies to beat their competitors |
| Logistics | Military | In military, logistics means movement of troops, military supplies and equipment. In business it implies the detailed coordination of a complex operation involving many people,facilities, or supplies. Typically inbound logistics imply themovement of inputs and the outbound logistics means themovement of outputs. |
| Bulls | Biology (Animal Psychology) | Because bulls throw up their enemies in combat, like wisebulls imply the stock market players who raise the stockprices through building a buy pressure. Being bullish implies optimistic expectations that the economy/market/business is likely to do well |
| Bears | Biology (Animal Psychology) | Bears have the tendency to embrace and push downwards their enemies in a combat. Thus, bears are the stock market players that have pessimistic expectations. |
BCK is Ever Evolving and Expanding
BCK domains are ever evolving and expanding.
For example, information and communications technology has introduced several terms in the lexicon of BCK e.g. 24X7, B2B, B2C, BPO, chips, etc.
An important aspect of this evolution is the decline and demise of old businesses and old ways of doing business and the emergence of new businesses and newer ways of doing the businesses.
These changes may be aided or impeded by changes in the technology, society, economy and the like- collectively referred to as business environment.
In a fast evolving and expanding sphere of knowledge, the rate of knowledge obsolescence (outdatedness) is high. Thus, we need to stay updated and develop the capability to learn, unlearn and relearn at a fast pace.