LEARNING OUTCOMES
After studying this chapter, you will be able to:
Describe the meaning of business facilitation.
Explain the need for organizational / institutional arrangements for stimulating, supporting and sustaining business.
Differentiate between funding and non-funding organisations.
Describe briefly the purpose, functions and schemes of some of the facilitating organizations.
INTRODUCTION
In the first chapter of the study material, we had introduced business facilitators as a system of arrangements that ease the doing of business. Drawing an analogy, can you recall that in our primary classes we read about our helpers? The way they simplify our lives and make us comfortable, business facilitators do the same for the businesses. We rationalised their need in the context of complexities associated with pursuing business as an occupation / career vis-à-vis a well-defined employment and not so complex professional practice. One may argue that since auxiliaries or aids to trade such as banking, insurance, transport, warehousing etc. too ease the doing of business, these should also be referred to as organizations facilitating business. Yes, these are. All the auxiliaries to trade comprise an important layer of business facilitators. Let's us situate these at the intermediate layer. In the layer above one would like to place such policy making and executive agencies as the Reserve Bank of India (RBI), the Securities and Exchange Board of India (SEBI), Competition Commission of India (CCI) and such regulatory cum developmental agencies such as Insurance Regulatory and Development Authority (IRDA). One may also envisage a layer of facilitators below that we may refer to as the Point of Contact Layer. Together, these may be regarded as comrpsing what may be defined as Business Facilitaiton System (Figure #1).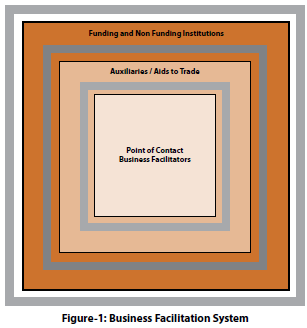 Point of Contact (POC) Business facilitators help the business in several ways. Consider the following (illustrative list only):
a freight forwarder i.e. a person or company who organizes shipments for the business firms to getgoods from the manufacturer or producer to a market, customer or final point of distribution. Note freight forwarders network with shipping Companies/ Airlines, Railways & Roadways and origination, transit and destination ports and warehouses [all auxiliaries / aids to trade] to provide logistics support to the business;
a business incubator helps create and grow young businesses by providing them with necessary support and financial and technical services; and a business accelerator helps a budding business quickly launch a product and put it in the fast lane of commercial success;
a financial consultant who advises the business on the various sources of finance- domestic as well as foreign; debt as well as equity; short-term as well as long-term and helps it mobilise its requirements too. It may be noted that merchant bankers/ financial consultants are not themselves the financing institutions- the auxiliaries or aids to trade;
a merchandiser who helps the business e.g. a fashion house obtains its supplies- fabrics, accessories, etc.
The term business facilitator is formally defined in the financial sector as intermediaries performing a host of functions linking the banks / financial institutions and their potential clients (Concept Elaboration #1).
Concept Elaboration #1: Business Facilitators in Financial Sector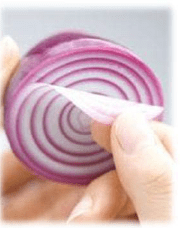 Business Facilitators are intermediaries such as, NGOs/ Farmers' Clubs, cooperatives, community based organisations, IT enabled rural outlets of corporate entities, Village Knowledge Centres, Agri Clinics/ Agri Business Centers, Krishi Vigyan Kendras and individuals like insurance agents, retired bank employees/teachers etc for providing facilitation services. Such services may include (i) identification of borrowers (ii) collection and preliminary processing of loan applications including verification of primary information/data; (iii) creating awareness about products, provide advice on managing money and debt counselling; (iv) processing and submission of applications to NABARD Financial Services Limited (NABFINS) (v) promotion and nurturing Self Help
Groups/ Joint Liability Groups/ Producers' groups ; (vi) post-sanction monitoring; (vii) monitoring and handholding of Self Help Groups/ Joint Liability Groups/ Credit Groups/ Producers' groups etc.; and (viii) follow-up for recovery. However, they shall not engage in cash handling including disbursements, collections etc.
Business faciltators may be distinguished from business correspondents who may be defined as 'banks in person.' These individuals and entities actually provide banking and financial services. Obviously, for this reason business correspondents are more closely regulated than business facilitators who do not engage in the banking and finance business in the sense of handling deposits, repayments etc.
Government as a Business Facilitator
In the preceding chapter, we have seen how the government policy is a powerful and pervasive determinant of business activity. There is barely any sphere of business and commerce that is not affected by government policy.


India's freedom fighters did not merely fight for political independence of India. They had a long term vision of India's economic development. The Union Government came up with the Industrial Policy statement in 1948, barely a few months after independence. In 1951, the Union Government enacted the Industries Development & Regulation Act. The IDRAI entrusted the government with the responsibility of ushering in economic development via industrialisation in India. The Industrial Policy Resolution of 1956 providing for the respective roles of the Public Sector, Large Industries and Small Scale Industries guided the growth of business in India for more than three decades. Initially, the public sector enterprises were to command the industrial development of India. Role of private sector was limited to the production of consumer goods. However, as the economy got stronger with time and the other wherewithal of facilitation of private businesses e.g. initially the development banks, the industrial estates and later a developed capital market
etc. took shape, the private sector has grown from strength to strength. In this context, the New Economic Policy of 1991 which is better known as the LPG or GPL policy i.e. the policy of liberalisation, privatisation and globalisation is regarded as the watershed development in business facilitation in India.
The government facilitates business not only via formulating business friendly policies but also by creating an institutional apparatus for the implementation of those policies. In the preceding chapter you have learnt about the policies; in this chapter our focus is on institutions.