WATER TREATMENT
Each wastewater treatment and disposal system consists of the following: collecting the wastewater, transporting it to treatment plant, treating the wastewater, and disposing of the resulting effluent. The objective of wastewater treatment is to remove undesirable compounds and residues as possible and bring the wastewater to the quality of the designated use. Although potable water is never produced at the treatment plant, wastewater treatment is done to at least of that minimum quality that no nuisance condition or health hazard results because of the final disposal of the effluent and that the quality of the water in receiving streams is not altered. It is also necessary that the effluent from the treatment plant meets the discharge standards as decided by Central Pollution Control Board.

WASTEWATER COLLECTION SYSTEMS
The water collection system transports wastewater from its origin to a designated destination. The purpose of a wastewater collection system is to safeguard the public and other persons involved from health hazards associated with the wastewater. Sanitary collection systems which use conveying structures and pumps are designed to remove these domestic and industrial wastes. Interceptors and traps are used as preventive maintenance measures prior to the wastewater entering the collection system .

WASTEWATER TREATMENT
There are basically three types of stages or processes that take place to render wastewater for disposal. These processes are called primary, secondary, and tertiary treatment. Likewise, there are three types of treatment plants -- primary, secondary, and tertiary -- that reduce the pollutant load in wastewater and chlorinate it before discharging the effluent into outfall sewer.

UNITS FOR TREATMENT OF WATER
A. Pre- and primary treatment. This includes one or many of the following:
Screening: Removes bigger size debris like bricks, glass, etc. that may damage later equipmets
Grinding (includes shredding): Reduces the size of bigger size of solids to smaller size that can be handled by the later equipments
Grit removal: Blocks gravel, sand, silt, etc. from going further








Electrodialysis: Electricity is used for the separation process and removing charged particles
Reverse osmosis: Pressure is for forcing water molecules to the cleaner side
Ion exchange: Removes ionic pollutants by exchange process
Chlorination including ozone treatment, UV treatment: Destroys pathogens present in the effluent
Disposal: Treated effluent is either used for some beneficial use such as irrigation, etc. or is directly discharged to water bodies
Land application: Reduces TSS, BOD, nutrients, etc.

D. Solid Treatment: Converts sludge generated in primary and secondary sedimentation to biosolids for use as soil conditioners, fuel, etc. [3]. Differences in the treatment methodologies for ground water and surface water like from a river can be envisaged from the figures as given below: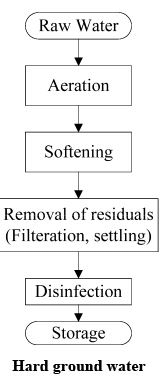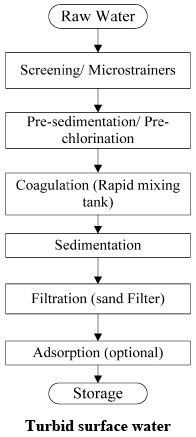 Figure 3.1.1: Treatment steps for ground and surface water .