INTRODUCTION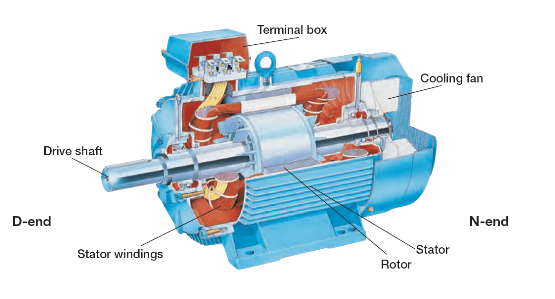 The induction machine was invented by NIKOLA TESLA in 1888. Right from its inception its ease of manufacture and its robustness have made it a very strong candidate for electromechanical energy conversion. It is available from fractional horsepower ratings to megawatt levels. It finds very wide usage in all various application areas. The induction machine is an AC electromechanical energy conversion device. The machine interfaces with the external world through two connections (ports) one mechanical and one electrical. The mechanical port is in the form of a rotating shaft and the electrical port is in the form of terminals where AC supply is connected. There are machines available to operate from three phase or single phase electrical input. In this module we will be discussing the three phase induction machine. Single phase machines are restricted to small power levels.

THREE PHASE INDUCTION MOTOR
A 3-phase induction motor is a machine which is constructed to work on the 3-phase supply.
The three-ø induction motor is also known as the asynchronous. Its working is depending on the principle of the revolving magnetic field.
As we discussed in a single-phase induction motor article that it is not self-starting, but three-phase motors are self-starting device there is no need of any separate starter for this motor.
There are two main types of this motor which are with respect to rotor construction first one is the wound rotor motor and the second is squirrel cage rotor.
The construction of this motor is very modest, rugged, less cost and its repairing is very easy, and this motor is available in many power ratings.
This motor works at a constant speed in case of no load or full load conditions
FEATURES OF THREE PHASE INDUCTION MOTOR
Three-phase induction motor is self-starting and hence there is no need of special starter for this motor.
This motor does not have brushes which cause to remove the sparking of the motor.
This motor is Vigorous in structure.
It is a less expensive motor.
The repairing of this motor is very easy due to this feature is mostly used.
APPLICATIONS OF THREE PHASE INDUCTION MOTOR
This motor is used in elevators.
Three-phase induction motor is used in Cranes.
This motor is also used in Huge volume exhaust fans.
It used in Engine Supplementary propels.
It works as the Engine blower fan motor.
ADVANTAGES OF INDUCTION MOTOR
These motors are vigorous and modest in structure with very limited moving portions.
These motors proficiently work in a rough and strict atmosphere like in oceangoing containers.
The repairing price of the three-ø induction motor is fewer and dissimilar that of direct current or synchronous motor, the induction motor does not have the brush, and slip rings.
It can operate in an inherent atmosphere as they do not have brushes which can source the sparking and can be hazardous to such an environment.
Three-ø induction motor does not need any extra starting device or arrangement as they can produce starting torque when 3-ø alternating voltage is provided.
The ultimate results of a 3-ø motor are approximately (1.5) times the rating of a 1-ø motor of the identical ratings.
DISADVANTAGES OF 3 PHASE INDUCTION MOTOR
In its starting process, it takes the higher preliminary initial current when connected to a weighty load.
It sources a loss in voltage at the starting time of the motor.
Induction motor works at lagging P.F which consequences in an increment of the (I2R) losses and decreases efficiency, particularly at light load. To recover the P.F stationary capacitor banks are used with the motor.
The speed controller of the 3-ø induction motor is challenging as associated with direct current motors. An adjustable frequency driver can be combined with the induction motor for speed regulation.