"DOMESTICATION OF ANIMALS"
ANIMAL HUSBANDRY' is Science of rearing, improvement and caring of domesticated animals.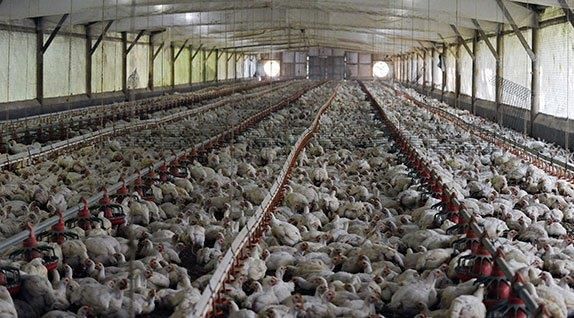 Fig: Animal Husbandry
- Livestock Cattle in particular are very useful in Indian agriculture.
- Cow, Buffaloes, goats & Sheep are domesticated for milk.
- Many animals as horse cattles, mules, asses, camels, elephants & reindeers are used for transport.
- Sheep, rabbit and silkworms provide wool, fur & silk respectively.
- The first animal to be domesticated was dog followed goat.
- Huskies are thick coated dogs used by eskimos to draw their sledges.

Livestock
Domesticated animals, especially the farm animals, kept for profit are collectively called live stock. eg. Cattle, buffaloes, sheep, goat, pigs, horses, camel.
Fig: Live Stock
a. Agriculture operations- They are main source by pulling carts & wagons.
They are also helpful in agriculture operations like ploughing, harrowing, levelling etc.
b. Milk- They provide milk which is an important food having all essential nutrients.
c. Transport- They are used in driving carts for transportation of men & materials.
d. Manure & fuel- The dung provided by them acts as a valuable manure for maintaining the fertility of soil.
- It is also used for preparation of biogas.
- Dung cakes provide cheap fuel.
e. Leather- Hides obtained from these animals are used for the preparation of leather goods.
f. Glue & Gelatin- Their bones, horns and hoofs yield glue & gelatin.
g. Meat- Beef & Buffalo meat are eaten by certain people.

Breeds of buffaloes
Surti, Niliravi, Nagpuri (ellichpuri), Jaffrabadi, Bandawari, Murrah, Mehsana.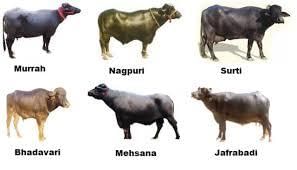 Fig: Breeds of Buffaloes

Breeds of cattle
- There is a variety of breeds of cattle & buffaloes in our country.
- All of them differ in general body build, colour, forehead, form of horns and geographical distribution.
- The best cattle breeds occur in the drier region of the country. There are 26 breeds of cattle.
The most important breeds of milk cows are Holstein-Friesian, Jersey, Quernsey, Ayrshire, Brown swiss, Red Dane.

Depending upon the utility, the cattle are classified into the following groups -

i. Milch breeds
(Milk producing animal)
ii. Draught breeds
(Used for working)
iii. General utility breeds
(Used for safety)
Important breeds of Indian Cattle
| | |
| --- | --- |
| MILCH BREEDS | Distribution |
| 1. Gir | Raj, Gujrat |
| 2. Sahiwai | Punjab, Haryana, U.P. |
| 3. Red Sindhi | Andhra Pradesh |
| 4. Decani | Andhra Pradesh |
| DRAUGHT BREEDS | Distribution |
| 1. Malvi | Raj.,M.P. |
| 2. Hallikar | Karnataka |
| 3. Naceri | Haryana, Delhi, U.P. |
| 4. Kangayam | Tamilnadu & other parts of South India |
| General Utility Breeds | Distribution |
| 1. Haryana | Haryana, Punjab, M.P. |
| 2. Ongole | Andhra Pradesh |
| 3. Kankrej | Gujrat |
| 4. Thaparkar | Gujrat , Ardhra Pradesh |

Feeding of Cattle: In order to get good results cattle should be given a balanced feed containing sufficient quantities of carbohydrates, proteins, fats, vitamins minerals & water.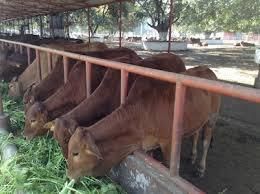 Fig: Feeding of Cattle
Feed constitutes two main components i.e.,
(i) Roughage
(ii) Concentrate
Roughage contain large amount of fibre which include hay fibre and silage.

The concentrate is a mixture of cereal broken grams, rice polish, cotton seeds gram bran and oil take moisted in water.

These are rich in proteins highly palatable & digestable

In our country, paucity of food & fodder is responsible for low milk production.

Along with underfeeding & overfeeding also affect the productivity of animals.