Spectroscopy is using light to determine what kind of substance it is. While spectroscopic techniques vary wildly in nature, all have one thing in common- "They shine light be a subject and look at what's coming out of it to determine what's inside".
Spectroscopy can used to know:
How atoms are connected together?
Which bonds are single, double, or triple?1`
What functional groups exist in the molecule?
If we have a specific stereoisomer?
"The field of organic structure determination attempts to answer these questions".
Instrumental methods of structure determination
1. Infrared Spectroscopy (IR) -Triggering molecular vibrations through irradiation with infrared light. Provides mostly information about the presence or absence of certain functional groups.
2. Nuclear Magnetic Resonance (NMR) – Excitation of the nucleus of atoms through radiofrequency irradiation. Provides extensive information about molecular structure and atom connectivity
3. Mass spectrometry – Bombardment of the sample with electrons and detection of resulting molecular fragments. Provides information about molecular mass and atom connectivity.
4. Ultraviolet spectroscopy (UV) – Promotion of electrons to higher energy levels through irradiation of the molecule with ultraviolet light. Provides mostly information about the presence of conjugated p systems and the presence of double and triple bonds.
Electromagnetic spectrum
Most organic spectroscopy uses electromagnetic energy, or radiation, as the physical stimulus.
Electromagnetic energy (such as visible light) has no detectable mass component. In other words, it can be referred to as "pure energy."
Other types of radiation such as alpha rays, which consist of helium nuclei, have a detectable mass component and therefore cannot be categorized as electromagnetic energy.
The important parameters associated with electromagnetic radiation are:
Energy (E): Energy is directly proportional to frequency, and inversely proportional to wavelength, as indicated by the equation below.
Frequency (v)
Wavelength (λ)
E = hv
Effect of electromagnetic radiation on molecules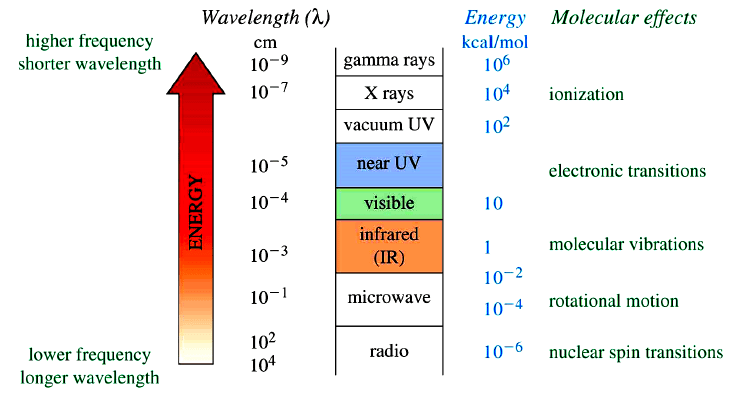 IR Spectroscopy
IR is a type of absorption spectroscopy- it measures the amount of IR light absorbed by the sample as a function of wavelength.
It returns the absorbance (A) in the form of transmittance (T). o A = 2 – log10 T
IR region extends from above the visible region up to the microwave region
IR wavelengths are typically expressed in terms of wave number- the reciprocal of wavelength (Unit: cm–1).
Wave numbers are directly proportional to frequency and energy.
Region typically extends roughly from 4000 cm–1 to 400 cm–1.
A typical IR spectrum is obtained as a subtraction plot of the absorbance from the sample and absorbance from the background.
Infrared photons do not have enough energy to excite electrons (like in UV spectroscopy), but they can excite groups of atoms to vibrate with respect to the bonds that connect them
Different bonds (C—H, C—C, C=C, C≡C, C≡N, C—O, C=O, N—H etc.) have different characteristic vibrational frequencies.
We can detect the presence of these bonds (and hence various functional groups) by identifying these characteristic frequencies as transmittance bands in the IR spectrum.