India, an ancient civilization, has made significant progress in various areas like agriculture, industry, and technology over five decades. Its role in world history is noteworthy. In this context, it's crucial to understand India's size and where it's located.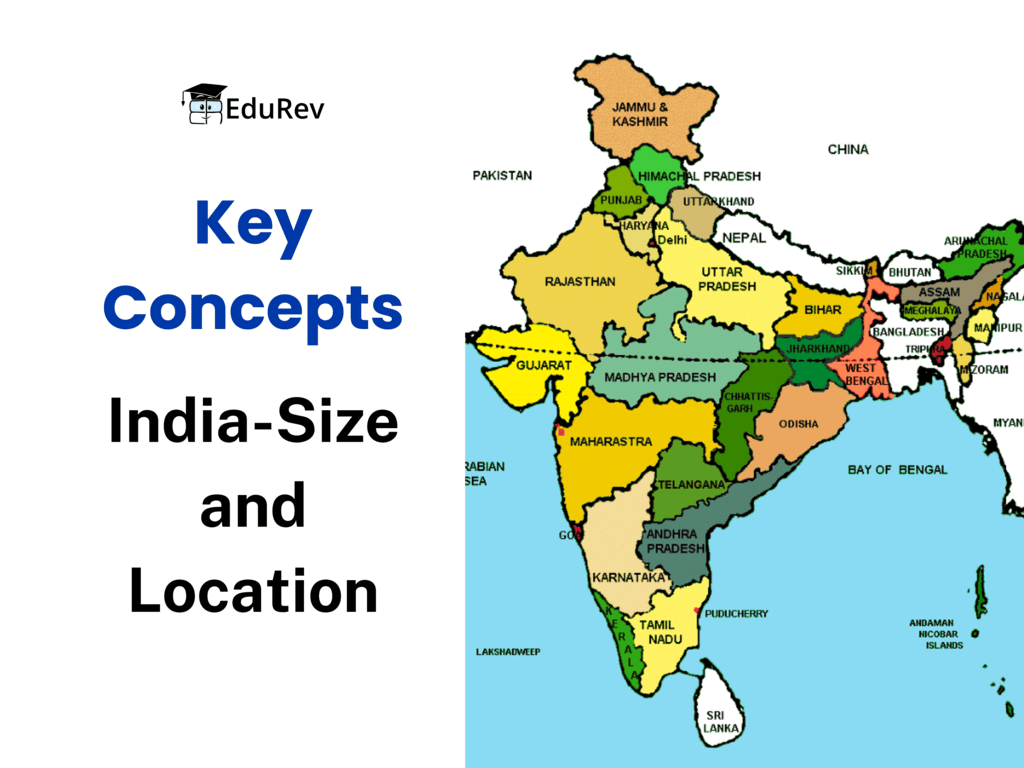 Let's uncover the key concepts introduced in the chapter "India - Size and Location".
Location
India is a vast country located entirely in the Northern hemisphere.

The main territory spans between latitudes 8°4'N and 37°6'N and longitudes 68°7'E and 97°25'E.

The Tropic of Cancer at 23°30'N divides India roughly into two equal parts.

The Andaman and Nicobar islands are situated to the southeast, while the Lakshadweep islands are situated to the southwest of the mainland.

These island groups are located in the Bay of Bengal and Arabian Sea respectively.
Latitude and Longitude extent of India
Question for Key Concepts: India - Size And Location
Try yourself:Which line of latitude divides India into two almost equal parts?
Size
India covers 3.28 million square km land area, about 2.4% of the world's total.
It's the seventh largest country; 15,200 km land boundary, 7,516.6 km coastline.
Bordered by young fold mountains in the northwest, north, and northeast.
Tapers southward after 22° north latitude, creating Arabian Sea (west) and Bay of Bengal (east).
Latitude and longitude extents are roughly 30°, with east-west seeming smaller than north-south.
Time difference of two hours from Gujarat to Arunachal Pradesh due to wide span.
Standard Meridian (82°30'E through Mirzapur) sets India's standard time.
Latitudinal extent affects day-night duration as one moves northwards.
India and the World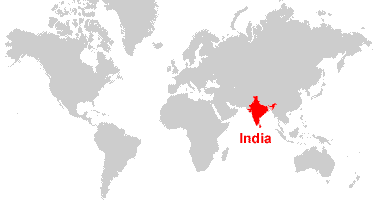 India on world map
India's central location bridges East and West Asia.
It's an extension of the Asian continent with a strategic spot for trans-Indian Ocean routes.
Deccan Peninsula extends into the ocean, enabling connections with West Asia, Africa, Europe, and East Asia.
India's extensive coastline justifies naming an ocean after it.
Ancient land routes preceded maritime contacts, enabling exchange of ideas and goods.
Passes through northern mountains facilitated ancient travel and idea exchange.
India shared Upanishads, Ramayana, Panchtantra, numerals, and commodities globally.
Greek sculpture and West Asian architectural styles influenced India.
India's Neighbours
India's strategic position is vital in South Asia.
It comprises 28 states and 8 Union Territories.
Land borders shared with Pakistan, Afghanistan, China, Nepal, Bhutan, Myanmar, and Bangladesh.
Southern neighbors are island nations: Sri Lanka and Maldives.
Sri Lanka separated by Palk Strait and Gulf of Mannar, Maldives south of Lakshadweep.
Strong geographical and historical ties with neighboring countries.
India stands distinct from the rest of Asia on the physical map.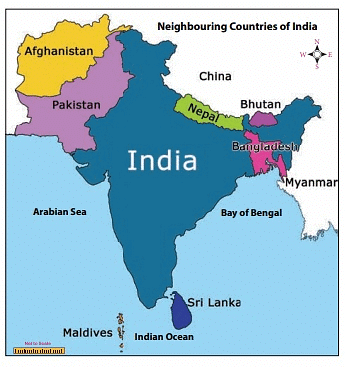 Neighbours of India
Question for Key Concepts: India - Size And Location
Try yourself:What geographical feature of India's location facilitated ancient trade and idea exchange with other regions?
Frequently Asked Questions (FAQs)
1. What is the location of India?
Ans. India is located in South Asia, bordered by the countries of Pakistan, China, Nepal, Bhutan, Bangladesh, and Myanmar.
2. How large is the size of India?
Ans. India is the seventh-largest country in the world, with a total area of approximately 3.29 million square kilometers.
3. How does India compare to other countries in terms of size?
Ans. In terms of size, India is larger than many countries, including Australia, Argentina, and South Africa. However, it is smaller than countries like Russia, Canada, and the United States.
4. What are the key concepts related to India's size and location?
Ans. The key concepts related to India's size and location include understanding its geographical position in South Asia, its borders with neighboring countries, and its vast land area that contributes to its diverse physical and cultural features.
5. Which countries are India's immediate neighbors?
Ans. India shares its borders with several countries. Its immediate neighbors are Pakistan, China, Nepal, Bhutan, Bangladesh, and Myanmar.