UNIT 1: INTRODUCTION
Key Concepts
1. Micro Economics
2. Economy
3. Central Problems of an Economy / Basic Economic Problems
What to Produce?
How to Produce?
For whom to Produce?
4. Causes of an Economic Problem
5. Production Possibility Curve
6. Marginal Opportunity Cost–MOC
7. Marginal Rate of Transformation
8. Opportunity Cost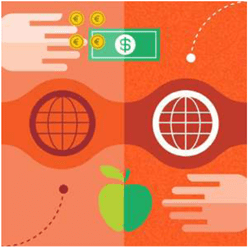 1. Micro Economics: It is a study of behaviour of individual units of an economy such as individual consumer, producer etc.
2. Economy: An economy is a system by which people get their living.
3. Economic Problem: "An economic problem is basically the problem of choice" which arises due to scarcity of resources having alternative uses".
4. Causes of Economic Problem:
Scarcity of resources
Unlimited wants
Limited resources having alternative uses
5. Basic (Central) Economic Problems
(a) Allocation of resources
• What to produce?
• How to produce?
• For whom to produce
(b) Efficient Utilization of Resources
(c) Growth of resources
6. Production Possibility Curve (PPC): PP curve shows all the possible combination of two goods that can be produced with the help of available resources and technology.
7. Marginal Opportunity Cost: MOC of a particular good along PPC is the amount of other good which is sacrificed for production of additional unit of another good.
8. Marginal Rate of Transformation: MRT is the ratio of units of one good sacrificed to produce one more unit of other good.



9. Scarcity of Resources: Scarcity of resources means shortage of resources in relation to their demand.
10. Opportunity Cost: It is the cost of next best alternative foregone.