Q. 1. Define weathering. Explain the work of weathering by different agents.
Ans. Weathering. Weathering involves breaking up of rocks by process of disintegration and decomposition. This results from the work of natural agents related to atmosphere. The rocks are broken into fragments by integration through external agents.
The rocks are decayed due to chemical changes and the process is called decomposition. Weathering occurs where rocks are situated. Weathering helps erosion by exposing rocks to break.
Factors affecting weathering :
1. Structure of rocks. It includes minerals, nature of rocks and their hardness. Joints permit water to enter rocks and help weathering. Hard rocks are resistant, while soft rocks are easily broken.
2. Slope of the land. Weathering is active on steep slopes.
3. Climate. Mechanical weathering predominates in dry areas, while chemical weathering operates in wet climate.
4. Vegetation. Bare surfaces are weathered to a greater extent. Vegetation cover protects the surface from weathering.
5. Presence of joints. Joints permit water to enter the rocks and help weathering.
Types of Weathering. There are two main types of weathering :
(i) Physical or Mechanical weathering.
(ii) Chemical weathering.
(A) Physical weathering. It is also known as Mechanical weathering. It includes the disintegration of rocks without changing their mineral composition. This type of weathering results from the action of temperature changes, frost, wind and rainfall.
It is an in-situ or on site process. The physical weathering depends upon :
(i) Gravitational forces
(ii) Shear stress
(iii) Expansion due to temperature changes.
(iv) Wet and dry cycles.
(v) Thermal exhaustion and pressure release.
1. Temperature changes. There is a great daily range of temperature in deserts. During the day time, rocks are heated greatly and expand. But at night, temperatures fall and these rocks begin to contract. There is rapid expansion and contraction of rocks everyday. With the result, a series of cracks of joints develop in the rocks. Rocks split and are broken with a sound like the shot of a gun. Rocks are split by granular or block disintegration. These broken fragments are called Talus or Scree. In homogeneous rocks, weathering takes the form of exfoliation. Due to the alternate expansion and contraction of rocks, the outer layers peel off from the main mass. The process of removal of thin shells of rocks is known as exfoliation.
2. Frost. Frost is an important agent of weathering in cold climates and high mountainous areas. In such area, water enters the rocks through fissures, cracks and joints. This water freezes into ice during the night and its volume increases 1/11 times. As it expands, it exerts pressure on the rocks which causes a widening of the cracks. There is repeated melting and freezing of water. It makes the cracks wider still. The action is similar to a wedge and is known as thaw freeze or Frost shattering. Finally the rocks are split into blocks. Sharpedged rocks are formed by repetition and long continued action of frost. This process is known as freezing, thawing and Frost wedging.
3. Rainfall. Rainwater takes the form of running water and affects weathering in the following ways :
(a) Soil erosion. Running water scoops out gullies along the slopes and washes away fine soil to create a serious problem of soil erosion.
(b) Bad land. Running water forms a highly dissected land surface with gullies and ravines. Such an area is called bad land such as in Chambal valley.
(c) Earth pillars. Rain washes away soft material in clay regions. The boulders or hard rocks like a cap protect the underlying rocks. As a result, earth pillars are formed. When the cap rocks fall, the earth pillars are destroyed. The examples of earth pillars are found in Bolzano (Italy) and Spiti valley (Himalayas).
(d) Landslides. Rainwater increases the weight of the rocks which hold it. With the result, rocks slide down the slopes under the force of gravity.
4. Wind. Wind's mechanical weathering is important in deserts and arid areas. The dust-laden wind acts as a sand blast and produces fantastic weathering results.
(a) The trains passing through deserts are to be repainted very frequently due to effect of weathering.
(b) Telegraph wires are eroded by wind action.
(c) The windows facing seashore are weathered so that plain glasses look like frosted glasses.
(d) Rocks are fantastically weathered such as Toad Rock in Rajasthan. Umbrella like rocks are formed due to undercutting.
5. Salt Weathering. Salts in rocks expand due to thermal action hyderation and recrystalisation. High temperatures (30°C – 50°C) in deserts favour such exhausion. In such areas, chalk breaks down most readily.
(B) Chemical weathering. The decomposition of rocks by chemical processes is called chemical weathering. Chemical weathering results from the action of weak acids, and gases like oxygen, carbon dioxide and hydrogen. Chemical weathering produces a chemical change in the minerals of rocks. High temperatures and humidity cause the rocks to decompose. Chemical weathering is done through following four processes :
(a) Oxidation. The atmospheric oxygen combines with minerals of rocks especially iron compounds to form oxides. With the result, rocks get rusted as iron is rusted due to presence of air and water. The original colour of the rocks change into red, yellow or brown. The rock begins to decay and crumbles to a powdered mass of brown dust. This process is known as oxidation.
(b) Hydration. The chemical union of water with a mineral is called hydration. When rain water enters the rocks it increases the volume of rocks. As a result, the pressure reduces the minerals to powder. Felpar is reduced to Kaolin due to hydration.
(c) Carbonation. Rain water mixed with carbon dioxide is slightly acidic. It dissolves limestone, chalk and marble rocks. In limestone areas, this acid water sinks into the ground and forms huge caves by a slow process of carbonation.
(d) Solution. Some of the minerals like rock salt and gypsum are dissolved in water. These minerals are removed in solution from the rocks. This process is known as solution.
Q. 2. Describe a typical soil profile.
Ans. Three well-marked layers of soil are found above the bedrock. These horizontal layers are called soil horizons. The order of these layers over the bedrocks is called soil profile. Three layers, wellmarked in a soil profile are as under :
1. A-Horizon. This is the uppermost layer of the soil profile. It contains organic matter. It has a fine soil rich in humus. This is also called Top Soil. Bacteria and earthworms live in the lower part of this horizon. This is also called a zone of eluviation because the mineral solution is carried downwards by leaching of soil.
2. B-Horizon. This is called sub-soil also. It is a zone of accumulation where the leached material from A-Horizon is retained. It is also known as a zone of alluviation. This layer is compact and contains sand, silt and clay.
3. C-Horizon. This layer contains weathered rock material. C-Horizon is often known as mantle. Below this is underline bedrock, known as D-Horizon.
Q. 3. Explain various forms of mass wasting.
Ans. MASS WASTING
The force of gravity acts constantly upon all soil, regolith and bedrock. Wherever the ground surface is sloping, force of gravity is directed downslope parallel with the surface. Every particle has at least some tendency to roll or slide downhill and will do so whenever the downslope force exceeds. The material sliding downslope is called mass wasting.
Forms of mass wasting : The forms of mass wasting range from the land catastrophic slides to the small flows of water saturated soil. Its forms are :
(i) Falls (ii) Topples (iii) Slides (iv) Flows.
(1) Soil creep : Careful inspection of hillside often discloses evidence that the soil has been very slowly moving downslope rather steadily over a long period of time. This phenomenon is called soil creep. It is the result of shear distributed along countless joint fractures and bedding or cleavage surface in the rock.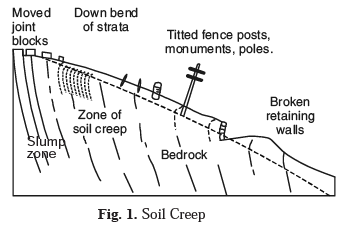 (2) Earth flow : In hilly and mountain-ous regions of humid climate, water-saturated soil and regolith rich in clay minerals take the form of an earthflow. Earthflow is a form of mass wasting in which behaviour of the earth material is that of a plastic solid. Solifluction is an arctic variety of earthflow in the treeless tundra.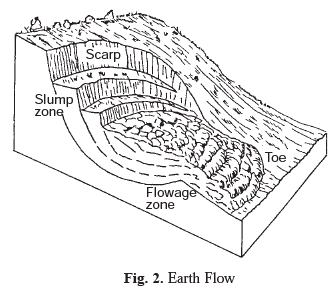 (3) Mudflow : Mass wasting takes the form of mudflow if proportion of water to mineral matter is large. It travels fast down the channels of streams.
Mudflows also originate high in mountains where melting winter snow picks up weathered rocks rich in clay.
(4) Landslides : Along vertical rock cliff, the process of physical weathering loosens the rocks. When the force of gravity brings them down they are described as rockfalls. The falling rock masses break into smaller fragments to form a slope of loose materials called talus. Sliding of a single block on its lower surface is called rockslide. When a block slips on curved fracture plane rotating backward upon a horizontal axis, it is known as slump.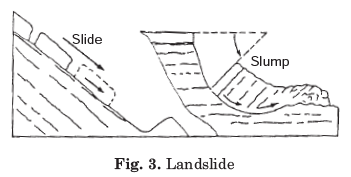 Q. 4. What is disintegration ? What are its types ?
Ans. Weathering includes decomposition and disintegration of rocks. Regolith (Rego = Blanket lith = Rock) is the layer of loose material broken like residual regolith, transported regolith.
Disintegration is due to mechanical weathering by different agents.
(1) Frost action : In middle and high latitude climates and at high altitudes alternate freezing and melting of water called frost action provides powerful mechanism for breaking up of rocks.
(2) Salts : In the dry climates of low and middle latitudes, an important agent of rock disintegration is salt. The dry climates have long droughts in which evaporation can occur continuously causing water deep in the rock to be drawn surfaceward by capillary force.
Near the rock surface, this moisture steadily evaporates permitting dissolved salts to be deposited in openings of the rock. Although minute in size and appearing fragile, the growing salt crystals are capable of exerting powerful stresses.
(3) Temperature changes : Temperature changes are also a factor in the disintegration of rocks. Daily temperature changes may not cause rock disintegration, but repeated expansion and contraction assist in breaking up of rocks already affected by other stresses and by chemical decay.
(4) The action of the roots of growing plant : These exert pressure upon the confining walls of regolith or rock is yet another kind of mechanical weathering. This process is especially important in the breakup of rock already weakened by other physical and chemical means.
Rock first of all breaks into block called block disintegration, then into grains called granular disintegration. Some rocks disintegrate like skins of onions, which are called spheroidal weathering or exfoliation.