Q. 1. Describe the distribution and economic importance of different types of forests found in India.
Ans. Forest Wealth of India. In earlier periods, large parts of India were covered with forests. The growth of population has led to the shrinkage of forest area. The total forest area is 747 lakh hectares which works out to about 22.7% of the total area of the country. The per capita forest area is as low as 0.1 hectare. This forest area is not uniformly distributed. The State of Madhya Pradesh covers the largest forest area in India.
Types of Forests. Due to variation in rainfall, temperature and altitude different types of forests are found in India.
1. The Tropical Evergreen Forests. These forests are found in areas where annual rainfall is more than 200 cms. and the mean temperature is more than 24°C. These forests are found in western parts of Western Ghats, Eastern Himalayas and Andaman islands. These forests grow rapidly due to high temperatures and high rainfall. These are hard wood trees like equatorial forests.
Economic Importance. These forests include the trees like Rubber, Mahagony, Iron wood, Rose wood, Gurjan and Bamboos. These trees are used for furniture, railway sleepers, house building and ship building.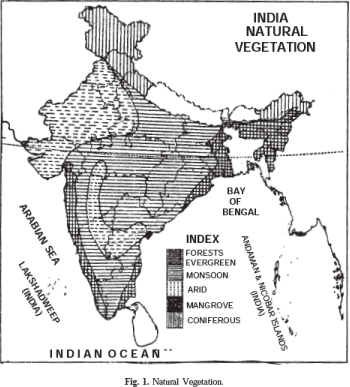 2. The Monsoon or Deciduous Forests. These forests are found in areas where rainfall is between 100 and 200 cms. These trees shed their leaves in hot dry season. So these are called deciduous forests. These forests are found in Terai, Chotta Nagpur plateau, Eastern slopes of Western Ghats and Eastern part of Peninsular India. These are not dense forests.
Economic Importance. These forests include the trees of Sal, Teak, Sandal, Arjan, Mahua, Mango and Semul. Sal is useful for railway sleepers and coaches. Teak is used for furniture and house building. Many industries and handicrafts depend on these trees such as match boxes, toys, packing cases, tanning leather and paper.
3. The Dry Forests. These forests occur where annual rainfall is less than 100 cms. These are found in Eastern Rajasthan, Southern Haryana, S.W. Uttar Pradesh and Karnataka Plateau. These trees have long roots, thick bark.
Economic Importance. These forests include Shisham, Babul, Kikar, Khair and Haldu. These are hard wood trees. These are used for making agricultural implements, furniture, carts and charcoal.
4. The Mangrove Forests. These forests are found in deltas of rivers in coastal areas. These are called Tidal forests or Deltaic forests. These forests are found in Ganges-Brahmputra Delta, Deltas of Mahanadi, Godawari, Krishna and Cauvery. These are marshy areas. In West Bengal, these forests are called Sunderbans because Sundari tree is found in this area.
Economic Importance. These forests include the trees of sundari, mangrove, gurjan and hintal. These trees are used for boat building, fuel, match boxes and house building.
5. The Mountain Forests. These forests are found on the Southern slopes of the Himalayas from Kashmir to Assam. Mixed deciduous and coniferous forests are found. A gradual change in vegetation occurs according to altitude and climate. In western Himalayas, coniferous forests are found due to low rainfall and low temperatures. But in Eastern Himalayas, evergreen forests are found as there is heavy rainfall and high temperatures.
(i) Tropical wet deciduous forests of Sal are found upto a height of 1200 metres.
(ii) Temperate forests of oak, chestnut and pine trees are found upto a height of 2000 metres.
(iii) Coniferous forests are found upto a height of 3500 metres. These include Spruce, Deodar, Pine, Birch, Silver fir, etc.
(iv) Alpine Pastures are found beyond 3500 metres where Pastoral tribes like Gujjars graze their sheep on short grasses.
Economic Importance. Pine tree is useful for resin and terpentine. Silver fir is used for pulp, paper, match boxes and packing cases ; Deodar is used as a timber for house building and railway sleepers.
Q. 2. Describe the major national parks and Bio-reserves of India.
Ans. In 1973, the UNESCO launched a world-wide programme on Man and Biosphere in a number of countries. In addition, 12 biosphere reserves have been created with the geographical area of 4.26 million hac; partly overlapping protected areas. Some of the biosphere reserves Nilgiri in Tamilnadu, Nokrek in Meghalaya, Namdapha in Arunachal Pradesh, Valley of Flowers and Nandadevi in Uttrakhand, some islands in Andaman and Nicobar islands and gulf of Manar on the Tamilnadu coast.
In recent years there has been a significant growth in the protected areas network. In 1990, India ratified the World Heritage Convention of 1977 and identified following four natural sites of 'outstanding universal value'.
1. Kaziranga National Park : It is situated in Nagaon and Golaghat districts on the southern bank of the Brahmaputra river at the foot of the Mikir hills. Kaziranga lies in the flood plains of the Brahmaputra river. The riverine habitat consists primarily of tall, dense grasslands interspersed with open forests, interconnecting streams and numerous small lakes. Threequarters or more of the area is submerged annually by the floodwaters of the Brahmaputra. Based on Landsat data for 1986, the area coverage of tall grasses is 41 per cent, short grasses 11 per cent, open jungle 29 per cent, swamps 4 per cent, rivers and water bodies 8 per cent and others 7 per cent. One horned rhinoceros and elephants are the main inhabitants of this park.
2. Keoladeo National Park : This national park at Bhartpur in Rajasthan is a freshwater swamp, which is a part of the Indo-Gangetic plains. The area is flooded in the monsoon months (JulySeptember) to an average depth of 1-2m. From October to January, the water level gradually falls, and from February the land begins to dry out. By June only some patches of water remains. The environment is partly man-made with dykes dividing the area into 10 units, each with a system of sluice gates control water level.
3. Sundarbans Biosphere Reserve : It is located in the swampy delta of the two great Indian rivers : the Brahmaputra and the Ganga, in West Bengal. It extends over a vast area of mangrove forests, swamps and forested islands, covering over 1,300 sq km. Sunderban is the home of nearly 200 Royal Bengal tigers. Part of the forest lies in Bangladesh and it is estimated that the combined population of tigers in the region could be about 400. Adapting itself to the saline and fresh water environment, the tigers at the park are good swimmers.
4. Nanda Devi Biosphere Reserve : This biosphere reserve lies in the catchment area of the Rishi Ganga—an eastern tributary of the Dhauli Ganga which flows into the Alaknanda river at Joshimath. The area is a vast glacial basin, divided by a series of parallel, north-south oriented ridges. There are about a dozen peaks above 6,400 m -Dunagiri (7, 066 m), Changbang (6.864 m) and Nanda Devi East (7,434 m). Being an inner Himalayan valley, Nanda Devi basin enjoys generally dry conditions with low annual precipitation, except during the monsoons. Prevailing mist and low cloud during the monsoon keeps the soil moist. The basin remains snow-bound for about six months of the year.
Q. 3. What is Bisophere reserve? Describe their development in India.
Ans. A Biosphere reserve is an ecosystem of terrestial and coastal areas. It aims at conservation in developments of plant and animals. There are 14 Biosphere reserves in India. From Biosphere reserves of Nilgiries Nanda Devi, Sunder Bans and Gulf of Mannar have been recognised by UNESCO.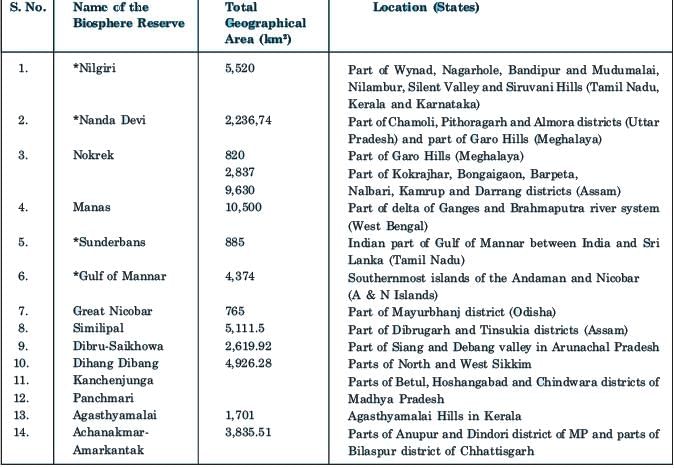 * have been recognised by the UNESCO on World Network of Biosphere Reserves Source : Annual Report (2004-05), Ministry of Environment and Forests, Government of India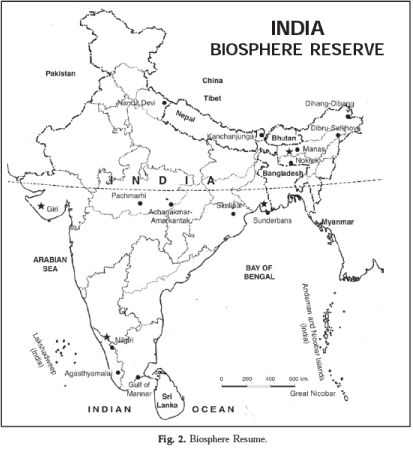 Q. 4. What is virgin vegetation? Distinguish between endemic and exotic vegetation.
Ans. Natural vegetation refers to a plant community which grows naturally without human aid and has been left undisturbed by humans for a long time. This is termed as a virgin vegetation. Thus, cultivated crops and fruits, orchards form part of vegetation but not natural vegetation. The virgin vegetation, which are purely Indian are known as endemic or indigenous species but those which have come from outside India are termed as exotic plants (species). The term flora is used to denote plants of a particular region or period. Similarly, the species of animals are referred to as fauna.
Q. 5.. What factors control the diversity and growth of fauna and flora?
Ans. The growth, types and diversity in flora and fauna kingdom is due to the following factors : 1. Temperature, 2. Sunlight, 3. Precipitation, 4. Soil, 5. Relief.
1. Temperature. The character and extent of vegetation are mainly determined by temperature along with humidity in the air, precipitation and soil. On the slopes of the Himalayas and the hills of the Peninsula above the height of 915 metres, the fall in the temperature affects the types of vegetation and its growth, and changes it from tropical to subtropical temperature and alpine.
2. Sunlight. The variation in sun's radiant energy at different places is due to difference in lattitude, season and duration of the day. Due to long duration of sunlight, trees grow faster in summer.
3. Precipitation. Almost the entire rainfall occurs by the advancing South-West monsoon (June to Sept.) and retreating north east monsooons. Areas of heavy rainfall have more dense vegetation as compared to other areas.
4. Soil. Changes in soil conditions have given rise to peculiar types of vegetation in many areas such as mangrove forests, swamps and sandy coastal forests.
5. Relief. It is another important factor affecting vegetation. Plains, plateaus and mountains have different types of vegetation.