The magnetic force influences only those charges that are already in motion. It is transmitted by the magnetic field. Both magnetic fields and magnetic forces are more complicated than electric fields and electric forces. The magnetic field does not point along the direction of the source of the field; instead, it points in a perpendicular direction. In addition, the magnetic force acts in a direction that is perpendicular to the direction of the field. In comparison, both the electric force and the electric field point directly toward or away from the charge.
The present discussion will deal with simple situations in which the magnetic field is produced by a current of charge in a wire. Certain materials, such as copper, silver, and aluminum, are conductors that allow charge to flow freely from place to place. If an external influence establishes a current in a conductor, the current generates a magnetic field. For a long straight wire, the magnetic field has a direction that encircles the wire on a plane perpendicular to the wire. The strength of the magnetic field decreases with distance from the wire. The arrows in Figure represent the size and direction of the magnetic field for a current moving in the direction indicated. Figure A shows an end view with the current coming toward the reader, while Figure B provides a three-dimensional view of the magnetic field at one position along the wire.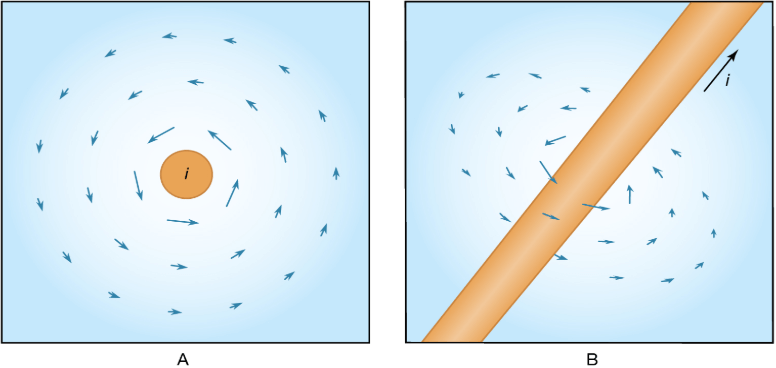 Figure 2: Magnetic field of a long wire. (A) An end view, with the current flowing toward the viewer. (B) A three-dimensional view.
In subsequent figures, continuous lines will be used to represent the direction of electric and magnetic fields. These lines emphasize the important fact that electric fields begin on positive charges and end on negative charges, while magnetic fields do not have beginnings or ends and close on themselves. The magnetic field shown in F is unusually simple. Highly complex and useful magnetic fields can be generated by the proper choice of conductors to carry electric currents. Under development are thermonuclear fusion reactors for obtaining energy from the fusion of light nuclei in the form of very hot plasmas of hydrogen isotopes. The plasmas have to be confined by magnetic fields (dubbed "magnetic bottles") as no material container can withstand such high temperatures. Charged particles are also confined by magnetic fields in nature. Large numbers of charged particles, mostly protons and electrons, are trapped in huge bands around Earth by its magnetic field. These bands are known as the Van Allen radiation belts. Disturbance of Earth's confining magnetic field produces spectacular displays, the so-called northern lights, in which trapped charged particles are freed and crash through the atmosphere to Earth.