ACCESSORY REPRODUCTIVE GLANDS
The substances secreted by the accessory reproductive glands help in reproduction, these are:
1. Seminal vesicle: It is also called Uterus-masculinus. It is formed from the Mullerian-duct of the embryo. In females, these ducts form the oviducts. Internally, it is lined by glandular epithelium which secretes seminal fluid, which is lubricating, transparent & jelly like substance, which makes 60–70% part of semen. It is slightly alkaline (pH 7.3). Fructose is found in seminal fluid, it acts as a fuel to the sperm. Fibrinogen, prostaglandin, citrate, inositol and several proteins are also present in semen.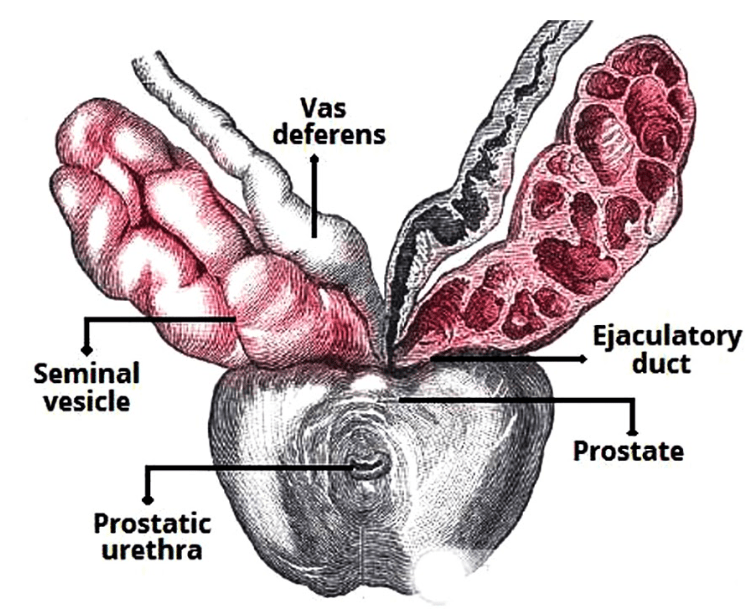 2. Prostate gland: This gland is located below the urinary bladder. It is unpaired & made up of 5 lobes in man. In Rabbit 3 or 4 lobe are found. Each lobe opens into prostatic urethra through many fine apertures. It secretes slightly alkaline prostatic fluid which is milky, thick, sticky or jelly like. It makes about 30% part of semen and helps in sperm activation.
In the secretion of prostate - gland - Citric acid, Calcium, Phosphate, clotting enzyme and Profibrinolysin are present. The secretion of the prostate gland combines with the secretion of seminal vesicle and so the semen gets coagulated. In the coagulated semen, the mobility of sperms is reduced and so their energy is conserved.
After some time due to fibrinolysins, semen again liquefies and in this semen now the sperms can move.
NOTE
(i) Enlargement of prostate results in prostatitis, in which urination is difficult or impossible.
(ii) BPH (Benign Prostatic Hypertrophy) is a medical condition, which occurs due to the increase in size of the prostatic gland.
(iii) Untreated BPH may leads to the cancer of Prostate.
3. Cowper's glands: It is a pair of glands found on lateral side of urethra. It is also called as bulbourethral gland. It is situated in membranous part of urethra & opens into penile urethra. It secretes transparent, slimy, jelly like fluid. It is slightly alkaline (pH is 7.2). This destroys the acidity of the urethra and cleans it for the movement of sperms.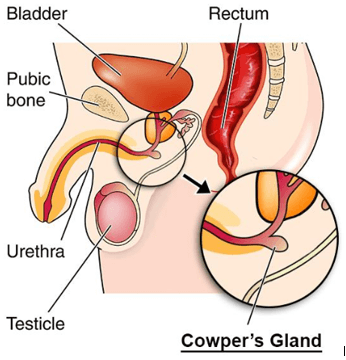 Fig: Cowper's Gland Representation
4. Perineal or Rectal glands: These are found both in male and female rabbits. Perineal gland is found around external genital organ & perineal region, while rectal glands are found around external genital organs & anus. During the breeding season, these glands secrete odoriferous liquid which has pheromones or Ectohormones in it. The pheromone develops sexual attraction between opposite sexes & also develops desire for copulation.
Note
In man, Perineal or Rectal glands are absent.

SEMEN
The products of the testes (spermatozoa) and prostate gland, along with fluid from the seminal vesicle, are collectively know as semen. Release of spermatozoa from urethra is known as ejaculation.
It is a milky, viscus and alkaline (pH 7.3 - 7.5) fluid ejaculated by male reproductive system during orgasm. The volume of ejaculate varies from person to person. Abstinence play a role in this. Each ejaculate measures 3.5 ml and contains 50 - 150 million sperm/ml i.e. 250 million - 525 million (average - 400 million).
Nearly 25% of these sperms have abnormal shapes, lack motility. The life span of human sperm after ejaculation is 24 - 48 hrs. Cryopreservation enhance the longevity of sperm. The rate of active moment of sperm is 5 - 3.0 mm per minute in uterine endometrium.
A person with a sperm count below 20 million will be physiologically sterile. Fusion of defective sperm (e.g. 22+xy) with ovum causes many birth defects.
Example: klinefelter syndrome.
Penis conducts urine as well as semen. But the two cannot pass through it at the same time.
Sperm can survive in the female reproductive tract for 1 to 3 days.

PENIS
Urethra continues in a muscular & tubular organ called aspenis. Terminal part of shaft of penis is bulging, it is called as Glans penis. This glans penis is covered by a movable skin called as prepuce or foreskin.
A special type of sebaceous gland is found on the prepuce called preputial gland which secretes smegma.
Removal of prepuce by surgery is called is circumcision.
Prepuce is attached to the base of glans with the help of an elastic cord like membrane called Frenulum prepuce.
In penis of some animals a bone is present called Baculum and such a penis is called Os-penis e.g. Whale, Bat, Rat etc. The penis of opposum, Bandicoot etc. is double branched (Bifurcated).
Penis is an erectile copulatory intromittent organ. Root of the penis containing muscles is called crura.
Fig: Structure of Penis
1. Body of Penis:
It is composed of three longitudinal cylindrical masses of erectile tissue. These masses are, the right & left corpora cavernosa & a median corpus spongiosum.
The two corpora cavernosa do not reach the end of the penis. Each of them terminates under cover of the glans penis.
The corpus spongiosum continues further, its terminal part is expanded to form a conical enlargement called the glans penis. Throughout its whole length, it is traversed by the urethra.
The base of the glans penis has projecting margin, called the corona glandis.
External opening of penis is called penile/urethral meatus.
2. Erection of Penis: Erection of penis is purely vascular phenomenon and is controlled by A.N.S. It occurs due to increase of blood supply, due to dilation of penile arteries causing enlargement and hardening of penis. during this time the muscles of crura are relaxed.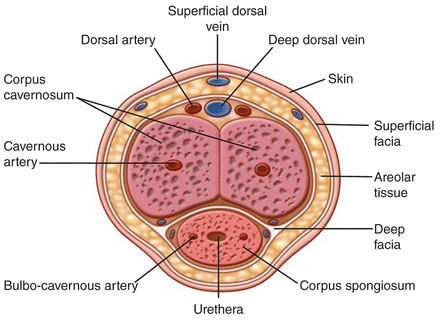 Fig: Transverse section through the body of the Penis
HISTOLOGY OF SEMINIFEROUS TUBULES
Outer surface of seminiferous tubules is composed of white fibrous connective tissues called as tunica propria.
While inner surface is of cuboidal germinal epithelium. This epithelium is made of spermatogenic cells which forms sperm by spermatogenesis. Some columnar cells are found in the layer of germinal epithelium called as sertoli cells. These provide nutrition to sperm, so they are also called as sustentacular or nurse cells (these occur in mammals).

OTHER FUNCTION OF SERTOLI CELLS
(i) They phagocyte the injured or dead sperm cells
(ii) They are the basis of blood testis barrier
(iii) Sertoli cells produce inhibin and anti mullerian hormone.
(iv) Sertoli cells can synthesize estrogen from testosterone.
Some endocrine cells are found between seminiferous tubules in intertubular space, these are called as interstitial or Leydig cells. These cells secrete testosterone. The testosterone from Leydig's cells enter the seminiferous tubules by diffusion under the effect of ABP & promotes spermatogenesis.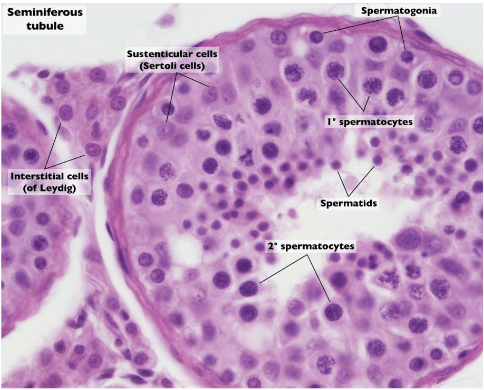 Fig: Histology of Testis
MALE REPRODUCTIVE HORMONES
FSH: Binds with FSH receptors attached to the Sertoli cells in seminiferous tubules. This causes these cells to grow and secrete various spermatogenic substances and androgen binding proteins
ABP: Concentrates the testosterone inside seminiferous tubules.
LH / ICSH: It stimulates the Leydig cells to secrete testosterone. Leydig's cells mature at 10 yrs. of age.
Inhibin: It is secreted by Sertoli cells in response to excess spermatogenesis. The inhibin gives a negative feedback to the hypothalamus and anterior pituitary, this results in suppression of synthesis and release of FSH (Spermatogenesis decreases).
Testosterone: Secreted by Leydig cells. It is essential for
Sperm production
development of secondary sexual characters
ABP secretion
It also gives negative feedback to hypothalamus and anterior pituitary in its excess concentration to suppress GnRH, FSH & LH release.
It is secreted in fetus stage in as low as 30 mg/ml plasma concentration to cause descent of testis in last trimester of intrauterine life.