Oxidizing Reagent
An oxidizing agent (often referred to as an oxidizer or an oxidant) is a chemical species that tends to oxidize other substances, i.e. cause an increase in the oxidation state of the substance by making it lose electrons. Common examples of oxidizing agents include halogens (such as chlorine and fluorine), oxygen, and hydrogen peroxide (H2O2).
Definition
Oxidizing agents can be defined in two different ways:
As an electron acceptor: They are chemical substances whose atoms remove at least one electron from another atom in a chemical reaction. As per this definition, oxidizing agents are the reactants that undergo reduction in redox reactions. An illustration detailing the electron-accepting properties of oxidizing agents is provided below.
Here, substance 'A' undergoes oxidation, resulting in an increase in its oxidation number. On the other hand, the oxidation state of substance 'B' becomes smaller (since it gains electrons by undergoing reduction).
As an atom-transferring substance: An oxidizing agent is a substance that transfers at least one electronegative atom to a chemical species in a chemical reaction. The transferred atom is typically an oxygen atom. Several combustion reactions and organic redox reactions involve the transfer of an electronegative atom between two reactants.
In the example illustrated above, the Fe2O3 molecule acts as an oxidizer by transferring an electronegative oxygen atom to the carbon monoxide molecule.
Oxidizing Reagents classified
The Oxidizing Reagents are classified as:
1. Metal-based Oxidizing Reagents
Cr: PCC, PDC, Jones Reagents, Collins Reagents, CrO2Cl2, K2Cr2O7/H2SO4 or Na2Cr2O7/H2SO4
Mn: KMnO4, MnO2
Ag: Ag2O, Ag2O on cellite (Fetizons), Ag(OAc)2
(4) Cu: CuO
(5) Os: OsO4
(6) Ru: RuO4
(7) Pb: Pb(OAc)4
2. Non-Metal Based: X2 + OH–, O3, Peroxy acid, SeO2, DCC, DDQ
3. DMSO Based oxidizing reagents
DMSO + Oxallyl chloride: Swern Oxidation (b) DCC + DMSD: Moffatt Oxidation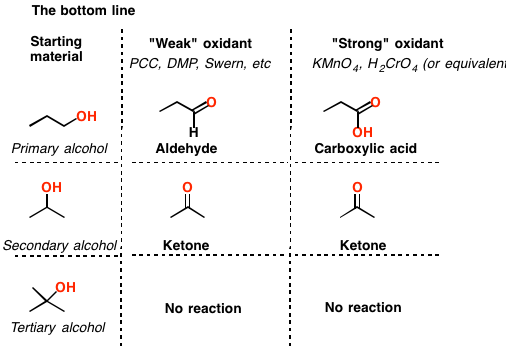 Oxidation Addition or Removal of Hydrogen
The classical procedure for the subsequent oxidation of primary alcohols to carboxylic acid via aldehydes and secondary alcohols to ketones involves treatment of the appropriate alcohol with chromium (VI) reagent.


General Mechanism
The E2-like oxidation mechanism is supported by the observation that deuterium substitution of the a-H in isopropanol slows the rate of chromic acid oxidation by sevenfold.
Deuterium replacement at the methyl positions does not diminish the oxidation rate. Since C-D bonds are broken more slowly than C-H bonds, these results suggest that the a-H is removed in a slow step

Methods for Alcohol Oxidation:


CrO3 based oxidizing Reagents
PCC (Pyridium chlorochromate):





Example:

Since there is the presence of HCl in PCC reagent hence it can give some side reaction catalyzed by HCl. If any double or triple bond is present in the compound having an alcoholic group can give a cyclization reaction after the formation of an aldehyde with PCC.

To avoid side reactions during the oxidation of PCC buffer solution are used along with PCC which make the oxidation process neutral and side reaction will not take place.

In the case of 1,4-diol, 1, 5-diol when PCC is used it will oxidize these compound into lactone.

Oxidation of Tertiary Allylic Alcohols with PCC (The Babler Oxidation):
A carbonyl transposition can be effected via the addition of vinyl or an alkyl Grignard reagent to an a b-unsaturated ketone. Acid-catalyzed rearrangement of the resultant allylic alcohol during oxidation with PCC affords the transposed, b- unsaturated carbonyl substrate.

Tertiary bis(allylic) alcohols are oxidized by PCC or PDC to the carbonyl trans-posed dienones

Alert: PCC does not oxidize the tertiary alcohol but if the 3°-alcohol is allylic then PCC can give the oxidation process via [3, 3] sigmatropic rearrangement.


Mechanism:


Primary and secondary alcohols are readily oxidized in CH2Cl2 utilizing 1 to 1.5 equivalents of PCC. Since PCC is slightly acidic, oxidations of compounds containing acid-sensitive groups should be carried out in the presence of powdered NaOAc. Oxidation of primary alcohols with PCC in the presence of molecular sieves (3 A or 4 A) results in higher yields of aldehyde.

Pyridinium dichromate (PDC)


HCl is not used in PDC reagent hence no side reaction like PCC.
The behavior of PDC is very similar to PCC oxidizing agent. The only difference is that PDC is a solvent-dependent reagent, which means its product formation is solvent-dependent.

PDC is soluble in H2O, DMF, and DMSO but sparingly soluble in CH2Cl, or CHCl3. The reagent is less acidic than PCC. Hence, oxidations in CH2Cl2 can be carried out under nearly neutral conditions. This permits the conversion of primary alcohols containing acid-sensitive groups into the corresponding aldehydes or ketones, as illustrated below.

In DMF solution, however, PDC oxidizes non-conjugated primary alcohols to the corresponding carboxylic acids.
Oxidations of 2° alcohols by PDC in DMF proceed to give the corresponding ketones.

Jones Reagent
CrO3 + H2SO4 + H2O + acetone Or Na2Cr2O7 + H2SO4 + H2O + acetone
The Jones reagent is an excellent reagent for the oxidation of secondary alcohols that do not contain acid-sensitive groups such as acetal. Oxidation of primary alcohols with Jones reagent may result in the conversion of the aldehydes initially formed to the corresponding carboxylic acids. The reagent is added to the alcohol contained in acetone at 0-25°C, and the excess Cr(V1) is destroyed in the reaction workup by adding some isopropyl alcohol (color change from orange to blue-green).


Jone's reagent oxidizes primary alcohol to aldehyde & further oxidation will occur & acid is formed.
The most important use of Jone's reagent is that it does not affect double or triple bonds during the oxidation of alcohol.


Collin's Reagent
Since HCl is not used in Collin's reagent hence no side reaction likes PCC.

Collins reagent is the complex of chromium(VI) oxide with pyridine in dichloromethane. This metal-pyridine complex, a red solid, is used to oxidize primary alcohols to the aldehyde. This complex is a hygroscopic orange solid.
CrO2Cl2 (Etard Reaction)

Chromyl chloride oxidizes toluene to benzaldehyde. This reaction is known as the Etard reaction. The solvent used is carbon disulfide. Chromium chloride converts the methyl group to a chromium complex. This complex on acid hydrolysis gives the corresponding aldehyde.