SHORT ANSWER TYPE QUESTIONS
Q.1. Match column A with column B:



Ans: (a) — (ii)
(b) — (iii)
(c) — (i)
(d) — (iv)

Q.2. Fill in the blanks:
(a) Pigeon pea is a good source of ______ .
(b) Berseem is an important______crop.
(c) The crops which are grown in rainy season are called______crops.
(d) ______ are rich in vitamins.
(e) ______ crop grows in winter season.
Ans: (a) protein
(b) fodder
(c) kharif
(d) Vegetables
(e) Rabi

Q.3. What is a GM crop? Name any one such crop which is grown in India.
Ans: Genetically modified (GM) crop is the crop which has been developed by introducing some specific gene from any other source, to obtain the desired character.
Example: Btcotton is made insect-resistant by introducing a new gene from a bacteria.

Q.4. List out some useful traits in improved crop.
Ans: Traits of improved crops are as follows:
(i) improved nutritional quality
(ii) higher yield
(iii) resistance to biotic and abiotic stresses
(iv) change in maturity
(v) wide adaptability
(vi) desired agronomic traits

Q.5. Why is organic matter important for crop production?
Ans: Importance of organic matter in crop production:
(i) humus makes soil fertile.
(ii) soil structure is improved.
(iii) water holding capacity of sandy soil increases.
(iv) aeration is improved in clayey soil.
(v) solves water logging problem.
(vi) soil is enriched due to mineral decomposition.
(vii) helps crop growth due to the presence of biochemicals.

Q.6. Why is excess use of fertilizers detrimental for environment?
Ans: Excess use of fertilizers causes:
(i) environmental pollution as their residual and unused amounts will become pollutants for air, water and soil.
(ii) excess minerals in crop plants.
(iii) salination of soil.
(iv) eutrophication of water bodies.

Q.7. Give one word for the following:
(a) Farming without the use of chemicals as fertilizers, herbicides and pesticides is known as______.
(b) Growing of wheat and groundnut on the same field is called as _____ .
(c) Planting soyabean and maize in alternate rows on the same field is called as_____.
(d) Growing different crops on a piece of land in pre-planned succession is known as_____.
(e) Xanthium and Parthenium are commonly known as______.
(f) Causal organism of any disease is called as________.
Ans: (a) Organic farming
(b) Mixed cropping
(c) Intercropping
(d) Crop rotation
(e) Weeds
(f) Pathogen

Q.8. Match the fallowing A and B:



Ans: (a) — (iii),
(b) — (v),
(c) — (iv),
(d) — (i),
(e) — (ii)

Q.9. If there is low rainfall in village throughout the year, what measures will you suggest to the farmers for better cropping?
Ans: For better cropping, farmers of low rainfall area will be suggested to:
(i) enrich the soil with humus which increases the water-holding capacity and retains water for longer duration.
(ii) use of drought resistant and early maturing varieties of crops.
(iii) reduce tilling.

Q.10. Group the following and tabulate them as energy-yielding, protein yielding, oil yielding and fodder crop.
Ans: Energy yielding — wheat, rice, maize
Protein yielding — gram, pigeon pea, gram, lentil, soyabean
Oil yielding — groundnut, castor, mustard, soyabean
Fodder crops — barseem, oat, sudan grass

Q.11. Define the term hybridisation and photoperiod.
Ans: Hybridisation: It refers to crossing between genetically dissimilar organisms.
Photoperiods: It is the response of an organism to changes im day length, i.e. photoperiods are related to the duration of sunlight. Growth of plants and flowering are dependent on sunlight.

Q.12. Fill in the blanks:
(a) Photoperiod affect the_______.
(b) Kharifcrops are cultivated from to_____.
(c) Rabi crops are cultivated from to______.
(d) Paddy, maize, green gram and black gram are ____________ crops.
(e) Wheat, gram, pea, mustard are_________ crops.
Ans: (a) Flowering of plants
(b) June to October
(c) November to April
(d) Kharif
(e) Rabi

Q.13. Cultivation practices and crop yield are related to environmental condition. Explain.
Ans: Cultivation practices of different crops require different climatic conditions, requirements of different crops for growth vary. They may require high temperature or low temperature, longer duration of sunlight or shorter duration of sunlight, more humidity or low humidity or moderate humidity, sandy soil or loamy soil, etc.
In plains, two major seasons for crop plants are kharif for rainy season and rabi for winter season.
Apples are grown in hilly regions with low temperature.

Q.14. Fill in the blanks:
(a) A total of _________ nutrients are essential to plants.
(b)________ and _________ are supplied by air to plants.
(c) _________ is supplied by water to plants.
(d) Soil supply __________nutrients to plants.
(e) _______ nutrients are required in large quantity by plants and called as
(f) nutrients are needed in small quantity by plants and are called_______.
Ans: (a) 16
(b) Carbon and Oxygen
(c) Hydrogen
(d) 13
(e) Six, macronutrients
(f) Seven, micronutrients

Q.15. Differentiate between compost and vermicompost.
Ans: Differences: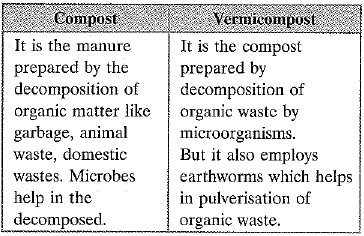 Q.16. Arrange these statements in correct sequence of preparation of green manure.
(a) Green plants are decomposed in soil
(b) Green plants are cultivated for preparing manure or crop plant parts are used.
(c) Plants are ploughed and mixed into the soil
(d) After decomposition it becomes green manure.
Ans: (b) → (c) → (a) → (d)

Q.17. An Italian bee variety Apis Mellifera has been introduced in India for honey production. Write about its merits over other varieties.
Ans: An Italian bcc variety Apis mellifera has been introduced in India for the following merits:
(i) It has high honey collection capacity.
(ii) It stings less.
(iii) It stays in the same bee-hive for long periods and breeds very well.

Q.18. In agricultural practices, higher input gives higher yield. Discuss how.
Ans: Higher yield can be obtained by employing high yielding varieties, improved farming practices, modern technology, latest agricultural machines and implements, nutrient supply, etc., which all require high cost. Therefore, farmers purchasing capacity for inputs determines the cropping system and production practices.

Q.19. Give the merits and demerits of fish culture.
OR
What are the advantages of fish farming?
Ans: Merits of Fish Culture
(i) Large amount of desired fishes can be obtained in small area.
(ii) Improvement on fish cultivation can be done.
Demerits of Fish Culture
(i) It is a threat to bio-diversity.
(ii) Only economically important and valued fishes will be cultured.

Q.20. What do you understand by composite fish culture?
Ans: Composite fish culture is the most prevalent and advantageous system of fish culture. In such a system, a combination of five or six fish species is used in a single fish pond. These fish have different food habits and do not compete with each other for food.
For example, Catla is a surface feeder, Rohu feeds in the middle of the pond (column feeder), Mrigal and common carp feed at the bottom and grass carp feeds on aquatic plants in the pond.

Q.21. Name two types of animal feed and write their functions.
Ans: Animal Feed: It means food provided to the animal, which are of two types:
(i) Roughage: It is a coarse and fibrous food with low-nutrition, such as green fodder, silage, hay and legumes.
(ii) Concentrates: These are the substances which are rich in one or more nutrients. Cotton seeds, oil seeds, oil cakes and some cereals like gram and bajra are some typical concentrates.
LONG ANSWER TYPE QUESTIONS
Q.22. Differentiate between the following:
(i) Capture fishery and Culture fishery
(ii) Mixed cropping and intercropping
(iii) Be e - keeping and Poultry farming
Ans: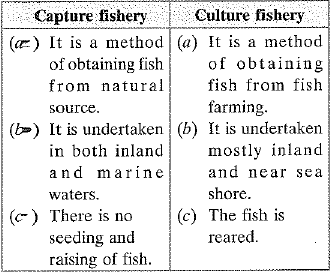 (ii) Crop Rotation is defined as the practice of growing different crops on a piece of land in a pre-planned succession/pattern. Depending upon the duration, crop rotation is done for different crop combinations. If crop rotation is done properly then two or three crops can be grown in one year with good harvests.
Availability of moisture and irrigation facility should be kept in mind in choosing plants for crop rotation.
(iii) Differences: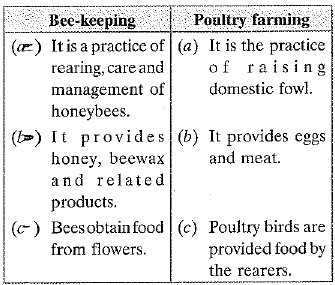 Q.23. Discuss why pesticides are used in very accurate concentration and in very appropriate manner?
Ans: Pesticides are used in very accurate concentration and in a very appropriate manner, because if used in excess it
(i) harms the soil and causes loss of fertility.
(ii) checks the replenishment of organic matter.
(iii) kills the microorganisms of the soil.
(iv) causes air, water and soil pollution.
(v) passes into ground water and make it toxic.
(vi) enter the crop plants and make them toxic.
(vii) pass into surface water and harm the aquatic organisms.

Q.24. What would happen if poultry birds are larger in size and have no summer adaptation capacity? In order to get small sized poultry birds, having summer adaptability, what method will be employed?
Ans: Large-sized birds require more feed. Summer adaptation is connected with egg-laying. Little summer adaptation reduces egg-laying.
In order to obtain small sized poultry birds having summer adaptability it is desirable to (i) introduce the exotic birds from outside.
(ii) crossbreed the local birds with exotic birds from outside.
Small-sized birds are preferred for
(i) Lower requirement of feed.
(ii) Higher egg laying capacity.
(iii) Lower requirement for space.

Q.25. Suggest some preventive measures for the diseases of poultry birds.
Ans: To prevent the poultry from diseases the following measures should be taken:
(i) The poultry birds should be kept in good spacious, airy and ventilated shelter.
(ii) The shelter should be cleaned properly and regularly. Quick and hygienic disposal of excreta should be done at regular intervals.
(iii) External parasites should be controlled by applying insecticide solution.
(iv) Disinfectant should be sprayed to kill mosquitoes and other external parasites.
(v) Every bird should be vaccinated at regular interval to minimise any attack of common infections diseases.

Q.26. Figure shows the two crop fields [Plots A and B] have been treated by manures and chemical fertilizers respectively, keeping other environmental factors same. Observe the graph and answer the following questions.
(i) Why does plot B show sudden increase and then gradual decrease in yield?
(ii) Why is the highest peak in plot A graph slightly delayed?
(iii) What is the reason for the different pattern of the two graphs?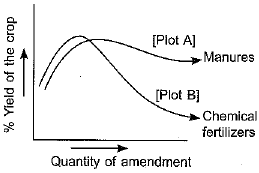 Ans: (i) The sudden increase is due to chemical fertilizer that supplies the minerals in good quantity. Gradual decrease is due to depletion of nutrients caused by absorption by plants, leaching to lower layers of the soil and killing of decomposers (microbes).
(ii) Manures supply small quantities of nutrients to the soil as they contain large amounts of organic matter. They enriches soil with nutrients thereby increasing soil fertility.
(iii) The difference in the two graphs indicates that manuring the soil is more beneficial than the use of chemical fertilisers. Use of fertilisers is harmful, when used in large quantity.
In case of Plot B, the chemical fertilisers may cause various problems when used continuously for long time. Loss of microbial activity reduces decomposition of organic matter and loss of soil fertility affecting the yield.