UPSC : NCERT Solution: Chapter 1 - On Equality, SST, Class 7 | EduRev Notes
All you need of UPSC at this link:
UPSC
Q.1. In a democracy, why is Universal Adult Franchise important?
Ans. Universal adult franchise is important in a democracy because it is based on the idea of equality. The citizens are assured that everyone has one vote irrespective of their gender or socio-economic status.
Fig: Universal Suffrage (also called Universal Franchise)

Q.2. Re-read the box on Article 15 and state two ways in which this Article addresses inequality?
Ans. Article 15 addresses inequality on two fronts. It prohibits the state from practicing it and tells the society to not do it too.

Q.3. In what ways was Om prakash Valmiki's experience similar to that of the Ansari's?
Ans. Both Om prakash Valmiki and the Ansari's were not given equal opportunity because they belonged to a different section of society.

Q.4. What do you understand by the term "all persons are equal before the law"? Why do you think it is important in a democracy?
Ans. By the term "all persons are equal before the law" we understand that the law applies to everyone irrespective of their class, caste or gender and the law expects everyone to treat others as equal. This is important in a democracy so as to preserve the true nature of a democratic society where everyone's dignity is respected.

Q.5. "The Government of India passed the Disabilities Act in 1995. This law states that persons with disabilities have equal rights, and that the government should make possible their full participation in society. The government has to provide free education and integrate children with disabilities into mainstream schools. This law also states that all public places including buildings, schools, etc., should be accessible and provided with ramps".
Look at the photograph and think about the boy who is being carried down the stairs. Do you think the above law is being implemented in this case? What needs to be done to make the building more accessible for him? How would his being carried down the stairs affect his dignity as well as his safety?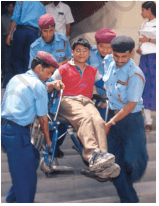 Ans. The law is not being implemented in his case. To make the building more accessible to him wheelchair ramps should be constructed. Being carried down the stairs is unsafe because he might slip and fall from his wheelchair. At the same time it injures his dignity because he has to rely on others thereby making him conscious of his disability.