Biodiversity and its Conversion
NATURAL RESOURCES
The materials or any component, that can be utilized by man and are necessary for welfare of life, which is available in the natural environment in Atmosphere, Hydrosphere, Lithosphere are called natural resources.
e.g. O2, Land, Soil, Water, Forest, Animals, Soil, micro-organisms.
Classification of natural resources :
1. Inexhaustible resources : Available in unlimited quantities, and the earth quantity may remain unchanged by human impact.
e.g. Solar Energy, Wind Power, Tidal power, Air, Geothermal Energy.
Note :Its quality can be affected due to continuous increase in human population.
e.g. Air pollution
2. Exhaustible resources :-These are likely to be finished by human use or unsustainable uses.
It is further divided in two groups:
(i) Renewable resources : Those which are being continuously consumed by man but renewed continuously by nature, always available if managed in a proper way, otherwise they may even get totally exhausted. e.g. Biotic resources, forest, grazing animals, Rangeland, wild life, Agriculture crop system and fresh water yield, soil etc.
(ii) Non renewable resources : They are not renewable after use and are not replaced by nature, cannot be regained. e.g. Fossil fuels (Coal, Petroleum), Natural Gas, Nuclear energy, Biotic species, Minerals etc.
Note : Nuclear energy is a non renewable and unlimited resource.
HYDROSPHERE OR WATER RESOURCES
1. Water is the major constituent of the hydrosphere and covers 3/4 of the earth's surface.
2. The total volume of water in the hydrosphere is 1.4 billion cubic kilometers[km3], about 97.5% is the ocean water, unsuitable for human use. Only 2.5% is available as fresh water. About 1.97% is stored in ice-caps (Polar ice) and glaciers and 0.5% is ground water and soil moisture (0.01%). The rest [about 0.36 percent] is distributed in lakes swamps, rivers and streams.
3. About 84% of the total global evaporation occurs from ocean surface and 16% from land surface.
4. Kelps and a few marine animals are used as human food. Various chemicals are extracted such as iodine and industrial gums from seaweeds. Agar is produced from the red algae-Gracillaria and Gelidium. Algin is derived from Sargassum and Turbinaria species.
LAND RESOURCES:
1. Earth's one-fourth area is formed by land.
2. About 4/5 of the land area is covered by soil.
3. At the beginning of 20th century, about 30% of land in India was covered with forest but by the end of the 20th century, the forest cover reduced to 19.4%. Out of 19.4 %, only 12% area was covered by dense forest.
Per capita forest area available in India is = 0.06 hec.

Per capita forest area available in world is = 0.64 hec.

In India 33% forest area is recommended by national forest policy (1988).
FOREST CONSERVATION
IT IS CONDUCTED BY TWO METHODS
1. Protection or conservation forestry : By Making national parks and Bio-sphere Reserves.
2. Production or commercial forestry :
IT IS OF TWO TYPES-
(a) Social forestry - To grow the trees and shrubs on unused farmland, road sides, Rail sides, community land etc.
(b) Agro forestry : Woody species are grown in combination with herbaceous crops either at the same time or in time sequence.
Taungya system– Growing agricultural crops between rows of planted trees.
Shifting Cultivation or Jhum Cultivation : It is a major cause of deforestation. Many tribal communities practice slash and burn agriculture in tropical and subtropical regions of Asia, Africa and Oceania. This consists of cutting down trees and setting them or fire and raising crops on the resulting ash called "Jhuming" in north eastern India.
MINERAL RESOURCES
Table - Some Important Minerals and some of their uses
Metallic

Minerals

Uses

Uranium

Nuclear bombs, electricity, tinting glass

Thorium

Nuclear bombs, electricity, gas mantles

Iron

Steel

Manganese

Alloy steels, disinfectants

Columbium

Stainless steel, nuclear reactors

Ghromium

Metallurgy, refractory, chemicals

Molybdenum

Alloys steels

Nickel Over

3000 alloys

Tungsten

Alloys and chemicals

Vanadium

Alleys

Copper

Electrical products, alloys

Lead

Batteries, gasoline, paints, alloys

Tin

Tin plate, solder, chemicals

Zinc

Galvanizing, solder, die-casting, chemicals

Aluminium

Aircraft, rockets, building materials, electrical wiring, utensils

Magnesium

Structural refractories

Titanium

Pigments, aircraft, alloys

Zirconium

Refractories, ceramics, metals, chemicals

Beryllium

Copper alloys, refractories, atomic energy field

Gold

Monetary purposes, jewellery, dentistry

Radium

Medical and industrial uses, radiography

2. Non-metallic Minerals
| | |
| --- | --- |
| Minerals | Uses |
| Asbestos | Insulation, textiles, roofings, glass, ceramic, gasoline, solid propellants. |
| Corundum | Abrasives |
| Feldspar | Ceramic flux, artificial teeth. |
| Fluorspar | Flux, acid, refrigerants, propellants |
| Phosphates | Fertilisers, chemicals |
| Salt | Chemicals, glass, metallurgy |
| Sulphur | Fertilisers, acid, iron and steel industries |
THREATENED SPECIES CONCEPT
The International Union for Conservation of Nature and Natural Resources (IUCN), having its head quarters at Morgis in Switzerland and maintains a Red Data Book providing a record of animals and plants which are known to be in danger. In India the Wildlife (Protection) Act, 1972 provides four schedules categorizing the fauna of India based on their conservation status. Schedule I lists the rare and endangered species which are afforded legal protection. For the purpose of conservation species are categorized as below :
Threatened (T) : The term is used in context with conservation of the species which are in any one of the above 3 categories (E, V, R).
Threatened = Endangered + Vulnerable + Rare
1. Endangered (E) : Those species which are in the immediate danger of extinction and whose survival is unlikely, whose number have been reduced to a critical level, if the casual factors continue to be operating.
2. Vulnerable (V) : The species likely to move into the endangered category in the near future if the casual factors continue to operate. Their population is still abundant but are under threat throughout their range.
3. Rare (R) : These are species with small population in the world. These are not at present endangered and vulnerable, but are at risk due to their less number. These species are usually localised within restricted geographical areas or habitats.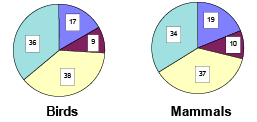 The percentage of threatened angiosperms, amphibians, reptiles, birds and mammals categories as critically Endangered, Endangered, Vulnerable and at Lower Risk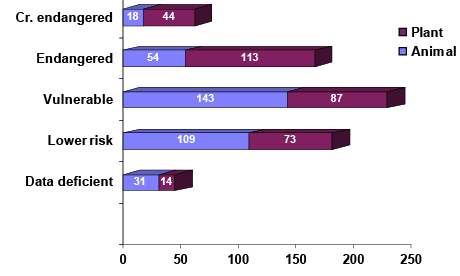 The number of plant and animal species of various threat categories in India
SOME IMPORTANT EXAMPLES OF THREATENED SPECIES IN INDIA
Category

Plants

Animals

(1) Critically endangered

(2) Endangered

(3) Vulnerable

Barberis nilghiriensis

Bentinckia nicobarica

Cupressus cashmeriana

Sus salvanius (Pigmyhog)

Ailurus fulgens (Red panda)

Antelope cervicapra (Black buck)
Note : Rauwolfia serpentiana (medicinal plast) is endangered .