Directions
We need to know about directions in order to find our way.
There are four main sides – front, back, right and left.
There are four main directions – North, South, East and West.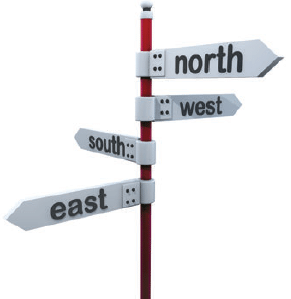 Four directions
These directions can be understood with the help of the rising sun. The sun rises from the same direction everyday. This direction is known as East. In the evening, the sun sets in the opposite direction.
This direction is known as West. If we face the rising sun, North will be on our left and South will be on our right.
MAP
The geographical drawings made on a piece of paper to show the location of various places is called a Map.
In this map of India, North is at the top, South is at the bottom, East is on the right and West is on the left.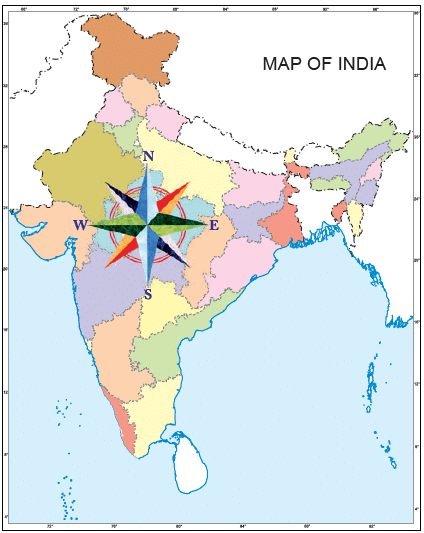 How to Locate a Place with the help of Directions
With the help of directions, we can find the location of a place easily.
The places, that are easily identifiable, work as landmarks for us. For example, post office, bank, temple, school, milk booth, etc., are some of the landmarks.
Rohan and Nitin are two friends. Rohan wants to go to Nitin's house to play. Nitin is telling the location of his house from school, to Rohan.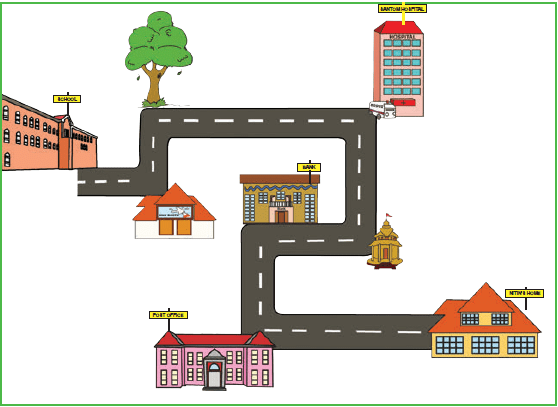 Route map
Walk straight from school. You will see a milk booth at some distance. Take a left turn from there and walk straight. A little ahead, you will see a big tree at the corner of the street. Take a right turn from there. Keep walking till you reach Santom hospital. Take a right turn from there and continue walking. When you reach the temple, at the end of the street, move to your right. After a few steps, you will see a bank on your right, move to your left and you will reach the post office. From there, take a left turn and you will reach my house.