What is a Noun?

The noun is the name of a person, place, thing, quality, condition, and action.
Examples of Nouns:
Name of a Person – Raj, Max, Xavier, Joseph, etc
Name of an Animal – Kangaroo, Dolphin, Jackal, etc.
Name of a Place – Bostan, Australia, India, etc.
Name of a Thing – Table, Computer, Chair, etc.
Name of an Idea – Happiness, Superstitions, Excitement, etc.
What are the different types of Nouns?
Nouns in English are broadly classified into 8 types:
Common Noun – the name given in common to every place, thing or person belonging to the same class or kind, like a boy, girl, teacher, doctor, country, etc.
Proper Noun – the name given to a particular person or a place, such as Rita, Ria, Russia, Rome, etc.
Collective Nouns – a name used for a group of people, animals, or things. Example, cattle, family, herd, team, etc.
Concrete Nouns – are the names used for the things that have physical existence and we can see, such as a table, chair, mobile phones, etc.
Abstract Nouns – are the exact opposite of concrete nouns. These are the names given to an idea, conditions, or quality. Basically, the name is used to refer to something that cannot be seen but is there, it does not exist physically.
Example:
(i) Love, fear, anger, joy, excitement, and other emotions are abstract nouns.
(ii) Courage, bravery, cowardice, and other such states are abstract nouns.
(iii) Desire, creativity, uncertainty, and other innate feelings are abstract nouns.
Material Nouns – these are the names used to refer to substances, materials or things that are made up of an alloy. Examples, silver, gold, metal, cotton, etc.
Countable Nouns – that can be counted like one pen, two ladies, one chair, etc. These nouns take articles (a, an, the) with them. Candidates can check Rules Of Articles in English on the linked page for conceptual knowledge on the same.
Example:
(i) There is one chair in this room (in this example, the word 'chair' is singular and countable)
(ii) There are 10 chairs in the house. (in this example, the word 'chair' is plural and countable).
Uncountable Nouns – the nouns that cannot be counted.
Example:
(i) There is no more milk in the kitchen.
(ii) Please take good care of your furniture.
(iii) I need some Water.
Abstract nouns and Proper Noun are always uncountable while Common and Concrete nouns can be both countable and well as uncountable nouns.
Try yourself:The sentence has which type of nounn?
The army is at its best to protect the country.
Try yourself:George Washington is an example of a/an:
Rules of Nouns
Rule No. 1: Some nouns are used in the singular form.
Example: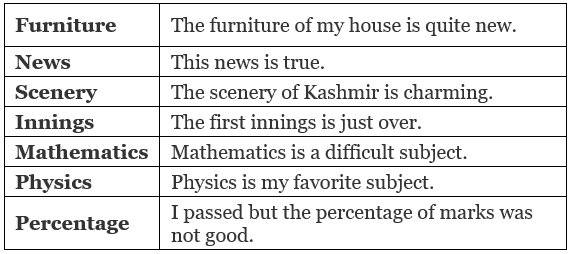 Rule No. 2: Some nouns are always used in Plural Form.
Example:


Note: As a common noun 'people' means a 'nation' and is used in both singular and plural as:

There are many different people in Europe.
There is a mad race for power among the people of Europe.
Rule No. 3: Collective Nouns (like committee, jury, house, ministry, family, mob, crowd, audience, police, team, number, board, staff, and public) are used with:
Singular verbs like is, was, and has when the members in the group act as one body or one unit.
Plural verbs like are, have, and were when the members act as different individuals within the same group.
Rule No. 4: Some nouns have only plural forms and consequently are followed by a plural verb. (Many of these are used with the phrase "a pair of" as they refer to something made up of two parts).
Example: alms, riches, scissors, trousers, pants, clippers, tongs, bellows, gallows, fangs, eyeglasses, goggles, ashes, arrears, athletics, belongings, breeches, braces, binoculars, congratulations, dregs, earnings, fetters, lodgings, odds, outskirts, particulars, proceeds, proceedings, regards, remains, savings, spectacles, surroundings, valuables, wages, etc.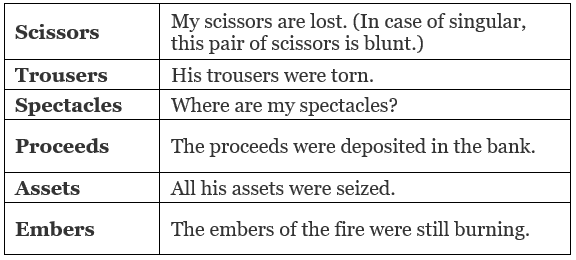 Rule No. 5: Some nouns have the same form in both singular and plural forms and are expressed as singular or plural only by the use of a verb.
Example: deer, swine, sheep, salmon (a type of fish), and offspring.
There is a sheep in the yard.
There are many sheep in the yard.
The words 'fish' and 'hair' are used in both singular and plural forms in a sentence, but they can be used as 'fishes' and 'hairs' in some specific sense.
'Fish'

is used in plural form to describe one fish or a group of fish of the same species (one type). The word

'fishes'

is used to describe a variety of fish of different species (different types).


Example:
(i) The fishes of this river include salmon and sturgeon.
(ii) A fish is a cold-blooded vertebrate animal which lives in water.
When used in a collective sense, hair is used as a singular word, But when there is a countable number, then it is used as 'hairs'.
Example:
(i) Her hair is soft today.
(ii) He has few grey hairs on his beard.
Rule No. 6: A compound noun (numerical adjective + noun) is not used in plural if a noun does the work of an adjective.
Example: Ten-day tour, A ten-mile race, A ten-year-old boy.
Rule No. 7: Abstract and Material Nouns have no plural forms. When they are put in the Plural, they are used as Common Nouns.
Example: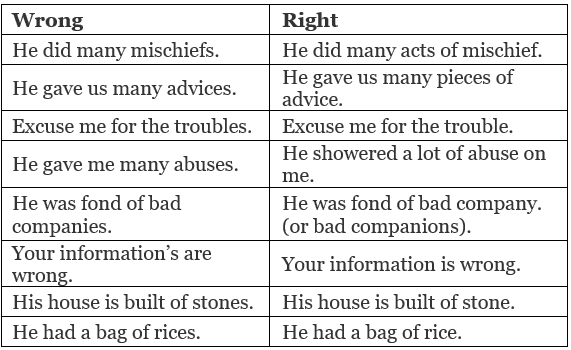 Rule No. 8: Some nouns have different meanings in singular and plural.
Example: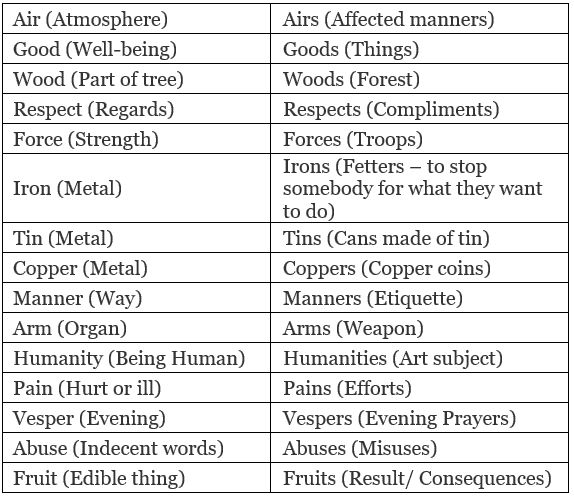 Rule No. 9: The plural of a compound noun is usually made by adding "s" to the principal word.
Example: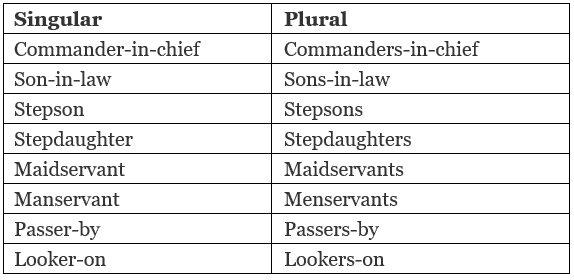 Rule No. 10: Material nouns like marble, brick, stone, glass, iron, etc., are not used in a plural form when they are used as a building/construction material. We use these words in the singular only.
Example: This house is made of brick.
Rule No. 11: Plural forms of certain nouns
Example: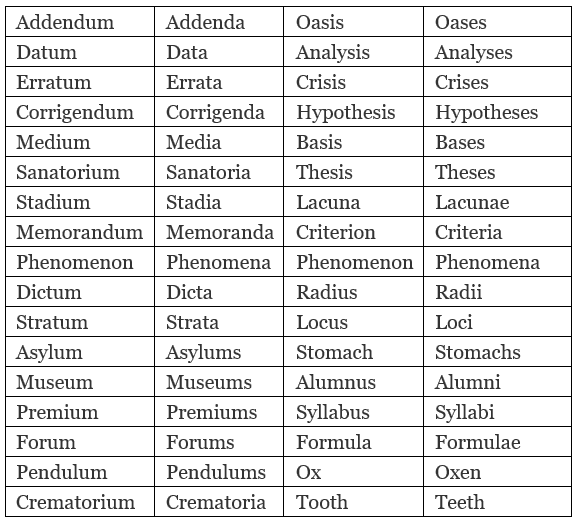 Try yourself: Given below are the sentence divided into parts. You are required to find out the part with error and select the answer from the given options.
The mother-in-laws (1)/ gathered together(2)/ to discuss family issues(3)/ that need to be sorted out (4)/ No error (5)
Use of Possessive Case
When the Noun denotes some living thing.
Example: The rat's tail, The man's hands.
When the Noun denotes some personified things.
Example: Duty's call, England's heroes.
When the Noun denotes time, space, or weight.
Example: A day's march, a week's holiday, in a year's time, a meter's length, a pound's weight.
When the Noun denotes anything without life, it is generally expressed by the Preposition 'of'.
Examples:
(i) 'The legs of the chair'; not 'the chair's legs'.
(ii) 'The pages of the book'; not 'the book's pages'.
(iii) 'The roof of the house'; not 'the house's roof'.
(iv) 'The cover of the book'; not 'the book's cover'.
Try yourself:"I have one brother and my _____ birthday is next week." Which possessive noun best fills the gap?