Reproduction in Human Beings
Human reproduction is a sexual process involving two parents. Offspring result from the fusion of gametes from each parent. Human reproduction is an example of sexual reproduction.
Sexual Dimorphism
Males and females have different reproductive systems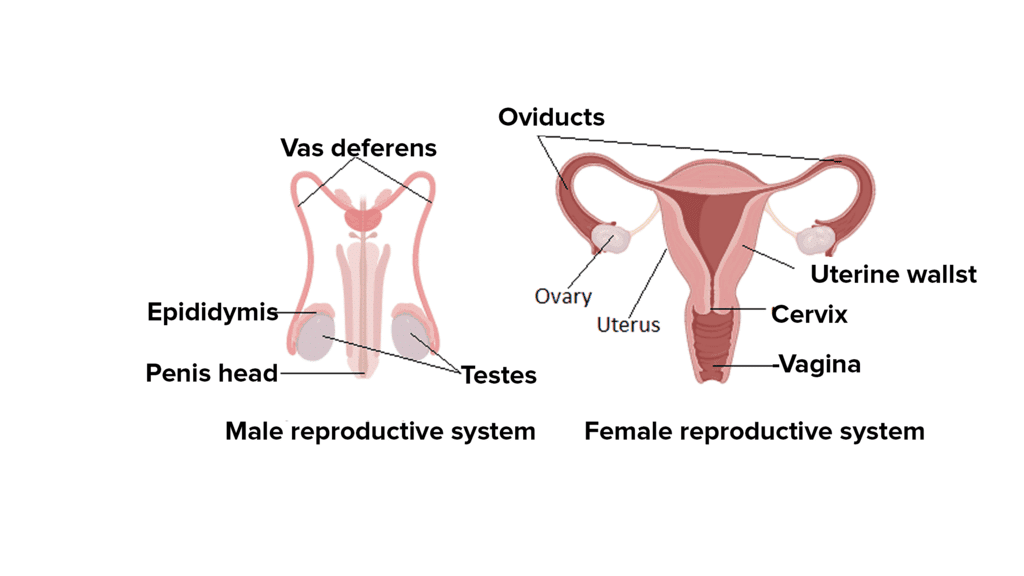 Male Reproductive System


Produces male gametes (sperms).
Sperms have a head, middle piece, and a tail.
Components of Male Reproductive System:
Question for Overview: How do Organisms Reproduce? - 2
Try yourself:
Which of the following is not a component of the male reproductive system?
Testicles (testes)
Oval organs responsible for sperm production and testosterone.
Scrotum
Sac-like organ housing the testes, maintaining the required temperature.
Vas Deferens
Tube where sperms mature and pass to the urethra.
Accessory Glands
Seminal vesicles, prostate gland, and Cowper's gland; their secretions form semen.
Penis
Cylindrical tube serving as a reproductive and excretory organ, delivering sperms during intercourse.
Female Reproductive System


Active before, during, and after fertilization.
Components: Ovaries, Fallopian tubes (Oviducts), Uterus, Vagina.
Ovaries
Produce and store ovum (egg).
Produce estrogen, a female hormone.
Fallopian Tubes (Oviducts)
Site of fertilization, connecting ovaries and the uterus.
Uterus
Site for embryo development.
Vagina
Connects the cervix to external female body parts.
Route for the penis during intercourse and fetus during delivery.
Question for Overview: How do Organisms Reproduce? - 2
Try yourself:
What is the function of the testicles?