28. The ovary grows rapidly and ripens to form a fruit. The fruit encloses the seeds. The seed contains embryo which has a plumule and a radicle. Radicle gives rise to root and plumule gives rise to shoot.
29. In humans, during adolescence, many morphological and physiological changes occur in bodies of both males and females.
30. The body of males become muscular, hair start growing on face, armpits and groin. These changes are brought about by hormones secreted by endocrine gland like testis, that produces testosterone.
31. Similarly in females during adolescence their breasts start enlarging, their hips become broader and menstrual cycle starts. These changes are due to hormones like FSH, LH, oestrogen and progesterone.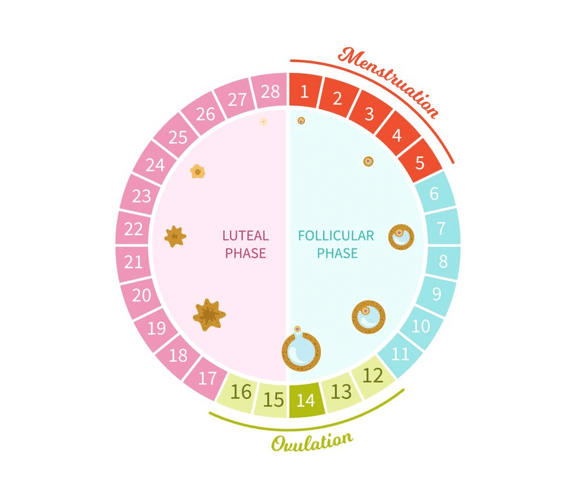 Menstrual Cycle32. The male and female gametes' production begins in respective reproductive organs i.e., testis and ovary, during puberty.
33. During reproductive age of male which last his life time, sperms or male gametes are produced.
34. However in females, the onset of menstrual cycle (menarche) signals production of female gamete ova. Production of ova stops in female when she reaches the age of 45-50 years. At this stage, the menstrual cycle stops and is referred to as menopause.
35. Testis are located in scrotum. Sperms are carried out from testis through vas deferens which unites with urethra. Prostate gland and seminal vesicles pour their secretions so that sperms are in fluid medium for easier transport.
36. At the time of birth, the ovaries contain thousands of immature eggs, which start maturing on reaching puberty.
37. One egg is released each month by one of the ovary, which travels from fallopian tube into the uterus. Each month, the uterus prepares itself for receiving and implanting zygote. It increases blood supply and thickens the wall.
38. The sperms are deposited into the vagina, during sexual intercourse and they swim towards the oviduct, where if ovum is present, then successful fertilisation will take place, resulting in formation of zygote.
39. The fertilised egg (zygote) begins to divide to form a ball of cells called embryo which gets implanted to the uterus wall where it continues to develop organs to become foetus. This implantation happens with the help of placenta.
40. Placenta helps the embryo to get nutrition and oxygen from mother's blood and also in removal of wastes from growing embryo.
41. The child is born after nine months development within the mother's uterus, as a result of contractions of uterine muscles.
42. In case, the egg is not fertilised, the lining of uterus slowly breaks and comes out through the vagina as blood and mucous. This cycle takes place roughly every month and is known as menstrual cycle and the flow of blood and mucous is termed as menstruation.
43. Certain diseases spread through sexual act. These include bacterial diseases like syphilis, gonorrhoea and viral infections such as warts and HIV-AIDS.
44. Transmission of such diseases can be prevented by using condom, a covering over penis during intercourse.
45. To prevent unwanted pregnancy, certain methods are adopted by both male and female. These contraceptive devices fall into three categories :
(i) Mechanical
(ii) Physiological
(iii) Surgical.
46. Use of condoms, copper-T are mechanical devices. Use of hormonal pills by female change hormonal balance and prevents release of eggs.
47. Surgical methods include vasectomy in males and tubectomy in females. In vasectomy, the vas deferens is blocked while in tubectomy, fallopian tube is blocked.