P N Junction Formation
(a) The device formed by joining atomically a wafer of P-type semiconductor to the wafer of N-type semiconductor is known as P-N junction.

(b)There are three processes of making junctions
(i) Diffusion
(ii) Alloying
(iii) Growth
In majority of cases P-N junction is formed by diffusion process. The impurity concentration is maximum at surface and decreases gradually inside the semiconductor.
(c) Conduction of current in P-N Junction: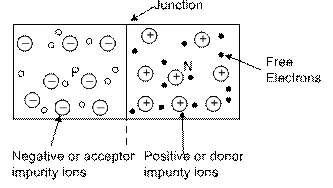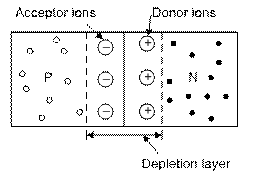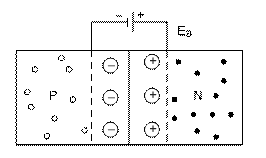 (i) In P-N junction the majority cotters in P-region and majority electrons in N-region start diffusing due to concentration gradient and thermal disturbance towards N-region and P-region respectively and combine respectively with electrons and cotters and become neutral.
(ii) In this process of neutralization there occurs deficiency of free current carriers near the junction and layers of positive ions in N-region and negative ions in P-region are formed. These ions are immobile. Due to this an imaginary battery or internal electric field is formed at the junction which is directed from N to P.
(a) The region on both sides of P-N junction in which there is deficiency of free current carriers, is known as the depletion layer.
(b) Its thickness is of the order of 1 micro m (= 10–6)
(c) On two sides of it, there are ions of opposite nature. i.e. donor ion (+ve) on N-side and acceptor ions (–ve) on P-side.

(d) This stops the free current carriers to crossover the junction and consequently a potential barrier is formed at the junction.
(e) The potential difference between the ends of this layer is defined as the contact potential or potential barrier (VB).
(f) The value of VB is from 0.1 to 0.7 volt which depends on the temperature of the junction. It also depends on the nature of semiconductor and the doping concentration. For germanium and silicon its values are 0.3 V and 0.7 V respectively.
(h) Symbolic representation of diode:

(ii) The direction of current flow is represented by the arrow head.
(iii) In equilibrium state current does not flow in the junction diode.
(iv) In can be presumed to be equivalent to a condenser in which the depletion layer acts as a dielectric.

(v) Potential distance curve at P-N Junction

(vi) Charge density curve at P-N Junction

(vii) Curve between electric field and distance near P-N junction