Question 1. As per IRC : 37-2012, in order to control subgrade rutting in flexible pavements, the parameter to be considered is [2018 : 1 Mark, Set-II]
(a) horizontal tensile strain at the bottom of bituminous layer
(b) vertical compressive strain on top of subgrade
(c) vertical compressive stress on top of granular layer
(d) vertical deflection at the surface of the pavement
Answer: (b)
Solution: As per IRC : 37-2012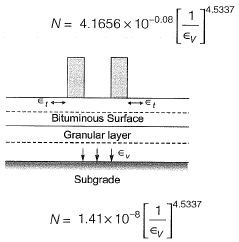 where N = No. of cumulative standard axle
∈v = Vertical strain in the subgrade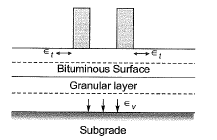 As evident from expression, vertical strain in subgrade is the only variable considered for rutting in flexible pavements.

Question 2. Road roughness is measured using [2012 : 1 Mark]
(a) Benkelman beam
(b) Bump integrator
(c) Dynamic cone penetrometer
(d) Falling weight deflectormeter
Answer: (b)
Solution: Bankelmann beam is used to measure the deflection of a flexible pavement under moving wheel loads.
Falling weight deflectometer is used to estimate pavement structural capacity. Bump integrater is used to measure road roughness.