39.1. Polythene (PE)
Polymer Chemistry:The manufacture of polyethylene follows addition polymerization kinetics involving catalysis of purified ethylene. Its molecular formula is -(CH2-CH2)n- with a molecular weight of 1,500 to 100,000. Its melting point is 85 – 110oC. its density is 0.91 -0.93 , when produced by high pressure process and 0.96, when produced by low
pressure process.
Technology:
There are three processes by which polyethylene is manufactured –
a .High Pressure Process : This process was developed in the UK by ICI. It uses peroxide catalyst at 100-300 oC and produces low density randomly oriented polymer which have a low melting point. The process is run at pressure of 1000 – 2500 atms. This process yields Low Density
Polyethylene (LDPE).
b .Intermediate Pressure Process : This process was developed in the USA by Phillips Petroleum Co. for preparing high density polymer with increased rigidity, crystallinity, tensile strength and softening point. The process uses MoO3 and Cr2O3 on alumina as catalyst and is operated at 30 – 100 atms.
c .Low Pressure Process : This process was originally developed in Germany for preparing high density polyethylene (HDPE). The catalyst used in this process consists of aluminium triethylactivated with heavy
metal derivatives such as TiCl4.
In the process flow sheet (Figure 39.1), is the description of Low Pressure Ziegler Process to produce polyethylene.
At the very onset, through the process of desulphurization and removal of light ends, high purity ethylene is prepared. The ethylene is further treated to remove traces of oxygen and its compounds which can possibly deactivate the catalyst.
The ethylene is first pumped into a reactor where it is mixed with catalyst diluents stream. The optimum temperature and pressure maintained should be 70oC and 7 atms gage. The effluent stream then follows across a series of flash drums inorder to remove the solvent from the catalyst. The residual catalyst at this point is removed by adding water.
The flashed solvent is thereafter recycled to the catalyst make –up unit after appropriate drying and redistillation. The slurry which results is then centrifuged to remove the water, and the water is treated to remove the catalyst before recycle. The final products of polyethylene solids are then dried, extruded and given the required final forms.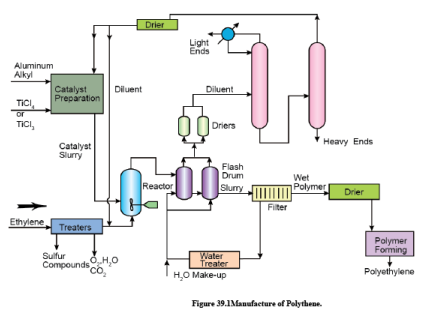 39.2 .Polyvinyl Chloride (Pvc)
Polymer Chemistry : The manufacture of Polyvinyl Chloride (PVC) follows addition type kinetics and produces linear polymers. Its molecular
formula is given as –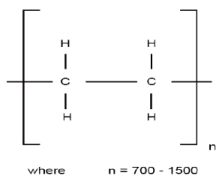 The vinyl chloride monomer (VCM) has a boiling point of 13.4oC and is a gas at room temperature and pressure. The vapor pressure of VCM over the typical polymerization temperature range of 50oC to 70oC is 800 – 1250
KPa.
Technology (Figure 39.2):
The two most commercially use methods for the manufacture of PVC are Emulsion Polymerization and Suspension Polymerization. The Suspension Polymerization process provides 80 % of the world production.
The Suspension Polymerization process is actually a bulk polymerization process which is carried out in millions of droplets . Each of these droplets act as small reactors. The liquid vinyl chloride is dispersed in water by vigorous stirring in a reactor. The reactor is fitted with baffles for optimum agitation and also has a condenser for heat removal. In the reactor , small droplets of size 30 - 40µm diameter are formed.
A monomer soluble free radical initiator is chargedinto the reactors. After charging , the reactor temperature is increased to 45 – 75 oC . The heat decomposes some of the initiators to free radicals , and the monomers in these droplets begin to polymerize., the reaction is highly exothermic and the heat is removed via cooling jackets or by boil – off to the condenser. Thereafter, thecondensed monomer is returned to the reactor.Although the PVC is insoluble in its monomer, it is swollen by VCM to form a coherent gel. Even in the gel phase , the polymerization continues. The polymerization is rapid at first, but slowly, as the conversion reaches 80 – 85 %, the rate is reduced due to monomer starvation.
At a predetermined pressure , the reaction is ended by adding a chain terminator or by venting the unreacted monomer to a recovery plant. Even after venting, the aqueous slurry contains 2 – 3 % unreacted monomer, which is then removed by stripping in a Stripping Column. The unreacted monomer is recovered and stored for later polymerization stages. The slurry is then passed through a heat exchanger and is passed through a continuous centrifuge to give a wet cake with 20 – 30 % moisture.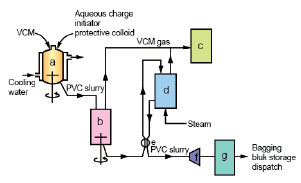 Figure 39.2. Manufacture of Poly(Vinyl Chloride).
a)Reactor; b)Blowdown Vessel; c)VCM Recovery Plant; d)Stripping Column; e)Heat Exchanger;
f)Centrifuge; g)Driers
39. 3. Styrne Butadiene Rubber (SBR)
Polymer Chemistry : The production of Styrene Butadiene Rubber (SBR) follows addition polymerization. Its glass transition temperature is approximately -55oC, but may vary with the Styrene content. It can be used extensively within the temperature range of -40 to 100 oC. It may be blended with natural rubber or can be used by itself. It has good abrasion resistance properties and the addition of additives may endow it with aging
stability.
Technology (Figure 39.3):
SBR is produced by the copolymerization of Butadiene and Styrene by emulsion polymerization in 3 : 1 weight ratio. The fresh and recycle monomers are purified by 20 % aqueous caustic purification. Then the stream is continuously passed through 6 to 12 glass – lined or stainless steel reactors. The residence time in these reactors ranges from 5 to 15 hours. Steam heating, water cooling and refrigeration are carried out in these reactors. These reactors are equipped for producing both cold and hot SBR. Cold SBR is produced at 5oC and 1 atm gage by refrigeration techniques ; whereas hot SBR is manufactured at 50 oC , and 3-4 atm gage.
The polymerization product is then stripped with chemical inhibitors and the latex resulting from the reactors are collected in blow down tanks. The latex is then sent to a falling film stripper to remove the butadiene ; and the bottoms are fed to a perforated plate column where styrene is stripped out. The monomer – free emulsion is then added with certain compounding ingredients in blend tanks. The latex is coagulated to rubber. The crumbs of rubber float onto shaker screens where the catalyst , emulsifiers and other solubles are removed by the action with wash water. The crumbs are dried in continuous belt dryers with hot air and are subsequently pressed into bales.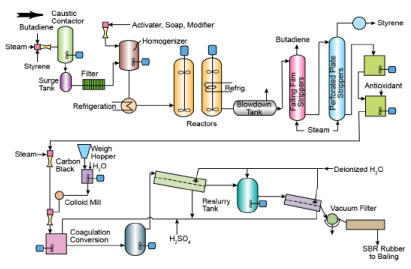 Figure39.3 Manufacture of Styrene Butadiene Rubber