Polymers: Polyolefins: Polyethylene, Poly Propylene And Polystyrene, Styrene Copolymers
Polyolefinsis family of polymers derived from a particular group of base materials known as olefins, are the world's fastest growing polymer family. Polyolefins such as polyethylene (PE) and polypropylene (PP) are commodity plastics found in applications varying from house hold items such as grocery bags, containers, carpets, toys and appliances, to high tech products such as engineering plastics, industrial pipes, automotive parts, medial appliances and even prosthetic implants . Ethylene and propylene are monomers for polyethylene and polypropylene respectively. Global polyolefin market is likely to be 150 million tones by 2015 and 200 million tones by the year 2020. In India, the domestic polymer industry (like global industry) is dominated by polyolefins (polyethylene, polypropylene) . Market coverage of polyethylene, polypropylene is given in Table M-VIII 2.1.
Polystyrene is another important polyolefin and find wide application in manufacture of all sorts of packaging material. Styrene co-polymerised with acryloonitrile resulting in SAN polymer is characterized with high tensile strength than polystyrene. Another important styrene copolymer is Acrylonitrile Butadiene styrene (ABS) plastic find use in engineering plastic and is characterized with special mechanical properties.
Table M-VIII 2.1: Polyethylene/Polypropylene Market Coverage
Polymer

Types

Grade

Market Coverage

HDPE

Film grade

Blown film with paper like quality, suitable for counter bags, carrier bags & wrapping films

Pipe grade

Pipes PE-80/100 class, drinking water & gas pipes, waste pipes & sewer pipes their fitting etc.

Large BM grade

Universal container grade, vol. approx. 1,500lit;heating oil storage tanks, transport containers

Small BM grade

Disinfectant bottles, up to 2 lit, tubes for the cosmetics, containers from few ml up to 10 lit.

Raffia grade

Stretched films and tapes for production of high strength knitted & woven sacks/bags/nets etc.
Injection Molding

For transport and stacking crates, particularly bottle crates

LLDPE

Films

Garment bags, grocery sacks, liner, blends, trash bags, cast like film diapers etc.

Roto Molding

Large industrial parts used indoors, large industrial /agricultural tanks, shipping drums, toys etc.

Injection Molding

House wares, crates, master batches, pails, food container etc.

PP

Homo polymer

Injection molding (Battery cases, crates, furniture,

house ware, luggage, sports/toys), Blow molding, Sheets, Tape/Raffia, FIBC,TQPP/BOPP films(food packaging, bottle labels etc. )

Extrusion coatings etc.

Random Copolymer

Thin walled injection moulding, low heat seal &

high transparency films, Blow moulding, packaging parts, automotive parts etc.

Impact Copolymer

Automotive parts (bumper, exterior trims,

instrument panels, interior trims), Appliances, House wares, rigid packaging, thermoforming etc.
Catalyst for Polyolefin
There are four major families of catalyst used for olefin polymerization. Characteristics of catalyst is given in Table M-VIII 2.2.
Ziegler Natta
Phillips(chrome)
Metallocene
Late transition metal catalyst
Table M-VIII 2.2: Characteristics of Polyolefin Catalyst
Type

State

Typical examples

Ziegler/

Ziegler-Natta

Heterogeneous

Heterogeneous

TiCl3, TiCl J MgCl2

VCl4, VOCl3

Phillips(chrome)

Heterogeneous

CrO3 / SiO2

Metallocene

Homogeneous

Heterogeneous

Cp2ZrCl2

Cp2ZrCl2/MgCl2

Late transition metalabsed

Homogeneous

Ni, Pd, Co, Fe, with diimine, and other ligands
Polyethylene
Polyethylene is one of the most widely used thermoplastic and its ever increasing demand is due to availability of monomer ethylene from naphtha and Gas cracker plant. First polyethylene plant in India was based on ethylene from molasses. Some of the other deriving force for fast growth and use of polyethylene are ease of processing the polymer, its relative cost, resistance to chemicals and its flexibility . A wide variety of polyethylene varying intensity and characteristics for wide range of application is available.
Low density polyethylene (Branched) produced by high pressure
LDPE 0.910 – 925 M.P. 105-110oCCrystallinity 60-70%
Medium density MDPE 0.920 – 940
High density HDPE 0.941 – 0.959 M.P. 125-130oC
Crystallinity 75-90%
Very few side chains. Produced by low pressure
Linear High density to Ultra high density homopolymers
Linear low density polyethylene (LLDPE)0.916-0.940a-olefin as comonomer density 70.941
High molecular weight – High density P.E. (HMW-HDPE)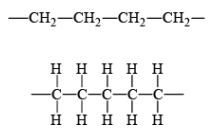 Branched Linear
Molecular mass 200,000 – 500,000
Advantage: Low cost, excellent dielectric properties, moisture resistance, very good chemical resistance, available in food grade, processed by all thermoplastic methods.
Process Technology for Polyethylene: Several processes has been commercialised for the manufacture of polyethylene with varying densities. Various processes for manufacture of polyethylene are given in Table M-VIII 2.3.
Table M-VIII 2.3: Various Polyethylene Processes
Process

Licensor

Process

Poduct

Innovene

Process

B.P.Chemicals

Polymerisation in Fluidised bed

reactor using Ziegler Natta catalyst or Chromium catalyst

Temperature 75oC -110oC

LDPE,HDPE

Broster Process

BorealisA/S

Uses gas phase low pressure reactor.

Ziegler Natta catalyst

Comonomer hydrogen. Prepolymerisation in slurry loop reactor and fluidised bed reactor. Temperature 75oC -100oC

Bimodal and

unimodel

LLDPE,

MDPE

High pressure

free radicals

process

Exxon

Chemicals Co

Polymerisation occurs in autoclave reactors or Tubular reactor

LLDPE,

Speriline gas

phase Process

Montell

Technology Co

Polymeristion in Gas phase reactor

using Zigler natta catalyst

LLDPE, HDPE

Phillips Co, LPE

process

Phillip

Petroleum Co.

Polymerisation takes place in an

isobutene slurry using very high activity properietry catalyst in loop reactor.

Lineal

polyethylene

UNIPOL PE

process

Union carbide

Corp

Low pressure polymerization in

fluidised bed reactor at 25kg/cm2 and 100oC

LLDPE to

HDPE

Sclairtech

Process

Dupont

Polyethylene is produced by solution polymerization using ethylene gas and cyclohexane as solvent. Comonomer butane or Octane or both) Catalyst: Ziegle Natta catalyst

HDPE, MDPE,

LLDPE