Unipol
Process The process produces low density polyethylene and high density polyethylene using low pressure in gas phase. Wide range of polyethylene is produced using proprietary solid and slurry catalyst. The process produces wide range of polyethylene in a gas phase, fluidised bed reactor using proprietary solid and slurry catalyst. Gaseous ethylene, comonomer and catalyst are fed to fluidised bed reactor containing a fluidized bed of growing polymer particles operating at 25kg/cm2 and 100oC. Polymer density is easily controlled from 0.915 to 0.97 g/cm. Process flow diagram for polyethylene manufacture is given in Figure M-VIII 2.1.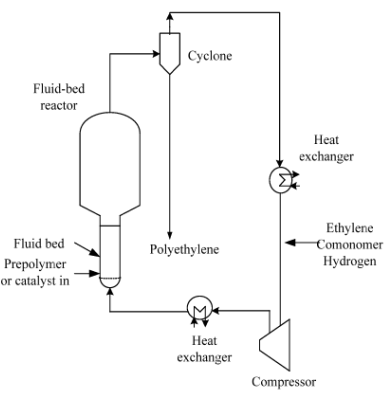 Figure M-VIII 2.1: Fluidized-bed Gas Phase PE Process.
Dupont Sclairtech Process
A broad range of poluethylene with density varying from 0.919 to 0.9605 g/cm2 with varying melt index can be made by this process. The process can be divided into three major areas
Reaction area
Recycle/recovery Area,
Extrusion and Finishing
Dowtherm Vaporiser
The process involves solution polymerization of gaseous ethylene using cycolhexane solvent and comonomer butene or octane comonomer (incase of low density polymers). Zigler catalyst is used to polymerise ethylene using cycloheaxane as solvent. A chain terminator is used to control the molecular weight at the reactor outlet a catalyst deactivator is added to terminate the reaction. The polymer is depressurized to flash off solvent, unreacted ethylene and comonomer from the molten polyethyelene which are separated and recovered using distillation. The polymer after stripping the residual solvents fed to main extruder and resulting polymer pellets are dried and send to blender for homogenizing and finally conveyed to storage silo. In the process Dowtherm is added as heating media. Process flow diagram for the manufacture of polyethylene by sclairtech Process is given in Figure M-VIII 2.2.
Figure M-VIII 2.2: LLDPE Process by SCLAIRTECH Process
Polypropylene
Polypropylene is a low density semi-crystalline stereo-regular polymer which exists in three forms- isotactic, syndiotactic and atactic. Polypropylene was discovered in March 1954 by Professor Giulio Natta demand of polypropylene is growing at a much faster rate due to its strong demand per capita consumption of polypropylene is given in Figure M-VIII 2.3.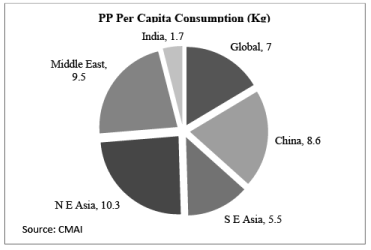 Figure M-VIII 2.3: Per capita Consumption of Polypropylene
Process Technology for Polypropylene
Polypropylene polymerisation process have undergone a number of revolutionary changes since the production of crystalline polypropylene were commercialised in 1957 by Motecatini in Italy and Hercules in U.S. Commercial polypropylene processes are based on low pressure processes using Ziegler-Natta catalyst that produces a product with an isotactic content of 90percent or more. Various processes for polypropylene manufacturing are given in Table M-VIII 2.4. A typical polypropylene process is given in Figure M-VIII 2.4.
Table M-VIII 2.4: Polypropylene Manufacturing Process
Process and licensor

Summary of process

Product

Borstar Polypropyene process

Licensor Borealis A/S

Produced by bulk

Polymerisationin loop reactor followed by final gas phase a fluidised bed reactor( temp. 80- 90oC and 25-35 bar.

A versatile process and through the choice of reactor combinations, homopolymer,random copolymers, heterophasic copolymers and a very high rubber content heterophasic copolymers can be produced

Spheripol Process

Montell technology

Homopolymer and Random copolymer polymeristion takes place in liquid propylene in a loop reactor. Heterophasic impact compolymerisation is done by adding a gas phase reactor.

Process produces propylene based polymers including homopolymer PP, random and heterophasic impact and specialty impact copolymers

Novolen Process

Krupp Uhde GmbH

Polymerization is conducted in one or two gas phase reactors connected in series.

Polypropylene homopolymer,

random copolymer and impact copolymer including Metallocene PP

Union carbide gas

phase UNIPOL PP process

A wide range of polypropylene is made in a gas phase, fluidised bed reactor using proprietary catalyst

Homopolymer, random polymer and impact copolymer

polypropylene

Sperizone Process

Technology owner: Basell polyolefins

Sperizone Process is new proprietary gaseous technology based on a multi-zone circulating concept reactor

A broad range of propylene based polymer can be produced including mono and biomedal (medium/wide, very wide MWD0
Source: Petrochemical Processes 2003, Hydrocarbon Processing March 2003
Figure M-VIII 2.4: Polypropylene Process
UNIPOL Process: The process produces homopolymer, random copolymer and impact copolymer polypropylene. Polymerisation takes place in a fluidized bed reactor using slurry reactor (TiCl4 supported on MgCl2 in slurry form in mineral oil. Co-catalyst TEAL, purified propylene and ethylene incase of random PP), purified H2 and selectivity control agent is continuously fed to the reactor. Temperature 35oC and pressure 33 kg /cm2 is maintained in the reactor. Figure M-VIII 2.5 illustrate the Unipol process for manufacturing of polypropylene.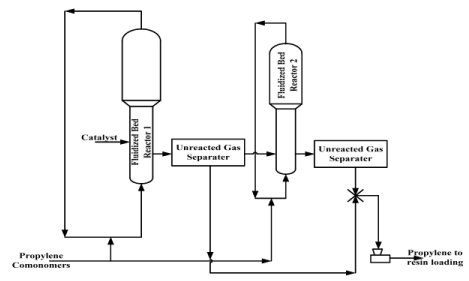 Figure M-VIII 2.5: Polypropylene by Unipol process
Sources: Petrochemical Processes" Hydrocarbon Processing, March 2003, Page 124
Polystyrene
Polystyrene is an important thermoplastic. Polystyrene because of itsease of fabrication, low specific gravity, thermal stability and low cost, find wide applications in consumer durable goods, electronics, packaging toys, structural foams, wall tiles, shoe soles, blister packages, lenses, bottle caps, wire and cable sheathing, small jars, vacuum formed refrigerator liners, containers of all kinds, transparent display boxes and automobile interior parts. When styrene is copolymerized with acrylonitrile, the polymer Styrene Acrylonitrile (SAN) resin has a higher tensile strength than polystyrene. Acrylonitrile butadiene styrene (ABS) polymer has special mechanical properties and find application as engineering plastics.
Styrene is produced by dehydrogenation of ethyl benzene which is made by alkylation of benzene. Ethylbenzene by UOP EB One process is produced by liquid phase alkylation of benzene using proprietary zeolite catalyst which can be regenerated repeatedly thereby avoiding significant catalyst disposal problems associated with other aluminium chloride catalyst. The process offers better product quality, better heat integration, low investment and a more rugged and reliable catalyst system.
Lumus/UOP Classic SM process: in this process styrene is made by catalytically dehydrogenating ethylbenzene in presence of steam in multistage reactor system. The reaction is carried out at high temperature under vacuum. The process uses a oxidative rehet technology. Polystyrene is clear transparent resin with a wide range of melting points and good flow properties which make it suitable for injection moulding
Process Technology
There are two major processes for the production of polystyrene are NOVA's Polystyrene Technology and UOP Polystyrene Technology
NOVA's Polystyrene Technology: The process produces a complete range of general purpose (crystal) and impact resistant polystyrene. This is based on bulk continuous polymerization technology.
UOP Polystyrene Technology: this process is based on continuous bulk polymerization to produce a wide range of general purpose polystyrene, high impact polystyrene and SAN resin. A typical plant includes feed preparation, reactor section, devolatilisation section, monomer recovery section, water removal, product pelletizing and bulk resin handling.