Population
Population Growth Curve :
For human population, growth curve is S - shaped/sigmoid shaped in which 5 stages are present.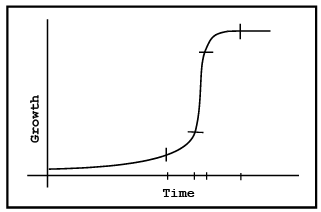 1. Lag Phase : In the earlier stages of growth curve a species (Human population & Macro Organism) comes into the new environment so due to the lack of resources and lack of adaptations minimum (negligible) growth occurs in this phase.
2. Log Phase :
3 Sub Stages –
(i) Positive Acceleration phase : In this stage, growth rate increases with the development of resources and adaptation. In this stage, birth rate increases and death rate is negligible.
(ii) Exponential Phase : In this middle stage of log phase, species completely become adapted to their new environment due to presence of sufficient resources, rapid growth occurs in this phase.
Birth rate – Very high
Death rate – Low
This phase for human population begin in 1750 A.D.. Now the population is running in this phase.
(iii) Negative acceleration phase : In this stage of log stage growth rate decrease because resources start become limited in this stage.
Growth rate decrease in this phase so this is called negative acceleration phase.

3. Stationary phase/plateau phase/equilibrium/zero phase/constant phase.
In this last stage of growth curve, resources become limited so zero growth occurs in this phase.
In this stage birth rate is equal to death rate so the growth rate is zero.
This stage for human population will occur when population reaches carrying capacity. (8-10 Billion).
In the growth curve of bacteria after stationary phase with the end of resources, growth rate also decreases. so there are 4 stages in the growth curve of bacteria.
I – Lag Phase
II – Log Phase
III – Stationary Phase
IV – Decline phase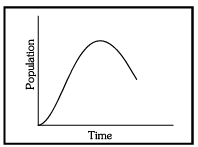 If semi log curve plotted for per minute growing bacteria (b/w – time & growth) curve is ascending straight line.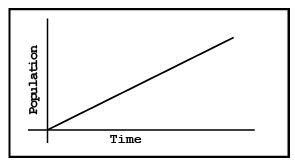 For Micro Organisms (like Algae blooms, fungi, some insect and annual plants, Reindeer and Lemming of Tundra) growth Curve is J - shaped in which 3 stages are present.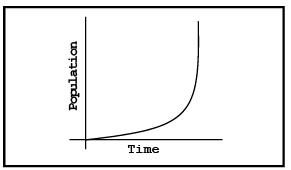 (1) Lag Phase : In this stage a new species comes into the new environment so minimum growth occurs in this phase.
(2) Exponential Phase : Due to presence of sufficient resources these organisms show rapid growth.
(3) Crash Phase : With end of resources species escape from this environment in any other new environment in which resources are sufficient in amount or this leads to mass starvation and Mortality.

Demographic Transition in Demographic Cycle : When Birth and death rates were equal, a zero population growth rate would result which is called demographic transition. Demographic transition might occur in all countries as they become developed. But it may take many decades.
Demographic cycle: mainly 4 steps occur –
(i) First Stage (High Stationary) :
Bhigh – Dhigh = O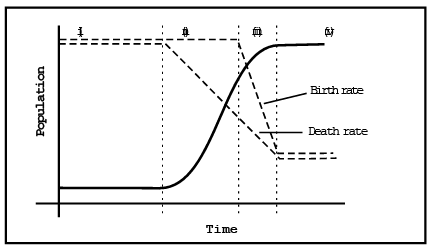 This stage is characterised by high birth and high death rate which cancel each other and the population remain stationary.
Ex.: India was in this stage till 1920.
(ii) Second stage (Early expanding) : Bhigh – Dlow = G

­­­­­­The death rate begins to decline while the birth rate remains unchanged.
Ex. : Many countries of South Asia and Africa, Bangladesh, Kenya.
(iii) Third stage (late expanding) :
Blow – Dlow = G
The death rate declines still further and the birth rate tend to fall, the population continues to grow because birth exceed death.
Ex.: India, China, Singapore.
(iv) Fourth Stage (Low stationary) :
Blow – Dlow = O
Low birth rate and low death rate with the result the population become stationary.
Ex. – Austria, U.K., Denmark, Sweden.
Definitions :
1. Exponential Growth and Human population explosion.
In 1700 A.D. human population was around 0.6 billion. At the beginning of the twentieth century, it increased to 1.6 billion, and by the end of the century, the human population stood at 6.1 billion. This dramatic increase in population size over a relatively short period is called population explosion. In the 150 years from 1700 A.D. human population doubled from 0.6 billion to 1.2 billion. In contrast, it increased five times during the next 150 years.
Reason of population Explosion :
(1) Decline in death rate - In India the death rate per 1000 was 44.4 in 1901 & 12.5 in 1981 and 9.8 in 1991. It is due to better medical care.
(2) Longer life span - Life expectancy has increased in most countries, 75 – 80 years in advanced countries & 56 – 60 years in developing countries.
(3) Increased food output.
(4) Better storage & transport facility.
(5) Illiteracy.
(6) Early marriage.
(7) Traditional religious beliefs.
(8) Desire of male child.
(9) Lack of entertainment facility.
2. Maximum Carrying Capacity : Maximum population size that can be supported by the environment is called the maximum carrying capacity (8 – 10 Billion).
There is a limit of maximum population size (number of individuals) that can be supported with a given space and resource base. The maximum population size that can be supported by the environment is called the maximum carrying capacity. For this purpose it is useful to consider environment as having the following three major components :
(i) The first component consists of productive systems, such as croplands, orchards, etc. and provides food and fibre;
(ii) The second component comprises protective systems, such as climax forests, oceans, etc. It buffers air and water cycles, moderates extremes in temperature, etc.;
(iii) The final component has waste assimilative systems, such as water ways, wetlands, etc. that assimilate the wastes produced by human activities.
3. Sustainable development : Development that meets the needs of present without compromising the needs of future generations.
4. Vital Index : It is percentage ratio of natality and mortality in a population.
V.I. =

> 100 = (+) ve growth (Population is increasing)
100 = 0 growth
< 100 = (–)ve growth (Population is decreasing)
5. Generation time or population doubling time : Time between birth of individual and birth of their off spring, or in bacteria time between two divisions in E.coli - 20 min., Tuberculosis - 20 hour, Lepra bacilli - 20 days.
6. Replacement Level (R.L.) : Number of children a couple must produce to replace themselves. The actual R.L. is always slightly high than 2.0 since some children will die before reaching reproductive age.
In developed countries = 2.1 Developing Countries = 2.7 Due to higher death rate at the immature stage and shorter life expectancy)
Malthus theory of Human Population growth : In 1778, T.R. Malthus a British economist, put forward a theory of human population growth in his 'Essay on Population'.
(1) He stated that population grows geometrically when unchecked but food supply grows only arithmetically.
(2) Naturally after some time an imbalance would occur in the population and the environment.
(3) When the imbalance reaches a certain value, some factors like hunger, epidemics, floods, earth quakes, war, etc. will bring the population to a desired level. Such factors are called "Positive checks by Malthus"(Catastrophic factor of population).
Special Point :
1. Anthropology – Scientific study of man (origin, development of physical, culture, religious and social attributes).
2. Species occuring in different geographical areas are called allopatric.
3. Set of conditions and resources used by population is called "Niche of population".
4. World population consumes 107 tons of food per year.
5. First 'National population policy' is framed in April 1976. It called for an increase in legal minimum age of marriage from 15 to 18 for females and 18 to 21 for males.
6. Total fertility rate (TFR)- is the average number of children that would be born to a women during her life time.
7. Net reproduction rate- is defined as number of daughter a new born girl will bear during her life time.
8. Reduction in birth rate rather than death rate is the only solution to control the world population problem.
9. In tissue culture, cells always show exponential growth.
10. The S-shape sigmoid growth form is represented by the following equation :-

Rate of change in population size r = Biotic potential N = Population size K = Carrying capacity

= Environmental resistance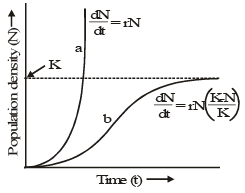 Population growth curve :
a = when responses are not limiting the growth, plot is exponential
b = when responses are limiting the growth, plot is logistic,
K is carrying capacity