FLOW EQUALIZATION
The wastewater to be treated in the wastewater treatment plant has a lot of variations in flow rate, concentration of pollutants and characteristics.

A wastewater treatment plant already designed for some flow rate and loading rate can't sustain such large seasonal or other variations in flow rate.

Flow equalization is a method to overcome problems related to fluctuations in flow rate & pollution load.

Flow equalisation basin is located after most of the primary treatment units such as screening and grit removal but before primary sedimentation.

Flow equalisation method controls the short term, high volumes of incoming flow, called surges, through the use of basin. It helps in equalizing the flow rate and optimizing the time required for treatment in secondary and tertiary processes. It also helps in lowering the strength wastewater by diluting it with wastewater already present in the equalization basin.

Basin volume and dimensions, mixing and air requirements, etc. are the basic things that are considered in designing an equalisation basin.
Advantages
Helps in improving the performance of down- stream operations and reduces the operating & capital cost of down- stream process.

Biological treatment is enhanced because of elimination of shock load due to flow rate & pollution load.

Thickner/ settler and filter performance gets enhanced and their required surface area gets reduced.
Disadvantages
Large land area may be required.

Additional capital and operating cost may be required.

May cause odor problem for nearby residential colonies.
TYPES OF FLOW EQUALIZATION
a. In- line equalization : In this case, all the flow passes through the equalization basin and helps in achieving reducing fluctuations in pollutant concentration and flow rate.
b. Off- line equalization : In this case, only over-flow above a predetermined value is diverted into the basin. It helps in reducing the pumping requirements. In this method of equalization, variations in loading rate can be reduced considerable. Off-line equalisation is commonly used for the capture of the "first flush" from combined collections systems.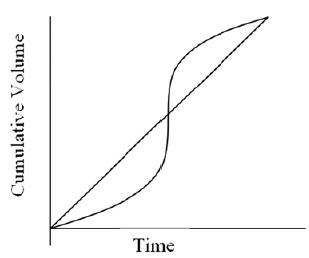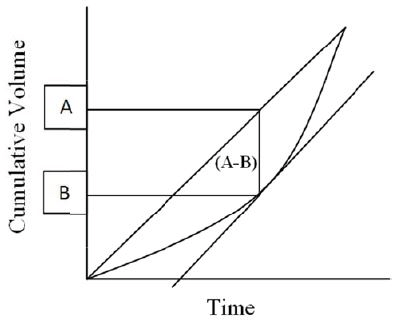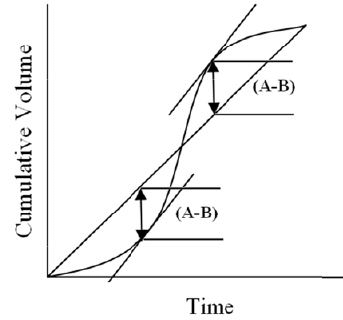 Required reaction volume = Max. of |(A-B)|