Short Anser Type Questions
Q.1. Mention any one limitation of Per Capita Income as an indicator of development. [CBSE 2016-17]
Ans. While per capita income is useful for comparison between countries, it hides disparities i.e., it does not tell as to how this income has been distributed among people.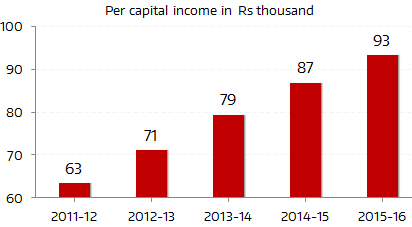 Q.2. What is the most appropriate basis for measuring the development of a country? [CBSE 2016-17]
Ans.
(i) For comparing countries, their income is considered to be one of the most important attributes.
(ii) Countries with higher income are more developed than others with less income.
(iii) This is based on the understanding that more income means more of all things that human beings need. With greater income, people can have whatever they like.

Long Answer Type Questions
Q.1. On what basis are the developmental goals determined by different people? Give one example to prove that development for one may cause harm to others. [CBSE 2016-17]
OR
Explain common, different, and conflicting goals by giving suitable examples. [CBSE 2016-17]
OR
"Development for one may be destruction for the other." Give one example to support the statement. [CBSE 2016-17]
OR
Define Development. With the help of an example show how two groups may have different notions of development. [CBSE 2016-17]
Ans.
(i) Different goals: For example, One person may desire to be a doctor while another person an engineer. In such a case, there may be no conflict of goal. They can fulfill their goal without any conflict.
(ii) Conflicting goals: For example, Industrialists may want the construction of more dams for the generation of electricity. This may submerge the land and disrupt the lives of people who are displaced - such as the tribals. They might resent this and may prefer small check dams or tanks to irrigate their land.
Thus, what may be development for one may not be development for the other. It may even be destructive for the other.