Short Answer Type Questions
Q.1. What was the Bastille?
OR
Who had stormed the Bastille during the last years of the 18th century? [CBSE 2017]
Ans. The Bastille was the fortress-prison that was stormed by the people of Paris on 14 July 1789.


Long Answer Type Questions
Q.1. Explain the "Reign of Terror" in brief. [CBSE 2015]
Ans.
The following points explain the Reign of Terror:
(a) The period from 1793 to 1794 is called the Reign of Terror because Robespierre followed a policy of severe control and punishment. Ex-nobles, clergy, members of other political parties, and even the members of his own party, who did not agree with his methods, were arrested, imprisoned, and guillotined.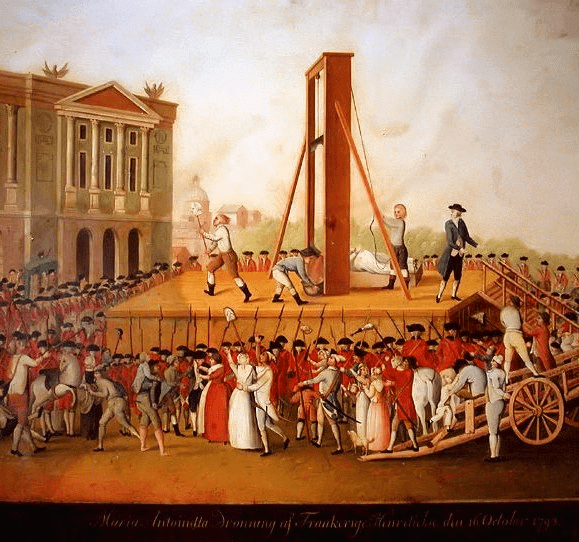 (b) Laws were issued by Robespierre's government laws were issued by placing a maximum ceiling of wages and prices. Meat and bread were rationed.
(c) Peasants were forced to transport their grain to the cities and sell it at prices fixed by the government. The use of more expensive white flour was forbidden; all citizens were required to eat equal bread.
(d) Equality was also sought to be practiced through forms of speech and address. Instead of the traditional Sir and Madam, French men and women were addressed as citizens.
(e) Churches were shut down and their buildings converted into barracks or offices. Finally, Robespierre was convicted by a court in July 1794, arrested, and the next day, sent to the guillotine.

Q.2. Explain the features of the constitution of France drafted in 1791. [CBSE 2015]
Ans.
The constitution of 1791 was the first written constitution in France, created after the collapse of absolute rule.
Its main aim was to limit the powers of the monarch.
Powers were then divided/separated and assigned to different institutions like legislative, executive and judiciary.
According to this, active citizens of France elected electors who in turn voted to elect the National Assembly.
Not all citizens had the right to vote. Only men of 25 years of age who paid taxes equal to at least three days of a labourer's wage. They were called active citizens.
The remaining men and all women were called the passive citizens.
The National Assembly controlled the king. France became a constitutional monarchy.