SHORT ANSWER TYPE QUESTIONS
Q.1. Name any one activity in Palampur which is associated with the tertiary sector. [CBSE 2017]
Ans. Transport

Q.2. When is the Kharif crop season? [CBSE 2017]
Ans. Kharif cropping season is from July to October during the south-west monsoon.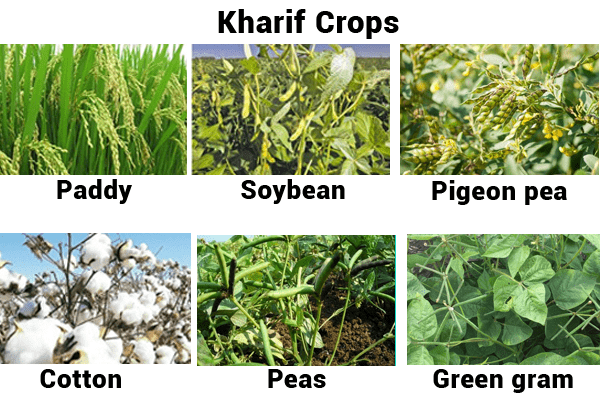 Q.3. What can be done to increase the non-farm activities in the Indian Villages? [CBSE 2016]
Ans. The things which can be done to increase the non-farm activities in the Indian villages are:
(a) Banks should provide loans at low-interest rates so that the poor villagers can start some small-scale businesses and can earn their livelihood.
(b) The government should initiate effective employment generating schemes like small-scale industries, computer training centers, vocational courses etc.
(c) The government should provide training to the villagers in different skills.

LONG ANSWER TYPE QUESTIONS
Q.1. What is the aim of production? State any four requirements for production. [CBSE 2016]
Ans. The aim of production is to generate income for those people who are involved in the production of goods and services.
The four requirements for production are:
(a) Land: It is a passive factor of production. It requires human effort to make it a productive resource. No activity can take place in the absence of land and it is the basis of all human activities.
(b) Labor: The second requirement is labor, i.e., people who do the work. Some activities require educated and skilled labor to perform the necessary tasks and others require workers who can do the manual work.
(c) Physical capital: The third requirement is physical capital. There are a variety of inputs like machines, tools, raw materials and money required at every stage of production. It includes fixed capital and working capital.
(d) Human capital: It is the knowledge and enterprise to be able to put together land, labor and physical capital to produce an output either to use for themselves or to sell in the market.

Q.2. Distinguish between traditional farming methods and modern farming methods. [CBSE 2016]
Ans.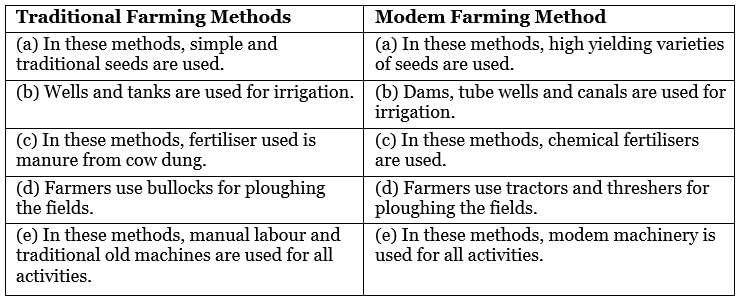 Q.3. Name any four non-farm production activities practised in Palampur. Give brief descriptions of any three. [CBSE 2015]
Or
Mention any four non-farm production activities of village Palampur. Which activity do you feel most useful for the villagers? Give any two reasons.
Ans. The non-farm activities practiced in Palampur are:
(a) Daily farming: People in Palampur rear buffaloes. They feed them on different types of grass, jowar and bajra. Milk is sold in nearby villages. Some people also set up collection and chilling centers from where milk is transported to nearby cities and towns.
(b) Small-scale manufacturing: This involves simple production methods and is done on small scale. These are carried out at home with family members as laborers. The laborers are rarely hired for these activities.
(c) Shopkeeping: Shopkeepers in Palampur buy goods from wholesale markets in the cities and sell them in the village. Small stores sell a wide range of products like rice, wheat, sugar, oil and some clothes. Some people who have shops near the bus stop use them to sell eatables.
(d) Transport: There are different means of transport in Palampur like rickshaws, tongas, trucks, jeeps and tractors. These means of transport are used to transport goods and people from village to cities and the people get paid for this.
(e) Self-employed: Some people have open computer training centers, stitching centers etc. to obtain more profit and to train more people for better opportunities in life.
I think computer education is most useful for the villagers because:
(i) It generates employment for the people being educated.
(ii) It employs skilled persons in the village to teach so that they would not go to other cities and towns in search of employment opportunities.