Q 1. Two ideal Carnot engines operate in cascade (all heat given up by one engine is used by the other engine to produce work) between temperatures, T1 and T2. The temperature of the hot reservoir of the first engine is T1 and the temperature of the cold reservoir of the second engine is T2. T is temperature of the sink of first engine which is also the source for the second engine. How is T related to T1 and T2, if both the engines perform equal amount of work? [2020]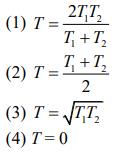 Ans: (2)
Solution:
Given that, two ideal Carnot engines in cascade between temperatures T1 and T2 Where T1 is temperature of hot reservoir of first engine, T2 is temperature of cold reservoir of second engine and T is temperature of sink of first engine and source of second engine.
We know,
work done by first engine = work done by second engine


Here,



So,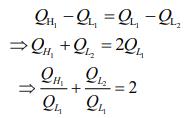 We have


Then




Q 2. A particle is moving along the x-axis, with its coordinate as a function of time given by x(t) =10+ 8t - 3t2 . Another particle is moving along the y-axis with its coordinate as a function of time given by y(t) = 5 - 8t3. At t=1 s, the speed of the second particle as measured in the frame of the first particle is given as √v. Then v (in m/s) is ______. [2020]
Ans: 580
Solution:
Given that
x(t) =10+ 8t - 3t2, y(t) = 5 - 8t3
So,



At t = 1 s, we have



Relative velocity of second particle with respect to first particle is



Q 3. A particle moves such that it's position vector is

where ω is a constant and t is time. Then which of the following statements is true for the velocity

and acceleration

of the particle.
(1)

is perpendicular to

is directed away from the origin
(2)

both are perpendicular to


(3)

both are parallel to


(4)

is perpendicular to

is directed towards the origin
Ans: (4)
Solution:
Given that



So,



and



Since,

is perpendicular to

And

had opposite direction to

or antiparallel to

that is, directed toward origin.

Q 4. A ball is dropped from the top of a 100 m high tower on a planet. In the last (1/2)s before hitting the ground, it covers a distance of 19 m. Acceleration due to gravity (in m/s2) near the surface on that planet is _______.
Ans: 8
Solution:
Given that
u = 0 m/s, H = 100 m, d = 19 m, t = 1/2 s
Let time taken to tavel (H – h) distance be t.
So,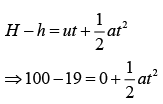 ..(1)
Now, time taken to hit the ground is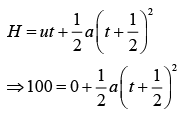 ..(2)
From Eqs. (1) and (2), we get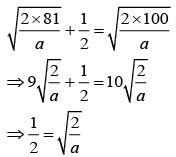 ⇒ a = 8 m/s2

Q 5. A particle starts from the origin at t = 0 with an initial velocity of

and moves in the x-y plane with a constant acceleration

The x-coordinate of the particle at the instant when its y-coordinate is 32 m is D m. The value of D is
(1) 32
(2) 50
(3) 60
(4) 40
Ans: (3)
Solution:
Given that



From equation of motion in two dimensions, we have




⇒ t2 = 16
⇒ t = 4 s
So,




Q 6. The distance x covered by a particle in one dimensional motion varies with time t as x2 = at2 + 2bt + c. If the acceleration of the particle depends on x as x−n, where n is an integer, the value of n is ______.
Ans: (3)
Solution:
x2 = at2 + 2bt + c


.. (1)
Velocity is given by



⇒ vx = at + b ..(2)
Acceleration is given by



Differentiate Eq. (2) with respect to t, we get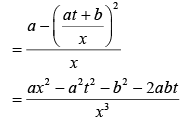 So,



Therefore, n = 3

Q 7. In a car race on straight road, car A takes a time t less than car B at the finish and passes finishing point with a speed v more than that of car B. Both the cars start from rest and travel with constant acceleration a1 and a2, respectively. Then v is equal to (JEE Main 2019)
(1)


(2)


(3)


(4)


Ans: (3)
Solution:
Let time taken by car A is t'



vB = a2(t' +t)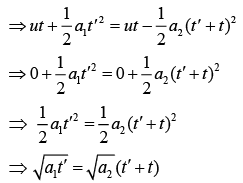 Put this value in Eq. (1), we get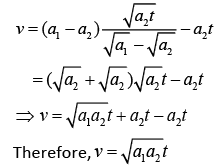 Q 8. A passenger train of length 60 m travels at a speed of 80 km/hr. Another freight train of length 120 m travels at a speed of the. The ratio of times taken by the passenger train to completely cross the freight train when (i) they are moving in same direction and (ii) in the opposite directions is (JEE Main 2019)
(1) 11/5
(2) 5/2
(3) 3/2
(4) 25/11
Ans: (1)
Solution:
Let passenger train and freight train be A and B and vA is the velocity of passenger train and vB is the velocity of freight train B.
Relative velocity of A with respect to B is (same direction)



Time taken by the train A to cross the train B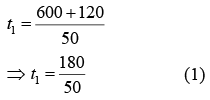 Train moving in opposite direction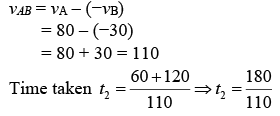 Therefore, required ratio is




Q 9. A particle starts from the origin at time t = 0 and moves along the positive x-axis. The graph of velocity with respect to time is shown in figure. What is the position of the particle at time t = 5 s? (JEE Main 2019)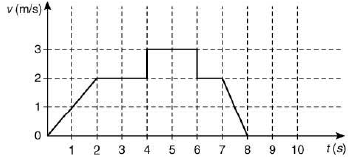 (1) 10 m
(2) 6 m
(3) 3 m
(4) 9 m
Ans: (4)
As we know that, area under v-t curve gives displacement.
therefore,




Q 10. A particle is moving with a velocity

where K is a constant. The general equation for its path is (JEE Main 2019)
(1) y = x2 + constant
(2) y2 = x + constant
(3) y2 = x2 + constant
(4) xy = constant
Ans: (3)
Solution: Equation for velocity of the particle is



Thus,



Now,




Integrating both the sides, we get
y2 = x2 + constant

Q 11. The position coordinates of a particle moving in a 3D coordinate system is given by
x = a cos ωt
y = a sin ωt
and
z = aωt
The speed of the particle is (JEE Main 2019)
(1)


(2) aω
(3)


(4) 2aω
Ans: (1)
Solution:
Velocity coordinates of particle is obtained by differentiating the position coordinate with respect to time, Thus,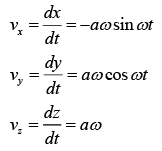 Hence, velocity of particle is




Q 12. In the cube of side a, as shown in the figure, the vector from the central point of the face ABOD to the central point of the face BEFO will be (JEE Main 2019)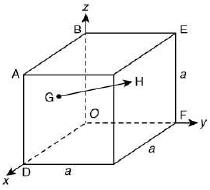 (1)


(2)


(3)


(4)


Ans: (3)
Solution:
Side of a cube is a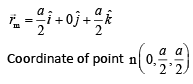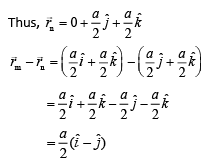 Q 13. Two guns A and B can fire bullets at speeds 1 km/s and 2 km/s respectively. From a point on a horizontal ground, they are fired in all possible directions. The ratio of maximum areas covered by the bullets fired by the two guns, on the ground is (JEE Main 2019)
(1) 1 : 16
(2) 1 : 2
(3) 1 : 4
(4) 1 : 8
Ans: (1)
Solution:
Area covered = πR2
A ∝R
Thus, range





Therefore, required ratio is




Q 14. Two vectors

have equal magnitudes. The magnitude of

is n times the magnitude of

The angle between

is (JEE Main 2019)
(1)


(2)


(3)


(4)


Ans: (1)
Solution:
We know that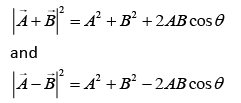 According to the question



Squaring both the sides, we get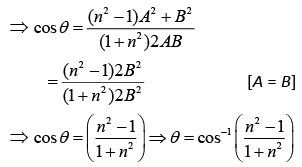 Q 15. A body is projected at t = 0 with a velocity 10 m/s at an angle of 60° with the horizontal. The radius of curvature of its trajectory at t = 1 s is R. Neglecting air resistance and taking acceleration due to gravity g = 10 m/s2, the value of R is (JEE Main 2019)
(1) 2.5 m
(2) 2.8 m
(3) 10.3 m
(4) 5.1 m
Ans: (2)
Solution:
At t = 1: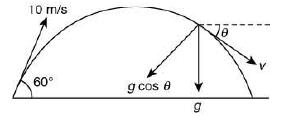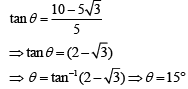 The radius of curvature of the trajectory is



= 2.77 m = 2.8 m

Q 16. A particle moves from the point

at t = 0 with an initial velocity

It is acted upon by a constant force which produces a consult acceleration
What is the distance of the particle from the origin at lime 2 s? (JEE Main 2019)
(1) 15m
(2) 20√2m
(3) 5m
(4) 10√2m
Ans: (2)
Solution: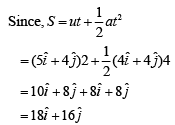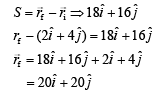 Q 17. All the graphs below are intended to represent the same motion. One of them does it incorrectly. Pick it up. (JEE Main 2018)
(1)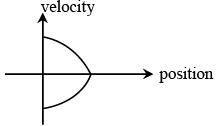 (2)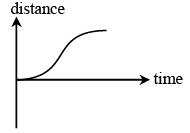 (3)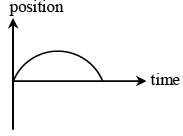 (4)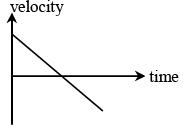 Ans: B
Solution: In graph '2' initial slope is zero which is not possible, since initial velocity is non zero in all other three graphs.

Q 18. An automobile, travelling at 40 km/h, can be stopped at a distance of 40m by applying brakes. If the same automobile is travelling at 80 km/h, the minimum stopping distance, in metres, is (assume no skidding): (JEE Main 2018)
(1) 75 m
(2) 160 m
(3) 150 m
(4) 100 m
Ans: (2)
Solution:
u = 40 Km/hr
u = 100/9 m/s
V2 − u2 = 2a × 40
a = −1.54 m/s2
Now



s = 160m

Q 19. The velocity-time graphs of a car and a scooter are shown in the figure. (i) The difference between the distance travelled by the car and the scooter in 15 s and (ii) the time at which the car will catch up with the scooter are, respectively. (JEE Main 2018)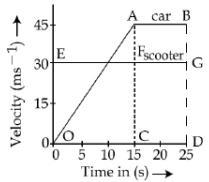 (1) 337.5 m and 25 s
(2) 225.5 m and 10 s
(3) 112.5 m and 15 s
(4) 112.5 m and 22.5 s
Ans: D
Solution:




s1 = 1/2 × 3 × (15)2 = 1.5 × 225
= 225 + 112.5
= 337.5 m
s2 = v2t
s2 = 15 × 30 = 450 m
⟹ s2 − s1 = 112.5 m
For catching up ⟹ s1 = s2
30t = 1/2 × 3 × t2
20 = t

Q 20. Let

The magnitude of a coplanar vector

is given by: (JEE Main 2018)
(1)

(2)

(3)

(4)


Ans: C
Solution:



Solving equation (i) and (ii) we get




Q 21. Which graph corresponds to an object moving with a constant negative acceleration and a positive velocity ? (JEE Main 2017)






Ans: (3)
Solution: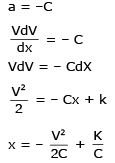 Q 22. A car is standing 200 m behind a bus, which is also at rest. The two start moving at the same instant but with different forward accelerations. The bus has acceleration 2 m/s2 and teh car has acceleration 4 m/s2. The car will catch up with the bus after at time of- (JEE Main 2017)
(1)


(2) 15 s
(3)


(4)


Ans: (4)
Solution: