Page No 17.38:
Question 18: Rectify the following errors:
(i) Purchases Book is overcast by ₹ 500.
(ii) Salary paid to an employee, Mr. Ajay, is debited to his Personal account ₹ 3,000.
(iii) Goods sold to Shashi on credit ₹ 300 have been wrongly passed through the Purchases Book.
(iv) Total of Returns Inward Book has been added ₹ 9 short.
(v) Purchase of chair from Happy Traders for ₹ 35 has been entered in the Purchases Book as ₹ 53.
ANSWER: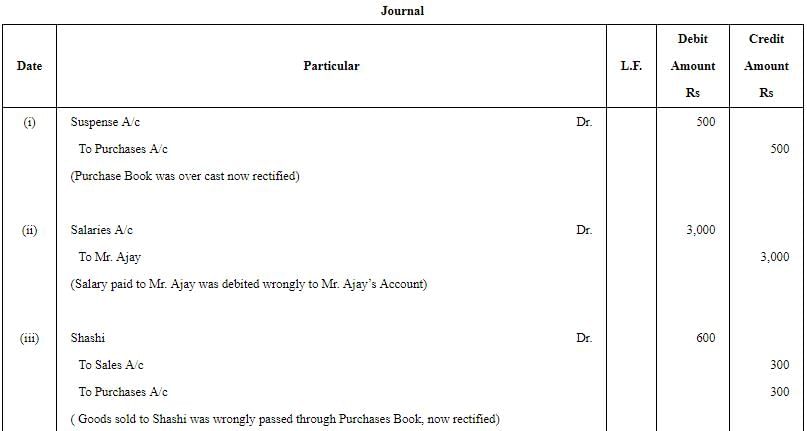 Page No 17.38:
Question 19: Correct the following errors in Mohan Lal's Book:
(i) A payment of ₹ 5,000 for salaries (to Mr. Ram) has been posted twice to the Salaries Account.
(ii) ₹ 750 received from Rajesh are entered on the debit side of the Cash Book. No posting was done in Rajesh's Account.
(iii) Sales Book was overcasted by ₹ 3,000.
(iv) Goods (Cost ₹ 2,000, Sales Price ₹ 2,500) distributed as samples among prospective customers were not recorded anywhere.
(v) A sum of ₹ 1,500 written off as depreciation on furniture was not debited to Depreciation Account.
ANSWER: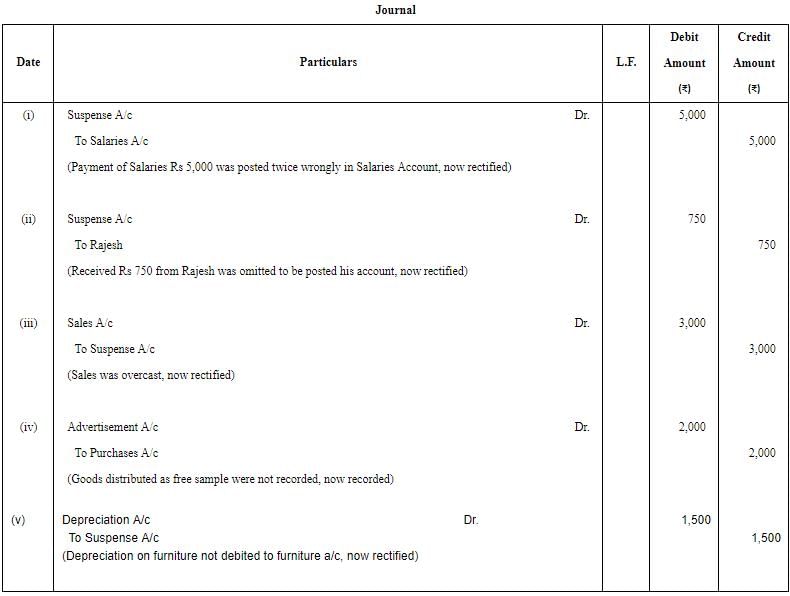 Page No 17.38:
Question 20: Give the rectifying entries of the following:
(i) Sales of ₹ 20,000 to Manoj were recorded as ₹ 2,000 in the Sales Book.
(ii) An amount of ₹ 25,000 spent for the extension of machinery has been debited to the Wages Account.
(iii) Discount received from Ram & Co. ₹ 350, has not been entered in the discount column of the Cash Book.
(iv) Goods of ₹ 3,000 sold to Mahesh were recorded in the Purchases Book.
ANSWER: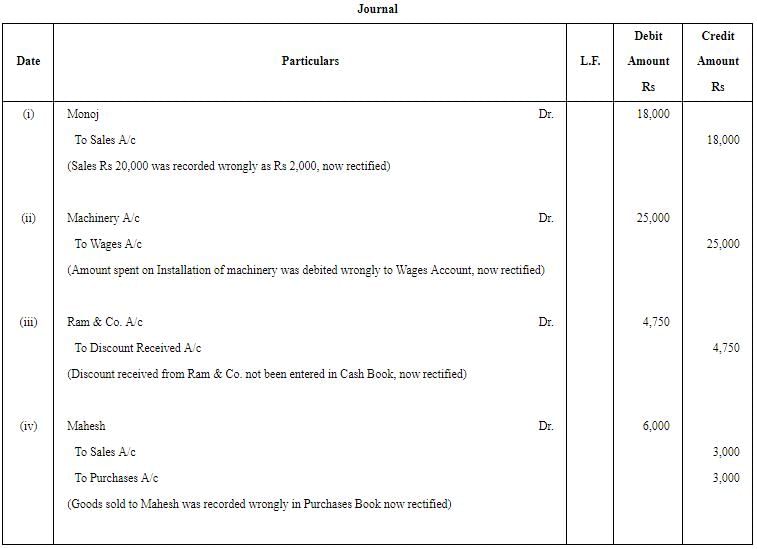 Page No 17.38:
Question 21: Correct the following errors in Hari's Books:
(i) Credit sale of ₹ 132 to R. Krishan correctly entered in Sales Journal but posted to his account as ₹ 312.
(ii) The total of the credit side of Ramesh's Account was overcasted by ₹ 2,000.
(iii) Total of the Purchases Journal of ₹ 5,250 has been posted to Purchases Account as ₹ 5,205.
(iv) Printer purchased from R. Ltd. for ₹ 4,000 on credit was entered in the Purchases Book.
(v) An item of ₹ 2,000 entered in the Sales Return Book was posted to the debit of Pandey who had returned the goods.
ANSWER: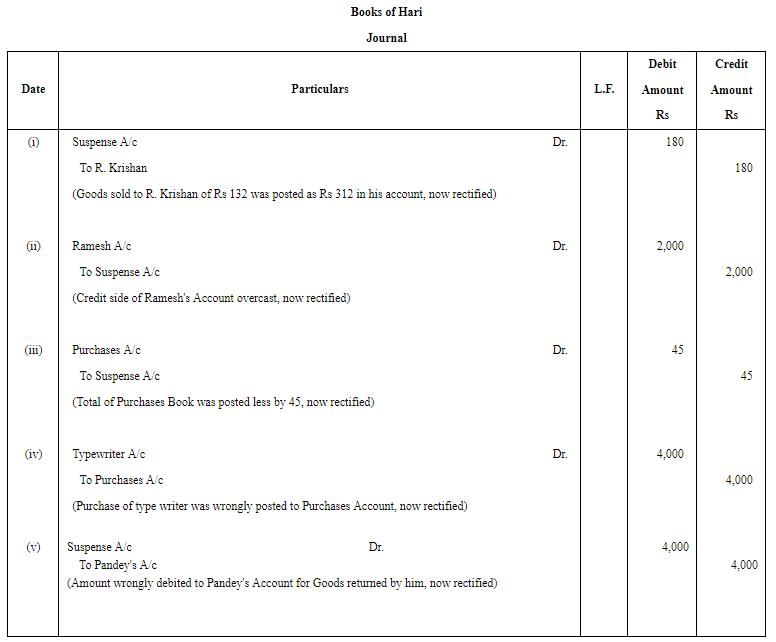 Page No 17.39:
Question 22: Mukesh found that the Trial Balance did not agree. He found the following errors:
(i) In the Sales Book for the month of January, total of Page No. 3 was carried forward to Page No. 4 as ₹ 1,000 instead of ₹ 1,200 and total of Page No. 7 was carried forward to Page No. 8 as ₹ 5,600 instead of ₹ 5,000.
(ii) Goods returned to Anshuka ₹ 10,000 were recorded in the Sales Book.
(iii) Bill Receivable for ₹ 800 from Riya was dishonoured and posted to the debit of Allowances Account.
ANSWER: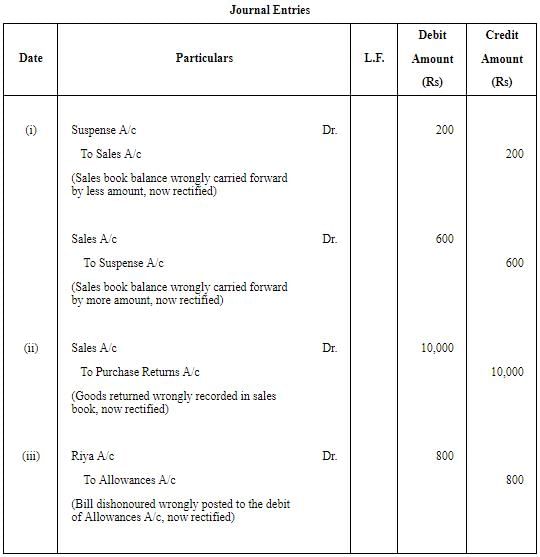 Page No 17.39:
Question 23: Pass the rectifying entries for the following
(i) Sales of goods ₹ 6,000 to Madan were recorded as ₹ 600 in the Sales Book
(ii) Credit purchase of goods from Mohan amounting to ₹ 2,000 has been wrongly passed through the Sales Book.
(iii) Return of goods worth ₹ 500 by a customer was entered in 'Purchases Return Book'.
(iv) Cheque of ₹ 400 received from Ranjan was dishonoured and debited to the Discount Account.
(v) Bill for ₹ 820 received from Ramesh for repair of machinery was entered in the Purchases Book as ₹ 720.
ANSWER: